If you're traveling to Hanoi, here are the ten Vietnamese foods you must try while you are there.
Vietnamese cuisine varies by region. Each city, even each village, may have its own list of unique local specialties.
Our quest through Vietnam started in the north, in the capital city of Hanoi. Many of the popular Vietnamese dishes originated here. The famous Vietnamese noodle soup Pho, is one of the most iconic northern Vietnamese food.
Situated near the Chinese border, northern Vietnamese cuisine reflects Chinese influences. With the cooler climate in the north and wide availability of freshwater fish and seafood like prawns, shrimp, crab, clams and more, food from the region has its own distinctive flavor.
Hanoi, we discovered, is also famous for its street food culture. Street food stalls are popular and we had some of our best and surprising local food experiences on the sidewalks with locals and not in restaurants.
In this article, we highlight the top 10 Vietnamese food you must eat in Hanoi.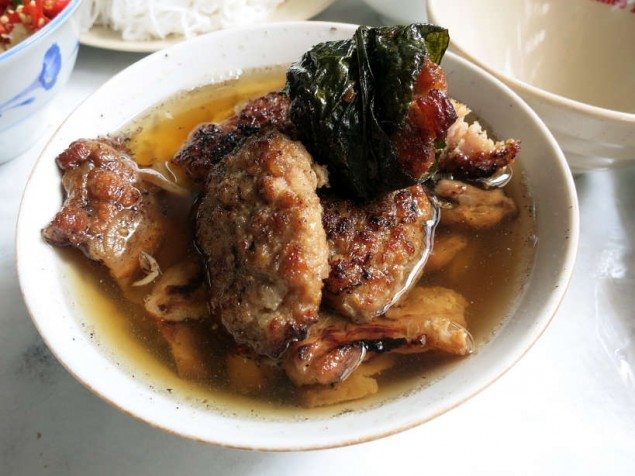 Bún Cha: Barbecued Pork with Rice Vermicelli
Bún cha, is one northern Vietnamese food that quickly became our favorite. It is also a specialty from Hanoi, that cannot be missed. The dish consists of grilled pork strips and balls or cha served over a bed of rice vermicelli noodles or bún. It typically comes with a plate of fresh Vietnamese herbs and a bowl of dipping sauce. Pickled vegetables, like cabbage, carrots, onion or green papaya served with additional meatballs on the side. The sauce is made of the famous Vietnamese fish sauce or Nuoc Mam combined with vinegar, lime, sugar, garlic and chili.
Where to Have It
Most restaurants in Vietnam specialize in making just one dish. In Hanoi, there are several bún ch? restaurants and vendors. While it is a popular meal for lunch, some restaurants serve it all-day long. For great bún ch? local experiences, here are two exceptional places to check out in Hanoi.
Bún Cha Huong Liên
Already popular, this restaurant gained worldwide acclaim when President Obama and Anthony Bourdain ate Bún cha together. To capitalize on this fame, Bún Cha Huong Liên restaurant added the name "Obama" to the link of their Facebook page. The pork balls are slightly fatty, incredibly juicy and tasty. Fresh herbs, noodles dipped into the special sauce, makes for an incredible harmony of flavors. A definite must eat in Hanoi dish!
Address: 24 Le Van Huu Street in Hai Ba Trung District
Hours: Everyday from 8:00 am to 9:00 pm
Prices: About 40,000 VND to 50,000 VND ($1.77 USD to $2.21 USD)
Hùng Lau
The second restaurant was actually where we had our very first lunch in Hanoi. It is a very local joint where no-one speaks English. This place was recommended by our Airbnb host, and undeniably, the restaurant was packed with locals.
Address: 6, Ngõ Tram, Hà Noi.
Hours: Everyday from 10:00 am to 3:00 pm
Prices: About 35,000 VND ($1.54 USD)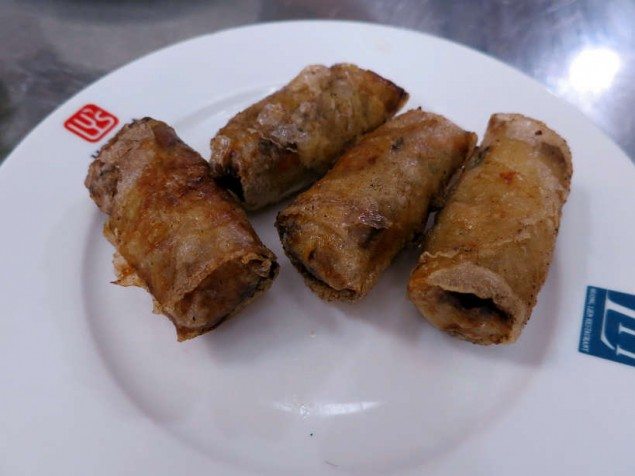 Nem Cua Be: Crab Spring Rolls
Nem Cua Be, or crab spring rolls are the perfect complement to bún cha. These are fried rolls filled with sea crab and vermicelli noodles. Fresh and lightly fried, these rolls melt in the mouth and are to be savored.
These crab spring rolls are sold by the roll, where one roll is cut into three smaller pieces. They are eaten as an appetizer while waiting for the bún cha meal or dipped into the savory bún cha soup. The same restaurants mentioned above serve equally tasty and crispy fresh crab spring rolls.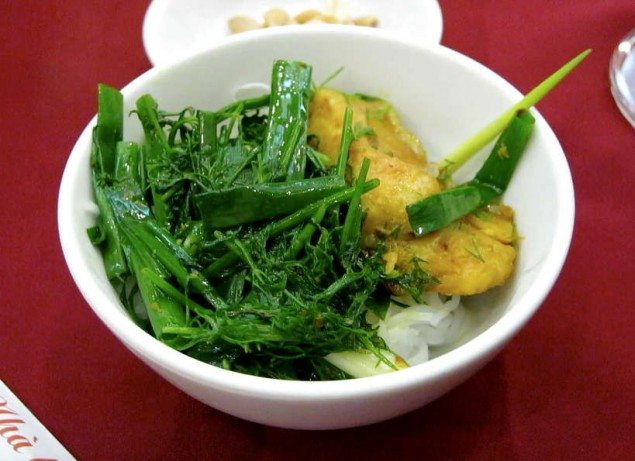 Cha Ca: Grilled Fish with Dill and Turmeric
Cha Ca is one of the unique specialties of the Hanoi people and definitely a must eat in Hanoi. So important is this local specialty, that it even has a street named after it – Cha Ca street.
We loved this dish so much and can absolutely say it is a dish worth flying for. World-renowned, The New York Times followed its history from Vietnam to the United State. "Hanoians even have a saying that … "someone should try this once in their life before leaving this world." Our local airbnb host highly recommended Cha Cá Thang Long Restaurant in the Old Quater, as the best place to sample this local delight. We were not disappointed at all. The special ingredient in Ch? Cá is grilled fish, typically mudfish or snake-head fish. According to the restaurant, the best fish to use Hemibragus, because it has fewer bones and tasty flesh.
This dish is made table side and the experience of preparing the dish is almost as much fun as eating it.
Where to Have It
You will find several Ch? Cá restaurants in Hanoi. The one we went to was Cha Cá Thang Long, which was recommended highly by our local airbnb host.
Cha Cá Thang Long
Address: 19 – 21 – 31, Duong Thanh, Hoan Kiem, Hanoi
Hours: Everyday from 11:00 am to 9:30 pm
Prices for Cha Ca: 120,000 VND per person, (approximately $5.29 USD)
The original restaurant for Cha Cá, is Cha Cá Lã Vong also in the Old Quarter of Hanoi. We did not eat at this restaurant as our host highly recommended Cha Cá Th?ng Long for an authentic experience. Additionally, the reviews of Cha Cá Lã Vong receives mixed reviews on Trip Advisor. Nevertheless, noted below is the address of this legendary restaurant.
Cha Cá Lã Vong
Address: 14 Cha Cá, Hà Noi.
Hours: Everyday from 11:00 am to 2:00 pm and 5pm to 9pm.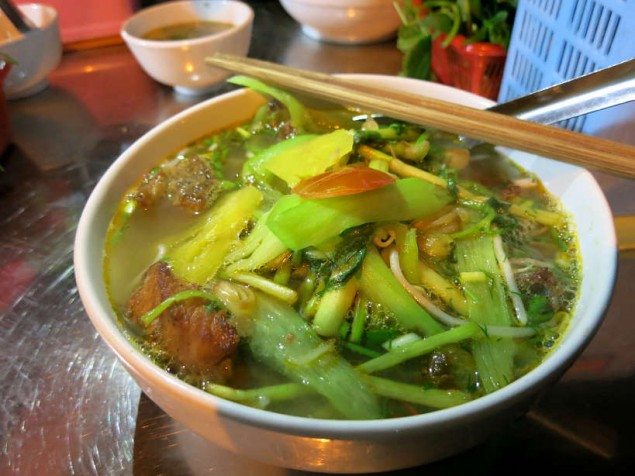 Bún Ca: Fish Noodle Soup
In northern Vietnam, fresh water fish is widely used in dishes. This dish Bún Ca, is no exception. It is a light broth made from fish bones with golden fresh white fish lightly fried. At the bottom of the soup, is a bed of rice vermicelli noodles. On the top covering the broth, is a delicate combination of spring onions and bean sprouts mixed with dill herbs.
Where to Have It
Bún Cá Sam Cay Si
To taste this unique dish, there is no better place than Bún ca Sam Cay Si, a typical street side restaurant. Tucked in a dark alley in the old quarter, this unpretentious small joint is packed with locals and tourist alike.
Adress: 5 Ngõ Trung Yên, Hà Noi.
Hours: Everyday from 8:00 am to 8:30 pm
Prices: About 35,000 VND per person, (approximately $1.54 USD) Add 10,000 VND ($0.44 USD) for Ca Cuon Thit.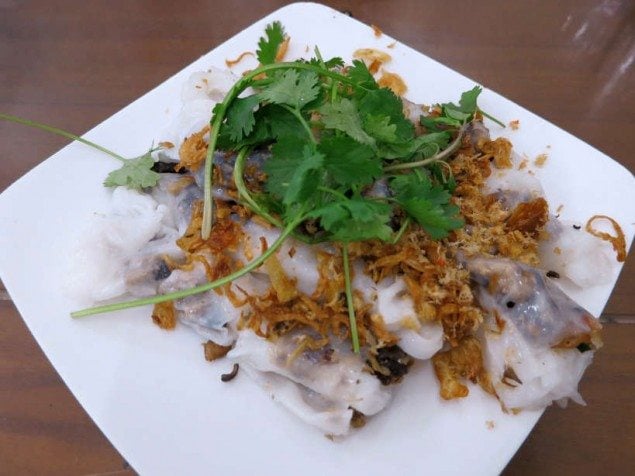 Bánh Cuon: Steamed Rice Rolls
Bánh cuon is another local specialty from Northern Vietnam that you don't want to miss. It is a delicate and light dish usually eaten for breakfast in Vietnam. However, you can find it all day long. Bánh cuon is made of a thin rice sheet rolled and filled with ground pork meat and minced mushrooms. It is served with fried shallots and cilantro herbs on top. The secret flavor of the dish resides in its dipping sauce.
As with most Vietnamese dishes, Nuoc Mam of fish sauce is used in the dipping sauce. The magic comes with the additional drop of cà cuong, the essence of a giant water bug common in Southeast Asia. This drop in the sauce adds an extra flavor which gives off a taste similar to scallops or shrimps. Today, this natural essence is becoming scarce and many restaurants are now using an imitation essence. The rice sheet is made by steaming fermented rice batter on a cloth stretched over a pot of boiling water.
Where to Have It
For this dish, we recommend to go to Bánh Cuon Gia Truyen. It is a well-known restaurant in Hanoi for its Bánh Cuon. On the menu below, you can see the restaurant still uses the original water bug essence in the dish.
Note, that you can actually order the essence and the bug as a side dish, which is quite popular in Vietnam.
Bánh Cuon Gia Truyen
Address: 12 Hàng Gà, Hà N?i.
Hours: Everyday from 7:00 am to 1:00 pm and 5pm to 11pm
Prices: About 35,000 VND per person (approximately $1.54 USD)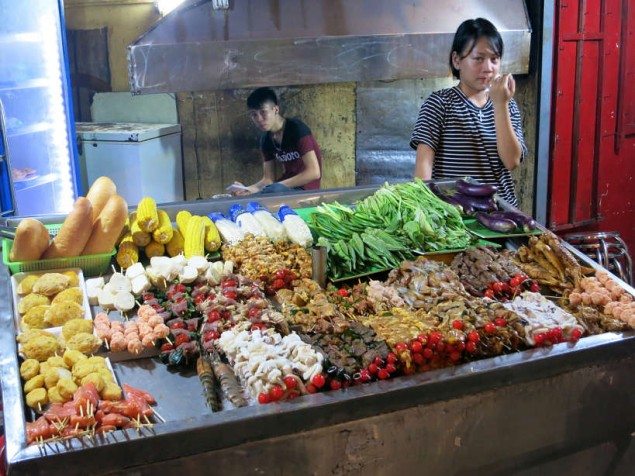 Lau: Hot Pot
In the cooler months, Lau is one of the most popular dishes you will find in Hanoi. Sitting on the sidewalks, in the evenings, you will see groups of locals huddled together over a large pot of simmering stock or soup, cooking beef, chicken, fish, noodles, veggies and so on.
Next to the tables, you will find vendors with a display filled with different vegetables and protein to be added to the hot pot.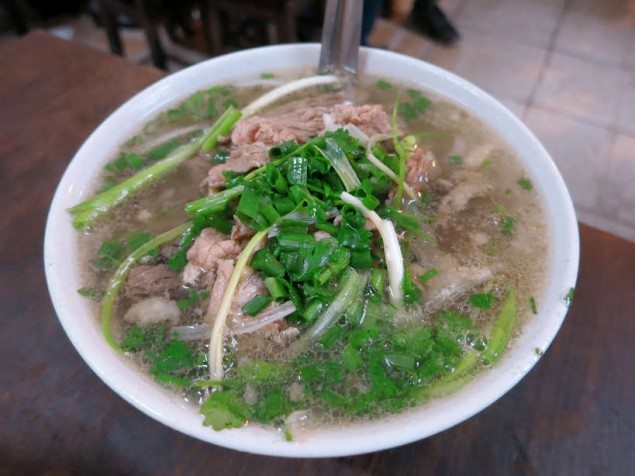 Pho: Vietnamese Noodle Soup
Pho is the classic dish of Hanoi, and one that you cannot miss. Our previous article, the best pho in Vietnam, goes into detail about the soup and where to find it, including in Hanoi.
See Also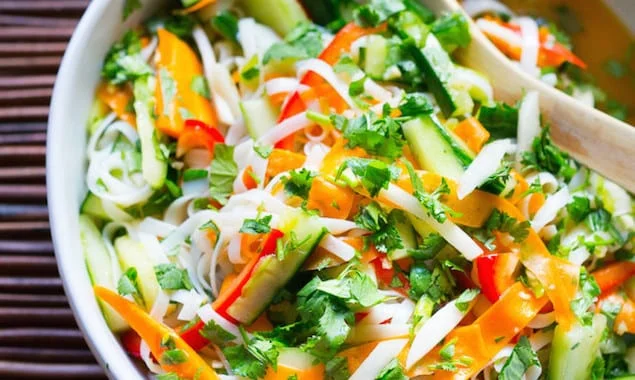 Where to Have it
Pho Gia Truyen
Address: 49 Bát Dàn, Hà Noi.
Hours: Everyday from 6:00 am to 10:30 am and 6:00 pm to 8:30 pm.
Prices: About 40,000 VND to 50,000 VND per person, approximately $1.75 USD to $2.20 USD.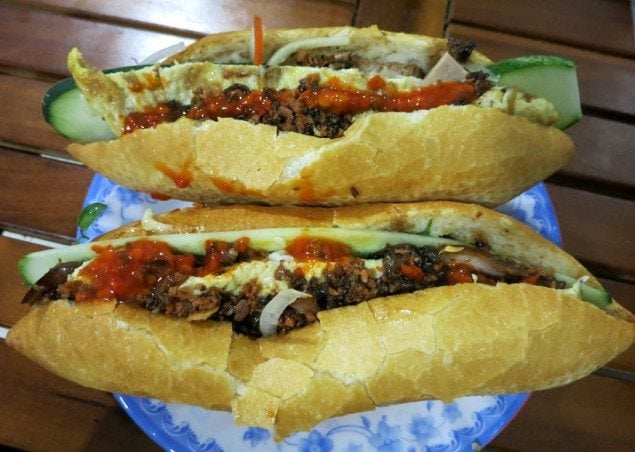 Bánh Mì: Vietnamese Sandwich
The bánh mì sandwich is truly the best Vietnamese sandwich to fall in love with. While its origins are French, the Vietnamese have made it distinctively their own. Generally speaking it is an airy Vietnamese baguette made with a combination of wheat and rice flours with a thin crispy crust. It is stuffed with pork, pâté, cured ham, a mélange of Vietnamese herbs and vegetables like coriander, cucumber, carrot, slices, radish and more depending on what part of the country you are in. A wealth of textures and flavors, you will savor spicy, salty, savory, sweet, and aromatic tastes in each bite.
Our favorite Bánh Mì sandwiches are actually not found in Hanoi, but in Hoi An, in central Vietnam.
In Hanoi, we stumbled onto Bánh Mì Ngon where we had two freshly made bánh mì sandwiches for the first time. What made this experience extra special, was the owner of the place made us taste a local dessert – pomelo slices topped with a mix of chili spices. A very nice and unexpected treat.
Where to Have It
Bánh Mì Ngon
Address: 49 ?uong Thanh, Hà Noi.
Hours: Everyday from 8 am until 10 pm.
Prices: About 15,000 VND to 25,000 VND ($0.66 USD to $1.10 USD)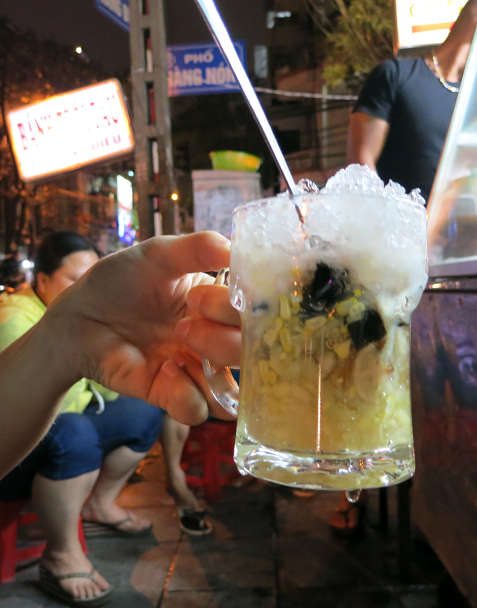 Chè: Vietnamese Sweet Soup
Chè is the perfect end to your meal, especially if you had a light meal like Bánh Cuon. Chè basically means dessert in Vietnamese.
In Hanoi, you will find chè vendors on the streets. Delight in warm chè in the cooler evenings and refresh with crushed ice added to the dessert in the hot months. Chè is a sweet soup typically made of several ingredients mixed together and served in a large beer glass.
Where to Have It
Bánh Troi Tau – Diep Beo
Address: 52 Hàng Dieu, Hà Noi.
Hours: Everyday from 8pm until 11pm.
Prices: About 10,000 VND to 25,000 VND ($0.44 USD to $1.10 USD)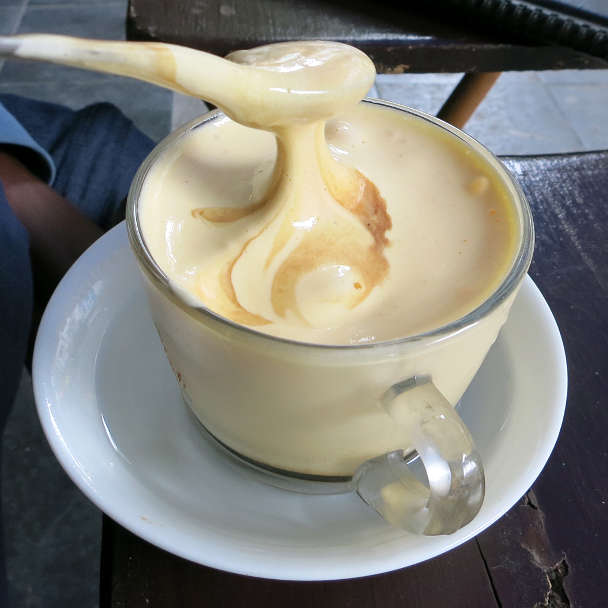 Cà Phê Trung: Vietnamese Egg Coffee
Although it is not a food, it is like food. Egg coffee or Ca Phe Trung is the most famous coffee in the north of Vietnam. It is a thick dark coffee topped with egg yolk whipped with condensed milk into an airy froth. Rich in taste, it can be likened to tiramisu dessert.
Where to Have It
There are several coffee shops and places to enjoy a silky Vietnamese egg coffee. One place that offers the best view in Hanoi is a hidden and difficult to find coffee shop called Café Pho Co.
Address: 11 Hàng Gai, Hàng Trong, Hà Noi
Hours: Everyday from 8am until 11pm.
Prices: About 30,000 VND for a cup of egg coffee ($1.34 USD)
Northern Vietnamese food has its own unique tastes and flavors. The balance of flavors, the influence of the weather and the unique ingredients make for a wonderful culinary adventure.
Many of the best dishes are found on the streets, on small plastic tables and chairs. For a local and authentic food experience on your travels, put any hesitation aside about eating on the streets. Instead, sit with the locals and try some of the local specialties you must eat in Hanoi highlighted here. Click here for more food and travel guides to Vietnam and beyond.
Authentic Food Quest
Rosemary Kimani and Claire Rouger are co-founders of Authentic Food Quest. They traded in their corporate jobs in 2015 to eat their way around the world. Starting out in South America, they traveled to Argentina, Uruguay, Chile and Peru and spent 6 months discovering the authentic foods in the region. Their mission is to inspire people to travel through authentic food. They have just published their first book on Amazon: Authentic Food Quest Argentina: A Guide to Eat Your Way Authentically Through Argentina. Join them on their quest as they eat their way through the Philippines, Vietnam, Thailand, Cambodia and Malaysia in Southeast Asia.