This cake gets a double dose of veggies from carrots and zucchini which add nutritional value and keep it from drying out.
By Lail Hossain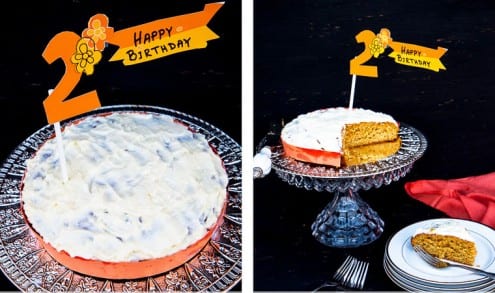 Zucchini and Carrot Birthday Cake
This cake gets a double dose of veggies from carrots and zucchini which add nutritional value and keep it from drying out.
Ingredients
2 eggs
¾ cups granulated sugar
½ cup olive oil
2 cups all-purpose flour
¼ teaspoon salt
1 teaspoon baking powder
1½ cup shredded carrot
1½ cup shredded zucchini
8 oz. mascarpone cheese
2 tablespoon granulated sugar
Instructions
Preheat oven to 350 degrees Fahrenheit.
Grease and flour a 9 inch round pan. Set aside.
In a large bowl, mix flour, salt and baking powder. Set aside.
In a separate bowl, beat oil and sugar until combined.
Add eggs, one at a time, beating well after each addition.
Stir in shredded carrots and zucchini.
Add flour mixture and beat on low until combined.
Bake 30 to 35 minutes or until golden and a wooden pick comes out clean.
Cool in pan on wire rack for 10-12 minutes.
Remove from pan and cool completely.
While cake is cooling, beat together mascarpone cheese and sugar until smooth.
Frost top of cake with mascarpone frosting.
Notes
Make sure to drain any water from shredded vegetables. If you chose, instead of 1½ cups of carrots and 1½ cups of zucchini you can use 3 cups of just one of the vegetables. Depending on taste preference, you may increase the sugar amount to 1 cup.
Lail Hossain
Lail Hossain finds cooking to be an explosion of creativity. She is enthusiastic about modifying a laborious step of an old recipe, and experimenting with different ethnic recipes by adding her own spin to it yet keeping the recipes simple, healthy, and delicious. Originally from Bangladesh, Lail shares her journey of food, creativity and family in her blog "With A Spin". She is also very passionate about highlighting Bangladeshi cooking to the international culinary space.