It's gluten, grain, and dairy free and totally Whole30 approved. This reinvented vegetarian Shepherd's pie is topped with a sweet potato mash and still so cozy and comforting.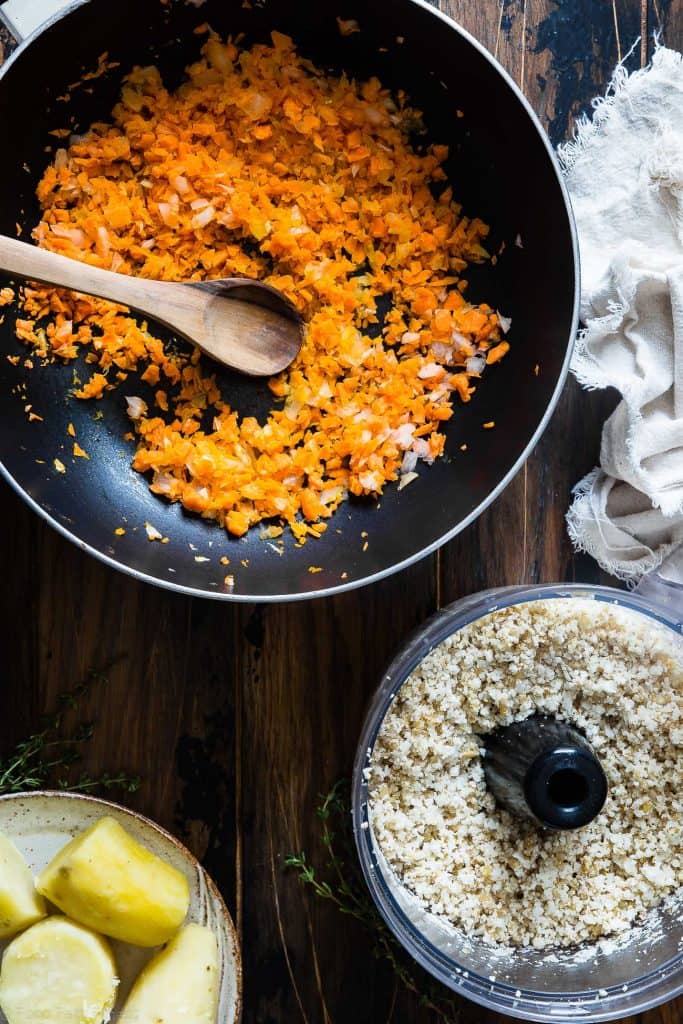 Let's talk about how SRSLY amaze it is that you can create ground meat-like texture from WALNUTS and CAULIFLOWER. It was first discovered while perusing Pinterest, and then trying it in the Thai veggie burger recipe, AND THEN having my taste buds fall off my head when I realized that (for once!) something on Pinterest actually works EXACTLY like it says it's going to.
We've all had our share of Pinterest fails. I FEEL YOU.
Pretty sure that there is a VRY VRY tiny wizard living inside my food processor, because there is FOR SURE some kind of magical-sorcery that goes on when you pulse-pulse-pulse raw cauliflower and roasty-toasty walnuts inside. They crumble up and jumbles together in a way to makes you think of GROUND MEAT.
I feel like in the back of all of our childhood memories, sits a dinner table with a steaming-hot Shepherd's pie on top. Whether it was on yo' Mommas weekly dinner rotation, or whether it was your G-Ma's specialty, it was ALWAYS THERE.
There's something about juicy bits of ground beef, mixed with tender veggies, a MISHMASH of herbs and a light, airy, BUTTERY hug of mashed potato goodness that just bridges ALL gaps and brings people to the table to eat REALLY GOOD FOOD together. Bring in the cauliflower! Bring in the walnuts! Ix-Nay on the ground beef! Keep the 'taters and veggies!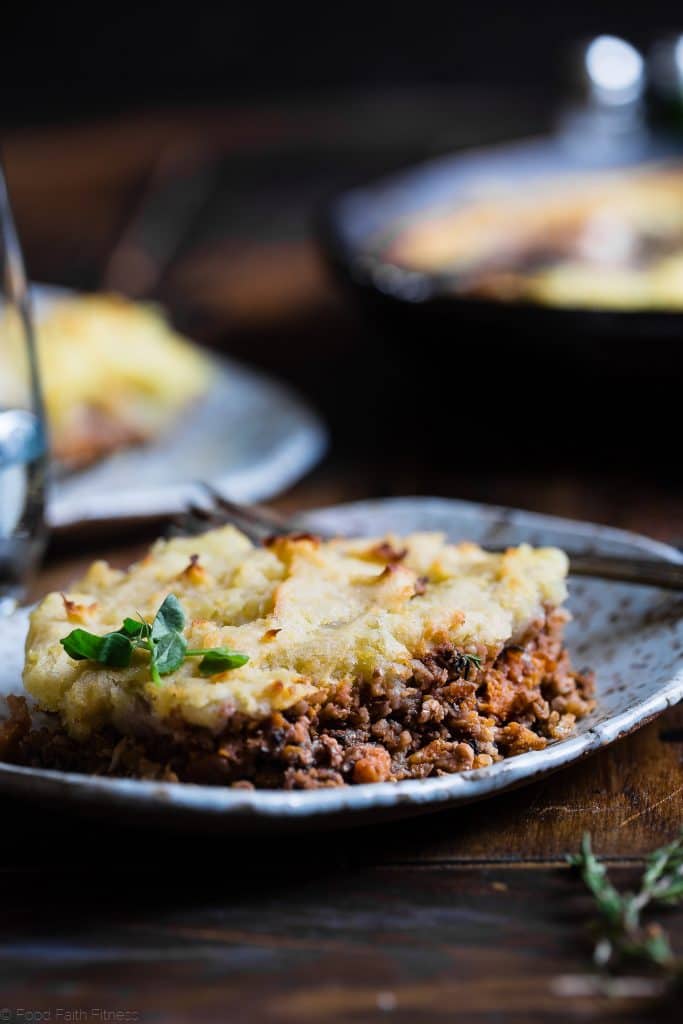 There's this tiny place inside of my soul that is crying about leaving out the corn and peas in the current-Shepherd's-pie-scenario of life that we're in. But inner-me wanted you (crazy) people who are attempting a Whole30 during the holiday season to have comfort-food-yums too.
You're welcome.
If you're not one of those crazy people, I'll totally look the other way if you do a little corn + pea mix-er-oo.
As they say: you do you.
As you dig through the layer of whippy-lightly-sweet potatoes, you unlock the treasure in the middle of it all: our faux-veggie-nut-meat, simmering with herbs, tangy tomato and a PUNCH of salty broth.
I should call this "thanksgiving Shepherd's pie" because it gives his mouth ALL the cozy-feel-good vibes that eating something like easy gluten free stuffing or paleo sweet potato casserole would.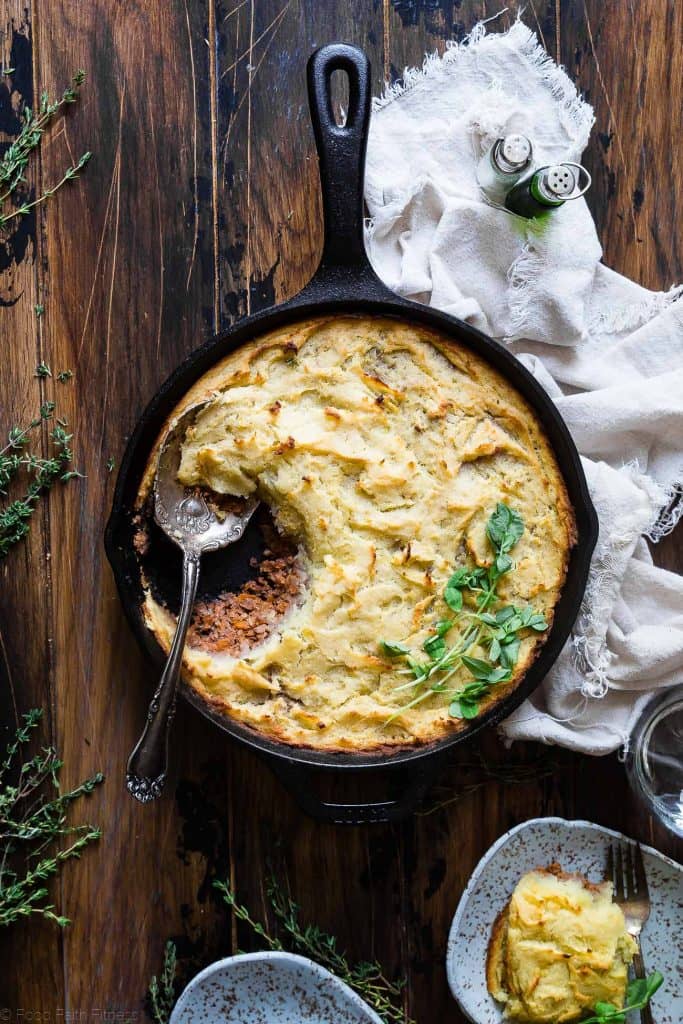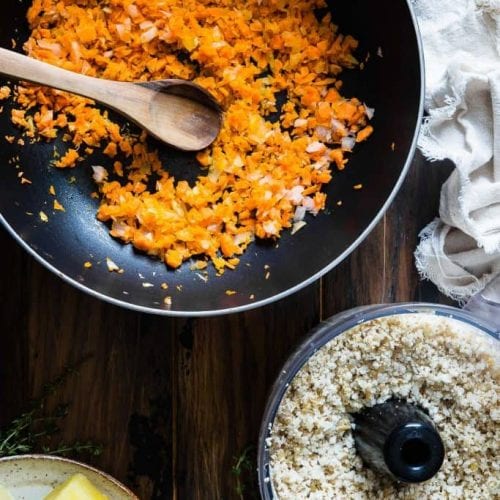 Whole30 Approved: Shepherd's Pie with Sweet Potato Mash
Taylor Kiser
It's gluten, grain, and dairy free and totally Whole30 approved. This reinvented vegetarian Shepherd's pie is topped with a sweet potato mash and still so cozy and comforting.
Ingredients
1

Cup

Walnuts

105g

1

Lb

White Sweet potato

orange works too!

1

tsp

Sea salt

divided

8

tsp

Ghee

divided (or vegan butter)

2

Large carrots

Diced (about 1 cup)*

1/2

Large onion

diced

3

Cups

Cauliflower florets

270g

2

tsp

Fresh garlic

minced

Pepper

1/2

Cup

Reduced-sodium beef or veggie broth

2

Tbsp

Tomato paste

1/4

tsp

Ground thyme

Fresh parsley

for garnish
Instructions
Pre-heat your oven to 375 and spread the walnuts out on a small baking sheet. Bake until golden brown and toasted, about 6-7 minutes. Set aside and increase the oven temperature to 400 degrees.

Peel and roughly chop the potato and add them into a large pot. Cover with at least 1 inch of water, as well as 1/2 tsp of the sea salt. Bring to a boil on high heat. Once boiling, reduce the heat to medium-high, to keep a steady boil, and cook until fork tender. This takes about 15-20 minutes. Once cooked, drain and set aside.

While the potatoes cook, heat 4 tsp of the Ghee in a large, non-stick pan on medium-high heat. Add in the carrots and onion and cook until they begin to soften, about 5-7 minutes.

While the veggies cook, place the toasted walnuts and raw cauliflower in a large food processor and pulse until broken down and it resembles the size of ground beef.

Add the cauliflower/walnut mixture, the garlic, the remaining 1/2 tsp of salt and a pinch of pepper into the pot and cook until the cauliflower begins to soften, only about 3 minutes.

Reduce the heat to medium and add in the broth, paste and ground thyme. Cook, uncovered, until all the liquid is absorbed, about 8-10 minutes. Transfer to an 8x8 inch baking pan, really pressing it into the pan.

Place the potatoes in a large bowl and add the remaining 4 tsp of Ghee, as well as salt and pepper, to taste. Use a potato masher to mash until smooth and creamy. Gently spread over top of the veggie mixture, leaving the top a little uneven so the potatoes brown.

Bake until the potatoes have lightly browned, about 35-40 minutes.

Let stand for 5 minutes to cool, and the garnish with fresh parsley and DEVOUR!
Notes
*I use my 3 cup food processor to chop the veggies - huge time saver!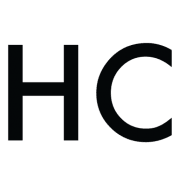 Taylor Kiser
Taylor is the blogger, recipe developer, photographer and general mess maker behind the blog "Food Faith Fitness." She is a Christian who is constantly trying to learn how to keep Christ at the center of her daily life. Taylor is also a health and fitness enthusiast who loves creating delicious recipes, with a healthy spin. However, Taylor also believes that moderation is key, so sometimes it's ok to just go and eat a cookie!