With delicious cinnamon cookie butter flavor, these soft, cookies are loaded with sweet flavor and creamy white chocolate chunks.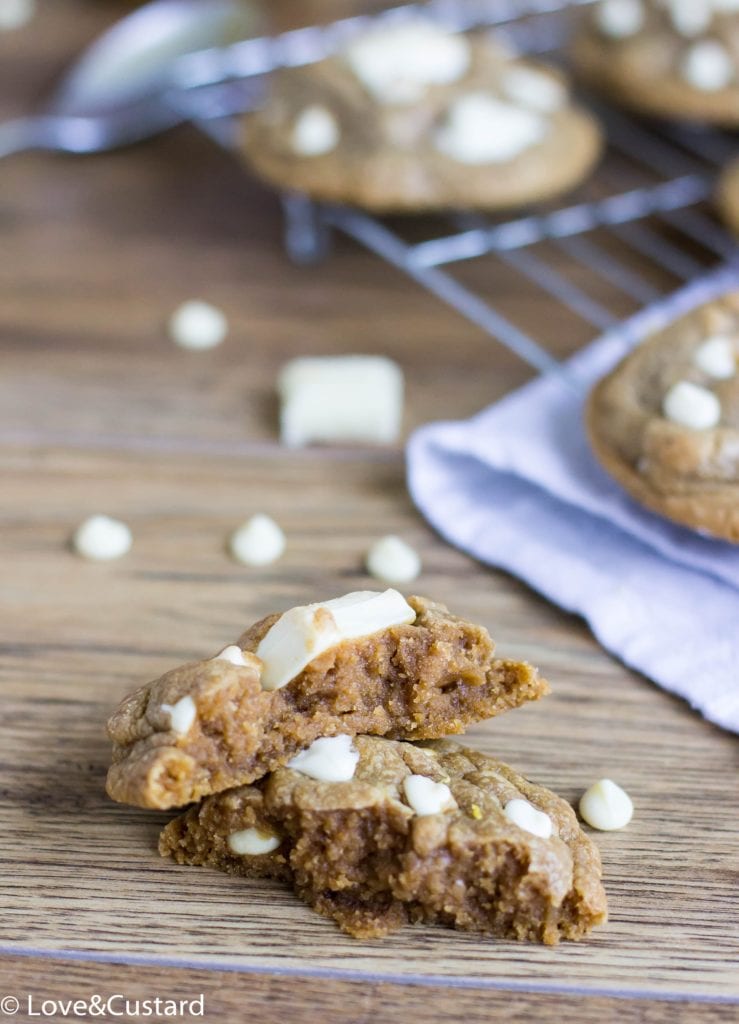 Make all of your cookie butter dreams come true with these thick, soft and chewy cookies bursting with Biscoff spread and studded with white chocolate.
I love Biscoff biscuits. Have you ever tried them? For ages, I just knew them as those tiny little cookies that packed a lot of punch that I only ever got on the side of a big mug of latte in hotels or fancy restaurants. I had no idea what they were called, but I knew well their thin frames and red wrappers.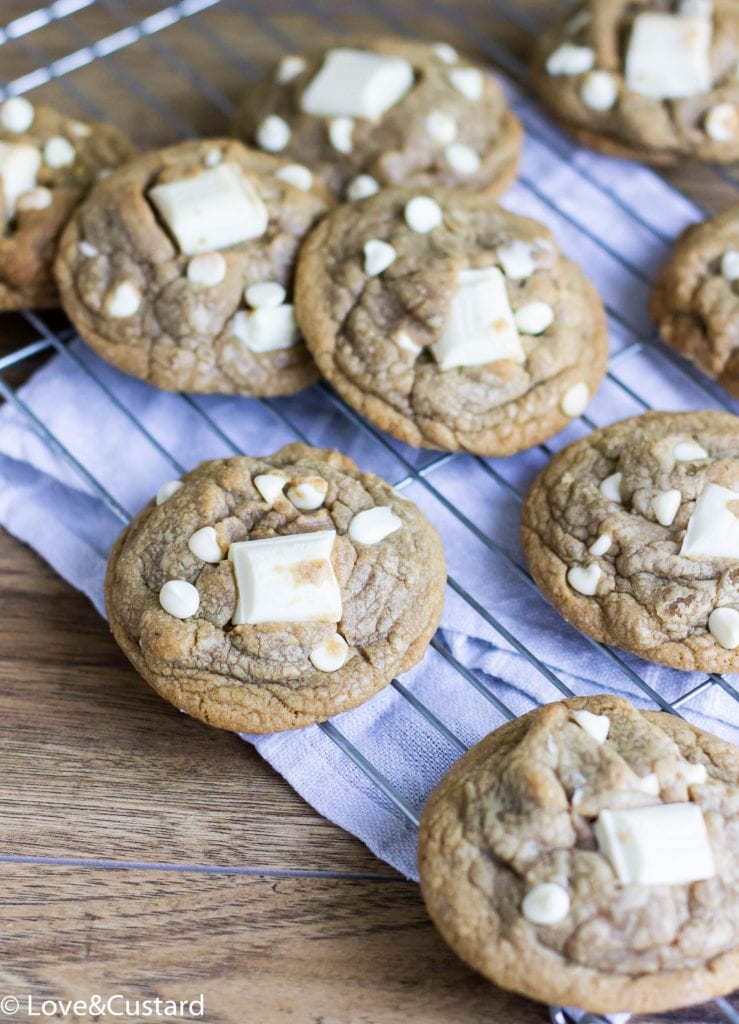 As a cinnamon lover, it's probably no surprise that I'm partial to these biscuits that taste like the love child of cinnamon, gingerbread and caramel. A beautiful thing.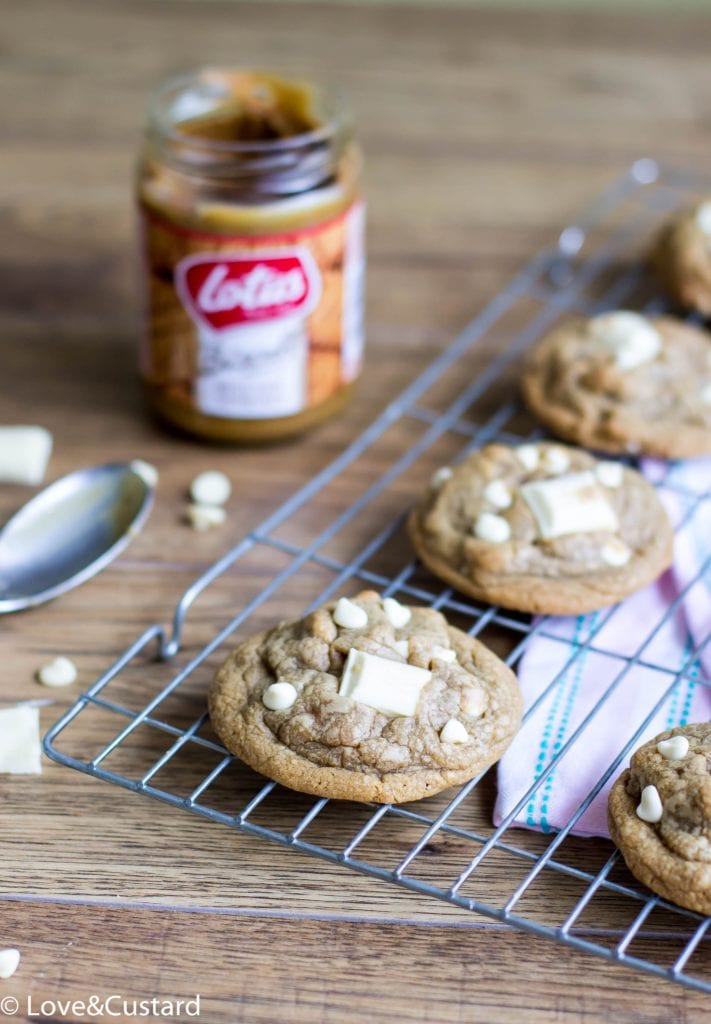 The cookie butter flavour is perfectly complimented by white chocolate chunks (or chips if you prefer). Because every cookies needs some chocolate.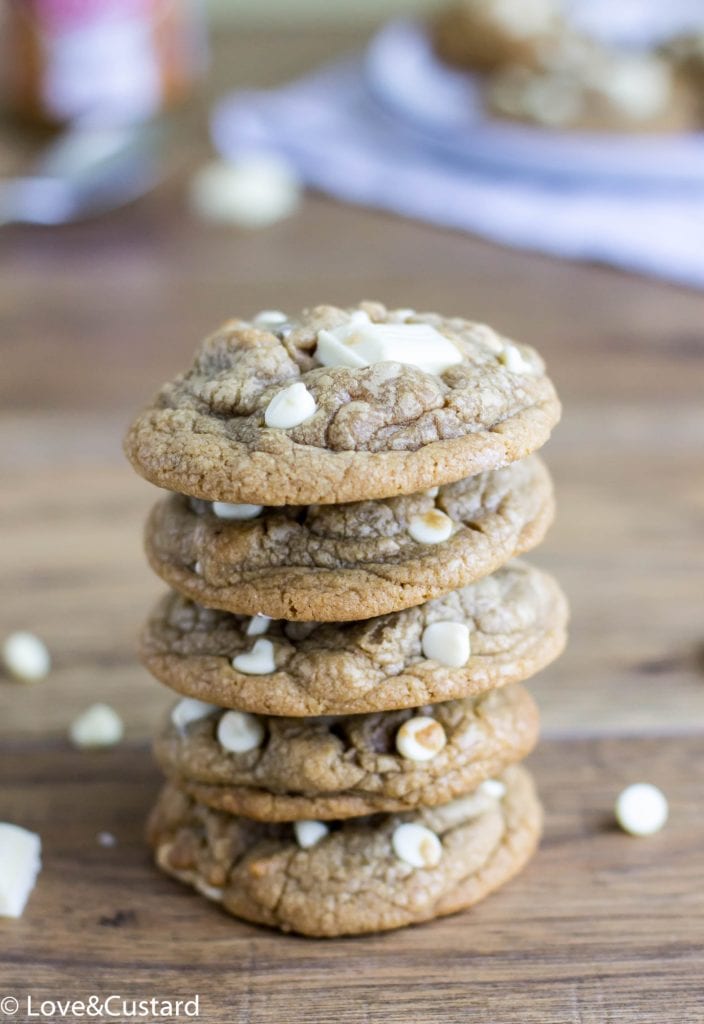 White Chocolate Cookie Butter Cookies
With delicious cinnamon cookie butter flavor, these soft, cookies are loaded with sweet flavor and creamy white chocolate chunks.
Recipe Type:
Baking, Cookies
Ingredients
120g unsalted butter, melted*
60g caster sugar
90g dark brown sugar
1 large egg, room temperature
1 tsp vanilla extract
125g Biscoff spread
250g plain flour
½ tsp bicarbonate of soda
½ tsp salt
100g white chocolate chunks or chips
Instructions
Preheat the oven to 180C/350F/gas mark 4. Line 2 large baking trays with baking paper. Set aside.
In a large bowl using a wooden spoon, beat the melted butter and white and brown sugars until well combined, about 1-2 minutes. Add the egg and vanilla, beating until just combined.
Add the Biscoff spread and mix until smooth.
Add the flour, bicarbonate of soda and salt and mix using a wooden spoon. The mixture should come together easily without being too sticky. If it's very loose and sticky, add more flour, 1 tablespoon at a time until it firms up a little. Try to handle the dough as little as possible once you've added the flour - overbeating at this stage can make your cookies dry and tough.
Using the wooden spoon, stir in the white chocolate until evenly distributed.
Using your hands, separate the dough into 12 equal sized chunks, roll into a smooth ball and set back on the baking tray, spacing the cookies around 2 inches apart.
Bake for 9-11 minutes until the cookies are lightly golden around the edges. It's important not to overbake them, otherwise you will lose the soft and fudgy texture. When they first come out of the oven, they'll look underbaked and puffy, but don't worry - they'll continue to bake on the tray as they cool.
Allow them to cool on the tray for 20-30 minutes, then carefully transfer them to a cooling rack.
These will keep in an air tight container for up to 5 days. The cookie dough does also freeze well, so you can pop them in the freezer for when a cookie craving hits!
Notes
*When melting your butter, to avoid overheating it, stop heating it as soon as there are just a few small lumps of butter left that haven't quite melted. Stir the butter until these little lumps have melted too. You don't want the butter to be hot, otherwise the egg will curdle. If you've slightly overheated your butter, allow it to cool a little before using.