Priya Mahadevan presents a deliciously fresh whey focaccia.
By Priya Mahadevan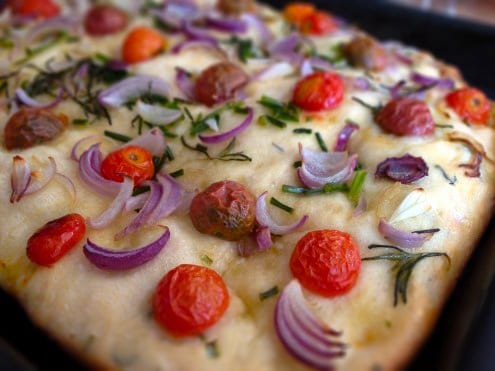 Today it is my pleasure to try to wow you with my protein rich, colorful focaccia. I had all the fresh home grown ingredients for it and I said, hey, let's do it and I did. It turned out to be a phenomenal success (which is measured in how many minutes it takes to get devoured by my kids) and truth to tell, I am happy I got a minute to take the pictures before my kids went gung-ho with it. I had some when sitting around in the fridge left over from making some paneer. I used it in a couple of ways: one in the soup I made to accompany the focaccia and two, in the focaccia itself. While the taste did not change any, it felt better that with the carbs, there was also some protein. If you are a vegetarian, you know how difficult it is to avoid carbs – even if you are seeking the complex kinds. Anyway, without further natter, I present to you my fresh, really fresh, Focaccia.
Substitute warm water with warm whey when you make this focaccia my way :)
Recipe Type:
Appetizer, Entree
Ingredients
For the dough
3-4 cups of bread flour ( I used King Arthur's unbleached bread flour)
1tbsp of instant yeast
2tbsp crushed fresh rosemary
1tsp salt
1tsp sugar
4cloves of freshly squeezed garlic
2tbsp of olive oil
1cup of warm whey (I subbed whey for the water which is the original way to go - Curd or milk would also be a good idea should you want to try)
2tbsp warm water
Some more warm water as need to get the right consistency
For the Garnish
1 cup of cherry tomatoes (any kind)
2 sprigs of Rosemary
1-2tbsp of olive oil
3small onions diced
2tbsp fresh garlic chives, chopped
Instructions
In 2tbsp of warm water, add the sugar & yeast and allow it to froth
In the meantime, combine flour and salt and all the chopped herbs and spices and mix dry
Add the olive oil and mix
Add the frothing yeast to the flour and mix in well
Now add the warm whey and knead either in your mixer or by hand
Knead until it is a smooth ball that lifts off without sticking to the sides of the bowl
Put a plastic cover (I often use grocery bags) and let it sit for a couple of hours
About 15 minutes before the dough time is up, chop your onions and chives
Get your pan ready and sprayed and set the oven to 350 deg. F
Take dough out and punch down to release the air.
Roll or knead it out to the shape of the pan (I used a rectangular one)
With the knuckle of you index finger, make dots or dips in the spread dough
Brush with olive oil
Arrange your tomatoes appealingly (:
And you onions and chives
Allow this to sit for about 20 minutes (keep covered if need be) This will help the dough to rise a bit more)
Bake for 25-30 minutes, until you see that the crust is brown and the top is starting to brown lightly too.
Remove, cut and eat…
Priya Mahadevan
Priya Mahadevan is a writer and food blogger with a background in journalism & communication. Priya's mission with her food blog is to blow the myth that healthy cannot be tasty. She was a political and feature correspondent for a prominent Indian newspaper in the 90s before moving to the US. She lives in Virginia with her husband and 3 beautiful children. You can find her world of vegetarian recipes at http://priyasnowserving.blogspot.com.