The beer flavor is pretty obvious here so make sure you don't use anything with bold flavors – a nice summer wheat ale is a perfect fit.
By Maggie Cubbler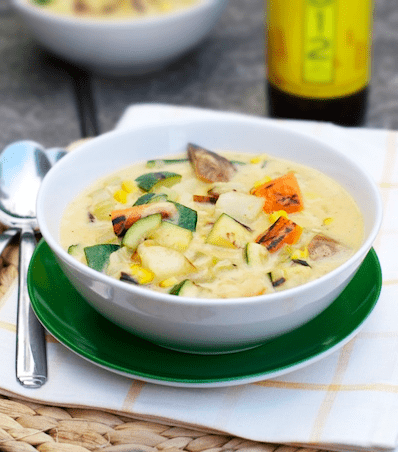 Wheat Ale Grilled Summer Veggie Chowder
The beer flavor is pretty obvious here so make sure you don't use anything with bold flavors - a nice summer wheat ale is a perfect fit.
Ingredients
1 ear of corn, shucked
1 large potato, sliced in half lengthwise
1 carrot, peeled
1 zucchini/courgette, sliced lengthwise in ¼" wide strips
Olive oil or cooking spray
1TB butter + 1TB olive oil
1 yellow onion, diced
pinch of salt
1 celery stalk, peeled and diced
½tsp ground cumin
2TB plain all-purpose flour
salt and pepper
2 sprigs fresh thyme
1 cup (250ml) low-fat milk
1 cup (250ml) beer
2oz (60g) shredded sharp cheddar cheese
Instructions
Coat the corn, carrot, and potato with the olive oil or cooking spray.
Place on a medium-hot grill and cover. Grill for 20 minutes, turning once, until the potato is soft.
With four minutes remaining, coat the zucchini/courgette strips with oil/spray and grill, turning once.
(This can all be completed on a cast iron grill pan indoors as well.)
When the vegetables are finished, remove from the grill and allow to cool for a few minutes. Once slightly cooled, chop them into bite-size pieces. Set aside.
In the meantime, in a large saucepan, melt the butter into the oil over moderate heat.
Cook the diced onion for a couple minutes in the butter, adding a pinch of salt to get the process going.
Once softened add the celery and cook for a few minutes until slightly softened.
Add the ground cumin, stir, and cook for 1 minute.
Add the flour, stir, and cook for 1 minute more.
Season with salt and pepper and add the fresh thyme.
Stir in the milk and the beer until well-combined. Bring the mixture to a boil.
Once it reaches boiling, lower the heat and add the grilled, diced vegetables. Stir in the cheese.
Stir constantly until completely heated through. Serve.
Get Loaded!
Maggie Cubbler
Maggie Cubbler is a beer-and-food-loving Yankee living in North Yorkshire, England. When she's not pulling pints at a traditional Yorkshire pub, she devotes her time to her Labrador, husband, and working on her blog: Loaded Kitchen. She loves to pair beer with food, cook with beer, and drink a (half) pint or two with the natives. Besides blogging and drinking, Maggie is currently studying to become a certified Cicerone while trying to figure out why Yorkshire men like lime cordial syrup in their lagers. Take a swing by her blog and check out the party in her pans.