The playful Italian born chef, Walter El Nagar, behind the über trendy Barbershop pop-ups in Los Angeles is packing his chef knives and going on a European mini-tour.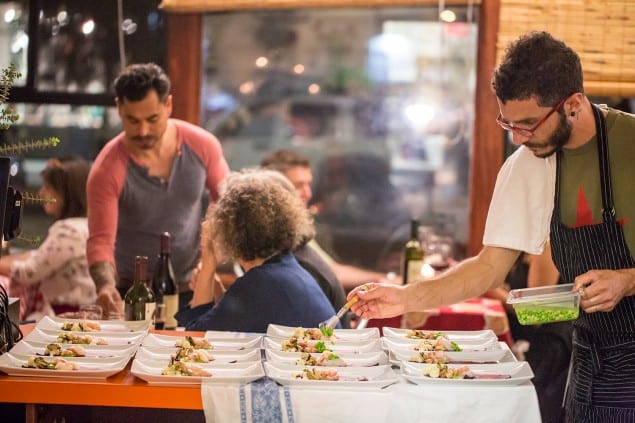 © Photo by Héctor Cruz Sandoval
He's been cooking and brewing in different parts of the world. From the frosty weather in Norway, to the sunny parts of Italy, all the way to the rich cultures of Mexico, until finally settling in Los Angeles 7 years ago. Now the talented chef is taking his culinary adventure on a mini tour to the southern part of Europe.
The move however is not because the market in Los Angeles is depleted for his popular pop-up events. Walter el Negar and his staff just finished the 10th and final edition in LA, cleverly dubbed the "Farewell to LA", to a sold-out culinary adventure in the end of March and mid-April in Venice Beach.
– We did the last event in a garage of a friend of mine. After a few nights we had an inspection that forbid us from doing it again, because we didn't have the right permissions sorted out. We ended up moving the event to a rooftop in downtown LA amidst a bunch of skyscrapers, so it turned out well anyway.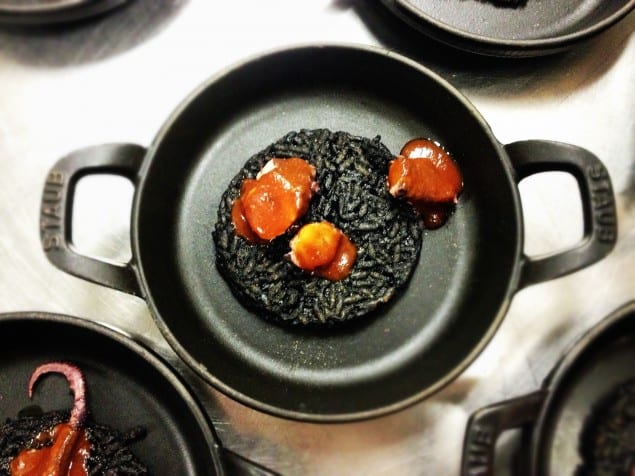 © Photo by Guido Zwecker
Finding the perfect location
When the first Barbershop concept started four years ago, it was held in collaboration with award winning LA based award winning chef, Suzanne Going. It was a five-week event in one of her restaurants. Back then it was the lack of pop-up experience that turned out to be the biggest obstacle to overcome. Now Walter cites constantly scouting for locations as the biggest hurdle when it comes to preparing a pop-up event.
– Three years ago it was easy to rent restaurants that had a fully equipped industrial kitchen with everything you could possibly need to create a menu for the guests. Now it's become more difficult and you've gone from renting restaurants to renting spaces, which make it more difficult as you don't have an industrial kitchen to work with. This limits what you can physically do and makes you think more creatively. Think more out of the box.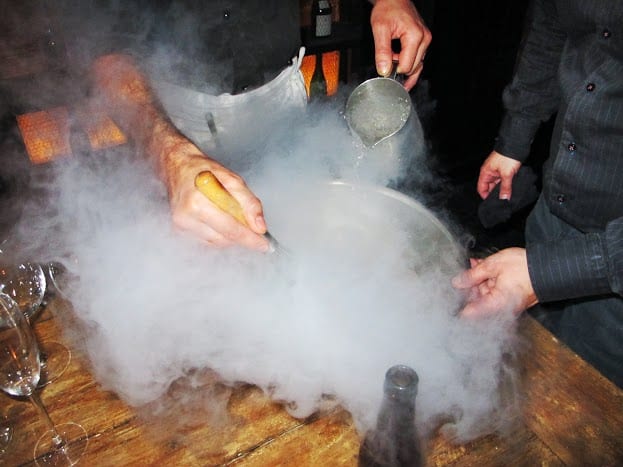 © Photo by Guido Zwecker
With 10 installments in his culinary basket, Walter has had his share of interesting venues. From an artist studio in the middle of nowhere with only the basic kitchen amenities, to a knife shop with absolutely no room for food preparation, it makes you think just what goes through Walter's mind when he prepares a menu.
– Of course I get frustrated, as I am a passionate about cooking and preparing a meal. This limitation in the kitchen is why we only do seatings between 15-25 people at the same time, and also why we offer a tasting menu, where the menu is set. Then it's all about the ingredients and how you can take the best advantage of using as much of it as you can. For the event at the knife shop we prepared the food off site and I brought my small Japanese charcoal grill, which we stationed outside. That combined with creative use of induction burners, torches and siphons was basically how we got through it. It was pretty tough.
The 2 different types of guests
Walter also mentions that the type of people who attend these events are rather different than normal diners and that you can characterize them in two different groups.
– There's the adventurous one who understands the limitations we encounter, that don't expect perfection but rather anticipates the surprise and excitement of what they will be getting in these conditions. The other type comes in with a defeatist attitude, knowing perfectly well that we can't live up to what they would experience at a restaurant. I of course prefer the first type, but when the latter leaves the event happy and with appreciation of the effort we put in, then it's a victory for me.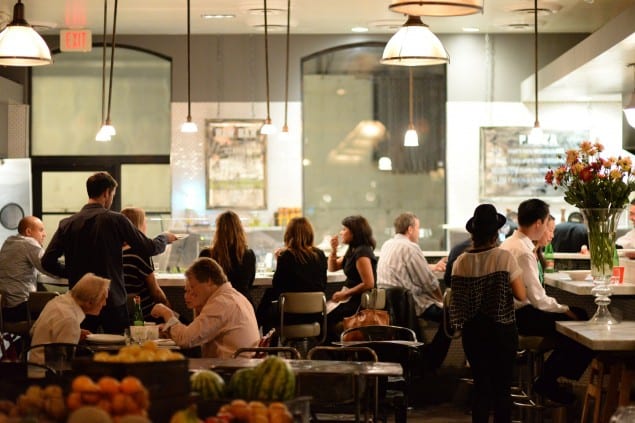 © Photo by Héctor Cruz Sandoval
Bienvenido a Barcelona!
As an adventurous and passionate chef, it's no wonder that Walter needed a change of scenery, which, come summer, will take form in a three-stop tour hitting Barcelona and Ibiza in Spain and Milan in Italy – the country from where Walter originally stems. It's especially the hype around the Barcelona food scene that fascinates Walter.
– I'm always eager to learn and meet new people. I like to soak in the flavors and use of ingredients in different cultures. I've worked in Oslo and Mexico and it's very interesting to see how different cultures use the same basic ingredients in their cooking in different ways. I've chosen to start with Barcelona as it's a mecca for chefs right now (with El Celler de Can Roca being named the best restaurant in the world) and the rich heritage of star chefs and restaurants, says Walter and states that in Italy he'll probably just be known as "the Italian chef who's returned from America".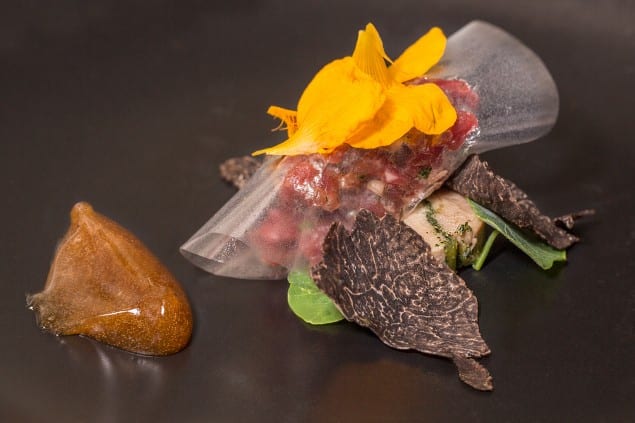 © Photo by Héctor Cruz Sandoval
– In Milan I'll have to prove myself as more than just an Italian chef. There I'll have to showcase my own style, which will be a mix of Italian with inspiration from LA style cooking, which in itself is a big melting pot of different cultures. It'll be exciting. It'll be the savvy-hipness of LA meeting the traditional cooking of Southern Europe.
The importance of local produce
Like many other chefs, Walter will let the season and local produce act as the main factor for the creation of his menus. But he does have a game plan all set up.
– I'll be arriving a few weeks in advance and will use this time to scout the area for the best pick of the season. I like (what I like to call) poor cuisine, meaning I like to use inexpensive ingredients when I cook. I'm not going to ship white truffle to the kitchen or import special tuna from Asia. I'd rather get the most use out of the ingredients that I have. My style is to use, as many different techniques to the ingredients, to give you something that you are familiar with taste wise but wouldn't recognise at first glimpse.
– When I visit Milano it'll be mushroom season, so I'm definitely take advantage of that. I'll also be close the alps, which gives me a great array of different wild fruits and herbs to use. Plus the best fish market is in Milano and I really miss the use of seafood.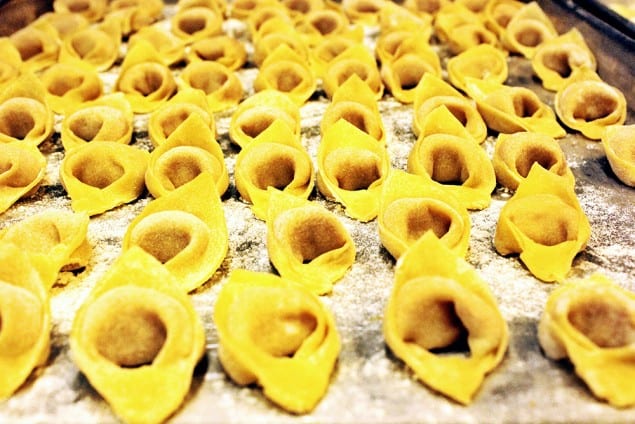 © Photo by Eleonora Cottu
Sustainable thinking
The use of local produce and incorporating sustainability into cooking is nothing new, but it does however play an extra big role in Walter's style of leadership. For Walter it doesn't only apply to the ingredients he uses for his cooking, but also in the chain of command of the whole restaurant. That's why Walter has always challenged the low salary of hospitality workers and paid all his employees at the pop-up restaurants $15 per hour, which is way above minimum wage.
– I care about the social issue and if I can take a stand I will. It's about paying all your employees a fair wage. It's about using as much of the ingredients as I can. If I'm cooking with prawn, I'll even see if I can keep the shell and use it for decorating another dish. It's about throwing away the a la carte menu and only doing tasting menus and only accepting reservations at your restaurant, to avoid food waste. I try to only buy, transform and create the amount of servings to match the amount of guests. That was the initial idea behind the first pop-up I created four years ago, and that's why I can't see myself working in a normal restaurant, says Walter and highlights the importance of using local produce.
Italian by heart
With so many countries visited and so many gastronomic influences experienced, Walter's favorite food always changes. Right now he cites the many flavors of the Middle Eastern kitchen as his favorite – but his all time favorite remains certain:
– It will always be Italian! In Italy we limit the number of ingredients so it's still simple yet complex. It's all about less is more without ever compromising the quality of the food. That's what I'm all about.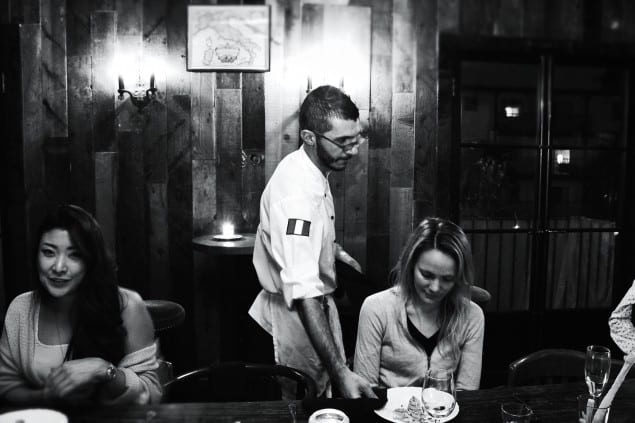 © Photo by MUNOZ
So even though future diners in Walter's coming tour shouldn't expect rooftop views and quirky back rooms of knife shops, they should expect the same tender loving care he gives all his food.
– It will be intimate and small focusing on communication with the guest. In the future when I open my own restaurant it'll be with the same agenda. I'd rather have a small restaurant where I can build a relationship with my guest, rather than a big one.
Daniel S. Bahrami
Daniel S. Bahrami is a Barcelona based writer with a background in digital communication and journalism in Copenhagen, Denmark. He has been part of the editorial staff of the biggest Danish fashion magazine, Eurowoman, and has worked freelance for several other publications as well as experience in fashion and gastronomy PR.