Walnut Fudge Upside-down Tart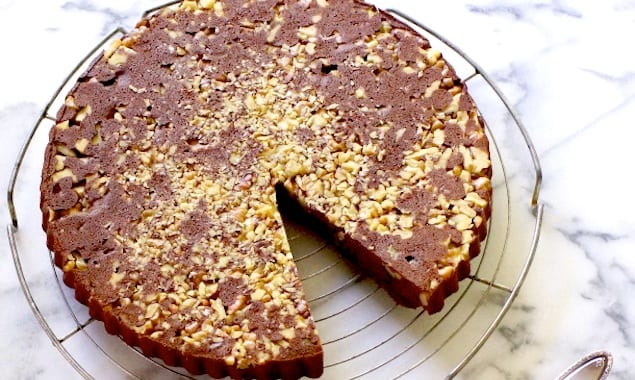 What could be better than a slice of this chewy, chocolate tart? We aren't sure, but we do know that the walnuts add just the right about of crunch to make this dessert sinfully rich.
By Patty Price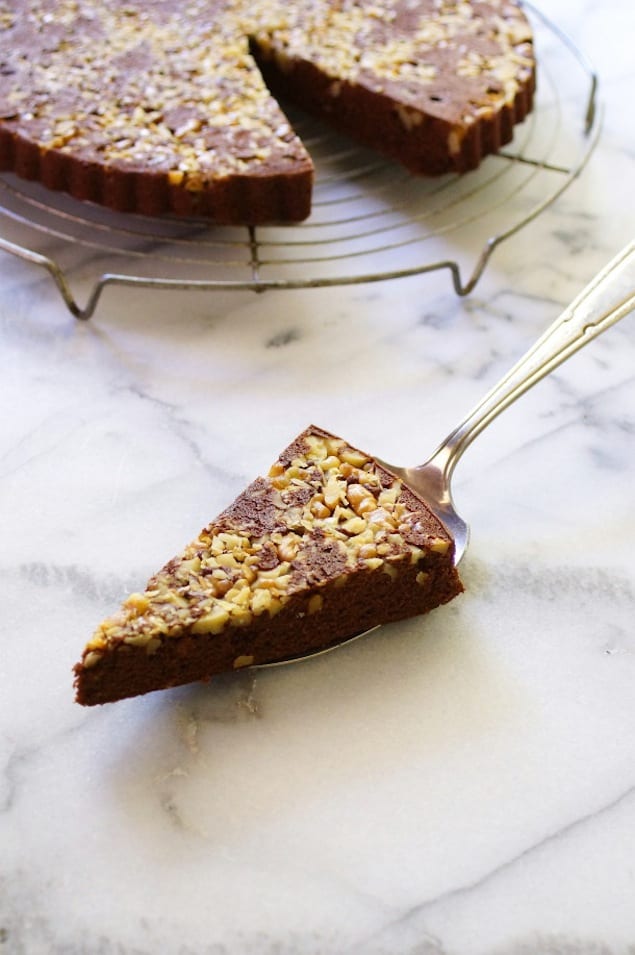 A quick note (!) about the thick chocolate batter that goes into this chocolate tart… I used a few spoonfuls of Steen's 100% Pure Cane Syrup which I brought back with me on the plane in my suitcase from NOLA, I know that's crazy to be toting a large bottle of pure cane syrup in my suitcase-I triple wrapped it!- but it turned out to be SO WORTH IT!! If you don't have your own bottle of Steen's 100% Pure Cane Syrup, light corn syrup with a smidgen of molasses might be a close approximation.

Walnut Fudge Upside-down Tart
What could be better than a slice of this chewy, chocolate tart? We aren't sure, but we do know that the walnuts add just the right about of crunch to make this dessert sinfully rich. adapted from Cooking Light
Ingredients
1 cup walnuts, toasted and chopped
4 ounces bittersweet chocolate, chopped, Ghirardelli 60% brand
6 tablespoons unsalted butter
½ cup all-purpose flour
3 tablespoons all purpose baking cocoa, KAF brand
¼ teaspoon sea salt
2 large eggs
6 tablespoons sugar
2 tablespoons pure cane syrup, Steen's brand
¾ teaspoon vanilla extract
Instructions
Preheat the oven to 350F.
Coat a 9" metal removable bottom tart pan with baking spray.
Sprinkle the chopped walnuts in pan.
Combine the chocolate and butter in the top of a double boiler set over simmering water.
Slowly cook until chocolate melts, remove from heat and set aside.
Whisk together the flour, cocoa and salt in a medium bowl, set aside.
Using either a hand (with a large bowl) or stand mixer beat the eggs on medium speed until thick and lighter in color.
Gradually add the sugar (1 tablespoon at a time) to the eggs, beating on medium speed until sugar dissolves, about 2 minutes.
Add the cane syrup and vanilla, beat on low speed for 1 minute, until well blended.
Add the chocolate mixture, beat on low speed for 1 minute, until well blended.
Gradually add the flour mixture, beating on low speed until combined.
Pour the batter over the nuts in prepared pan, spread evenly.
Bake in lower third of oven for about 20 minutes or until the top is firm and slightly pulls away from the sides or a toothpick inserted comes away with a few moist crumbs.
Cool in pan on metal rack, invert on plate to serve.
Patty Price
Patty Price is a former assistant pastry chef at Bizou (currently CoCo500) who was previously recognized for her signature dessert by The New York Times. She also spent time learning classic French cooking techniques at a three-star Michelin restaurant in France which she incorporates into her personal food blog, Patty's Food. Inspired by the diversity of seasonal vegetables, fruits and herbs available locally in the San Francisco Bay Area, Patty hopes to inspire her readers to cook seasonally and try new recipes.