Ready to settle in with a holiday movie marathon? See our favorite cinema-inspired recipes below, each paired with a classic holiday table scene that in true-to-life fashion either ends in family disaster or heartfelt feelings all around.
By Kate Wilke
This article has been posted with permission and originally appeared as The Best Holiday Table Moments in Film on Relish
Ready to settle into a holiday movie marathon? We certainly are—and we'll be bringing the snacks, and perhaps a full dinner. See our favorite cinema-inspired recipes below, each paired with a classic holiday table scene that in true-to-life fashion either ends in family disaster or heartfelt feelings all around.
National Lampoon's Christmas Vacation (1989)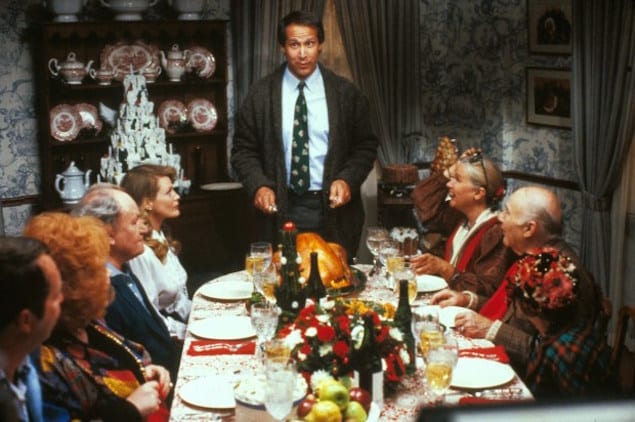 A turkey at the holidays is always a good idea—unless you're part of the Griswold clan. In that case, it'll likely crack and sputter with ashes. Don't worry, our Classic Roast Turkey recipe won't.
Elf (2003)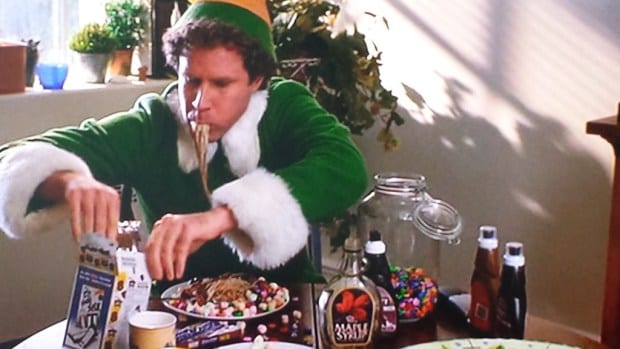 According to Buddy the Elf, elves try to stick to four main food groups: Candy, candy canes, candy corn and syrup. Hence his love for maple syrup doused spaghetti and meatballs. We'll spare you that delectable dish but certainly not the candy category with our festive peppermint crush cookies.
How The Grinch Stole Christmas (2000)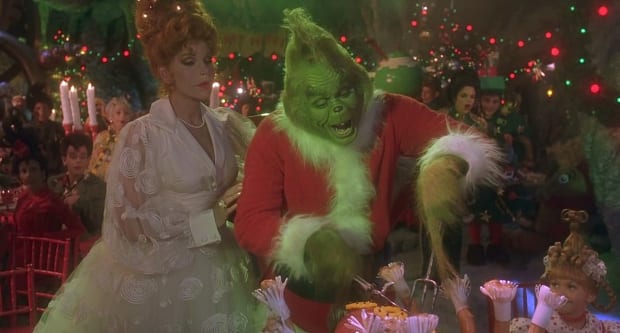 When the once-feared and spiritless Grinch is welcomed to the Whoville Christmas dinner we can't help but get a little teary eyed. They even give him the honor of carving the Roast Beast! Do the same for someone you love and serve this holiday Roast Beef with Garlic and Herbs.
Harry Potter and the Order of the Phoenix (2007)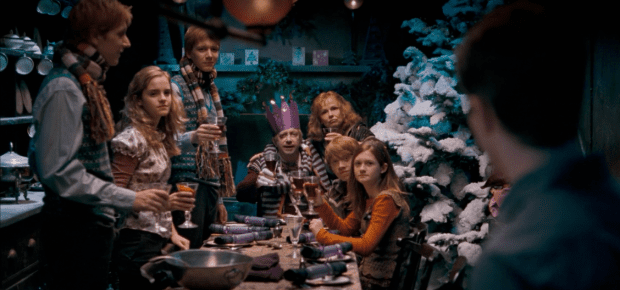 In a joint moment of gratitude, Hermione, Sirius Black and the Weasley family raise bright red glasses to toast Harry Potter for his heroic accomplishments. Do the same for your loved ones with hearty mugs of Glogg (Spiced Wine).
A Charlie Brown Thanksgiving (1973)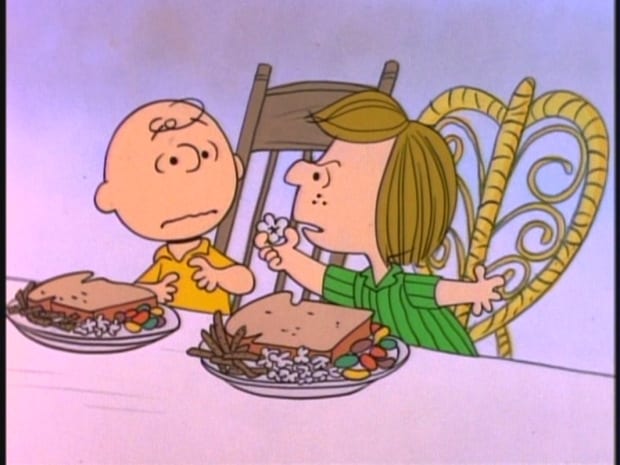 Avoid ridicule from relatives and serve more than just toast, pretzels, popcorn and jelly beans for your holiday dinner. But hey, for a classic movie viewing, that menu sounds pretty darn good. Try our Maple Pecan Popcorn Balls—even Peppermint Patty would be into these.
It's A Wonderful Life (1946)
Have you ever noticed in this iconic table scene both men chew throughout the entire shot? Fascinating little tidbit. Since it doesn't get more classic than It's a Wonderful Life, we decided to pair the film with another fitting American classic—Apple Pie.
The Blindside (2009)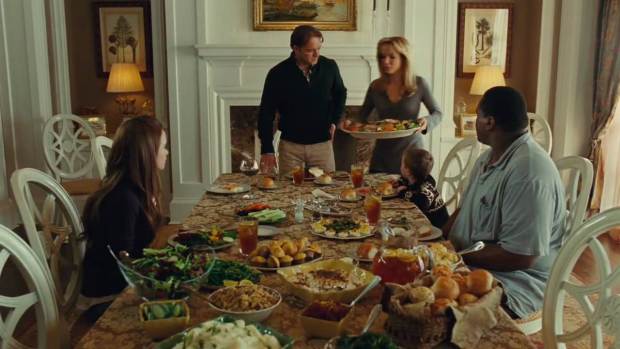 See Also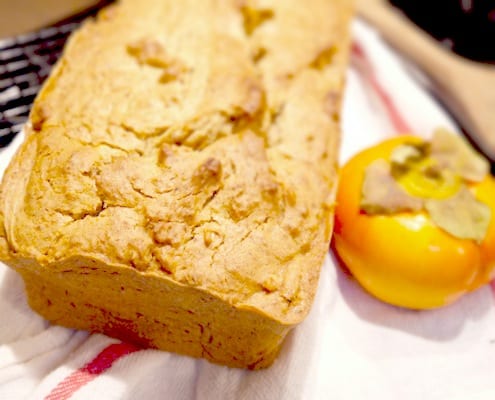 The Blindside is a real tearjerker, and the lavish Thanksgiving scene is especially sentimental. Take a cue from Sandra Bullock's character and whip up some Easy Cheddar Sage Biscuits.
Across the Universe (2007)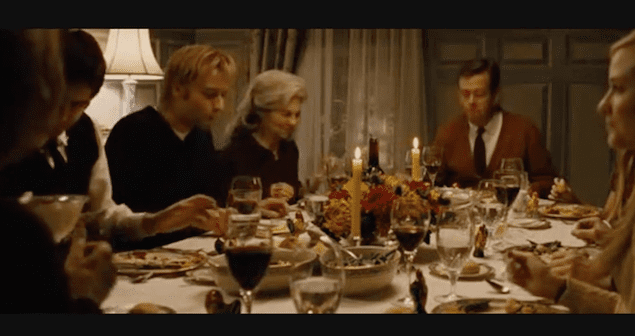 When Max comes home for Thanksgiving dinner and announces he will be dropping out of college, Grandma breaks the awkward silence by noting that the cranberry sauce isn't as tangy as last year's. Don't worry, Grandma, our Cranberry Maple Sauce has plenty of tang.
A Christmas Story (1983)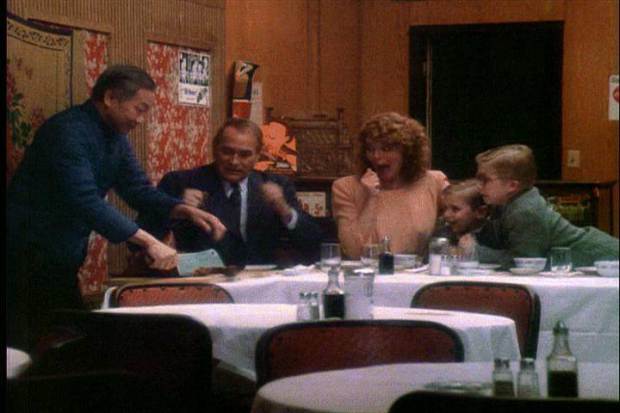 What do you do when a pack of dogs devour your turkey on Christmas Day? Well, you do as the Parker's do—aka get Chinese. Be inspired by this humorous scene and try these Chinese Pork and Vegetable Dumplings.
Little Women (1994)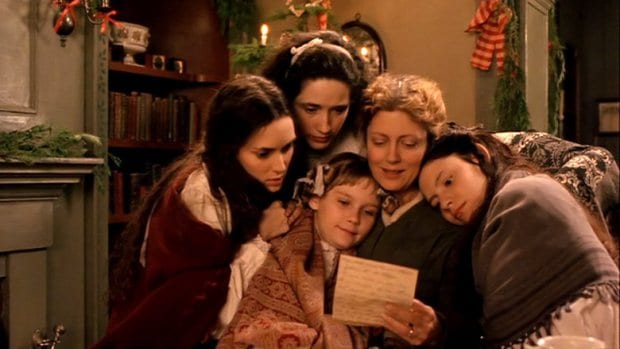 Rather than gather around a table, these notable women spent Christmas morning sharing muffins and cream with their neighbors. Make a double batch of our Cranberry Cornmeal Muffins and do the same for those around you after a viewing.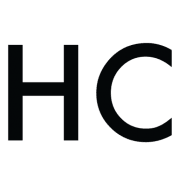 Relish
Offering more than 14,000 recipes plus features and DIYs on cooking, dining and entertaining, Relish celebrates America's love of food. Relish is about honoring cooking traditions while exploring new trends and ideas, which is why millions of people turn to both Relish.com and Relish Magazine for special occasion recipes, quick and easy weeknight suppers and culinary adventures.