These twisted chocolate chip cookies from Amrita Rawat are absolutely delicious.
By Amrita Rawat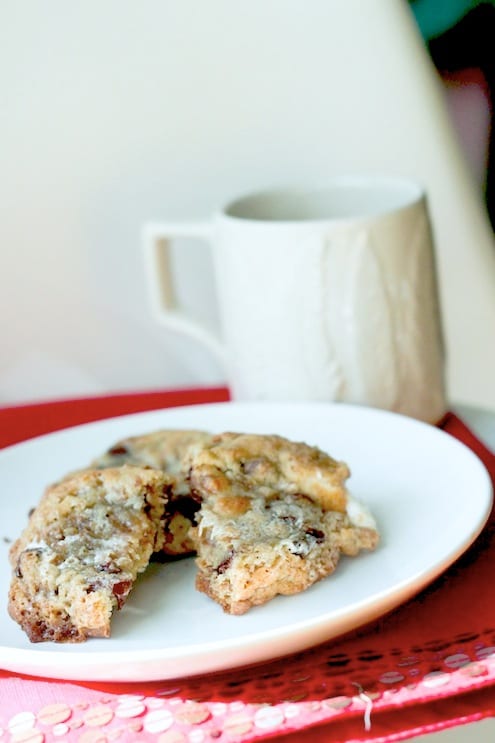 This is why I love chocolate chip cookies so much. You can experiment by adding all sorts of fun ingredients in there and see how they turn out. Next time, I want to try pretzels, or m'n'ms, or black sesame seeds, or even some cereal… Some like to call them "everything but the kitchen sink" cookies, but I like calling them twisted, like my own Frankencookie that I dreamt up. What's yours?
Twisted Chocolate Chip Cookies
These twisted chocolate chip cookies from Amrita Rawat are absolutely delicious.
Author:
Amrita Rawat, adapted from Martha Stewart
Ingredients
2 large eggs
1 tsp vanilla extract
1 tsp soy sauce
1¼ stick of butter
1 cup packed brown sugar
½ cup white sugar
1 tsp salt
½ tsp baking soda
2¼ cups all-purpose flour
1 cup chocolate chips (go with 60% cocoa for a richer taste!)
handful of mini marshmallows
Instructions
Preheat oven to 350 degrees F.
In the bowl of an electric mixer, combine butter with both sugar till light and fluffy, about 2 minutes.
Add salt, vanilla, soy sauce, and eggs.
Beat until well mixed, and then add flour and baking soda.
Stir in chocolate chips and marshmallows at the end.
Put in the fridge to chill for at least 30 minutes.
Bake for about 12 minutes or until cookies are golden around the edges (also depends on the size; I do tablespoon size mounds of dough spaced apart on the sheet).
Let cool on baking sheet before trying to pick up. Keep in an airtight container if it's not consumed immediately!
Notes
*They spread if they're not chilled; my later batches spread a bit more since they were left out waiting to be put in (This does not affect the taste factor) *I put the timer for 12 but sometimes a couple of the batches needed longer. Take them out when the edges are golden and they should be perfectly chewy when cool.