Soft, baked donuts are filled in the center, until almost bursting, with a creamy swiss meringue. They will remind you of the iconic Hostess snack, only ten times better.
By Tori Cooper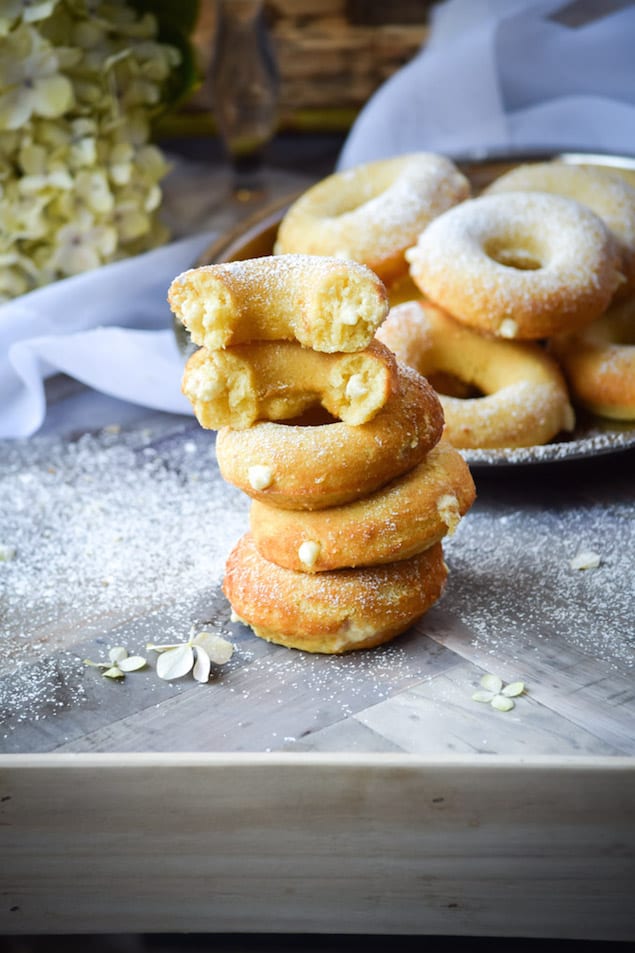 I can only recall eating a handful of Twinkies in my lifetime, it's probably been about a decade since I last had one. You know how everything tastes better when you're little (especially when it's something you're mom doesn't buy)? Well, when I was really young I loved them, they were so soft and filled with fluffy cream. It wasn't until I was a little older that I realized they really weren't all that. However, the idea is genius, but a homemade version is the way to do it right.
I've seen people make Twinkie pans out of foil, and that's something I would totally do, but I thought it would be a whole lot easier to just use my handy dandy doughnut pan and call it a day. Don't you agree? So much quicker and, come on, who doesn't get excited at the sight of that familiar O shape of a doughnut?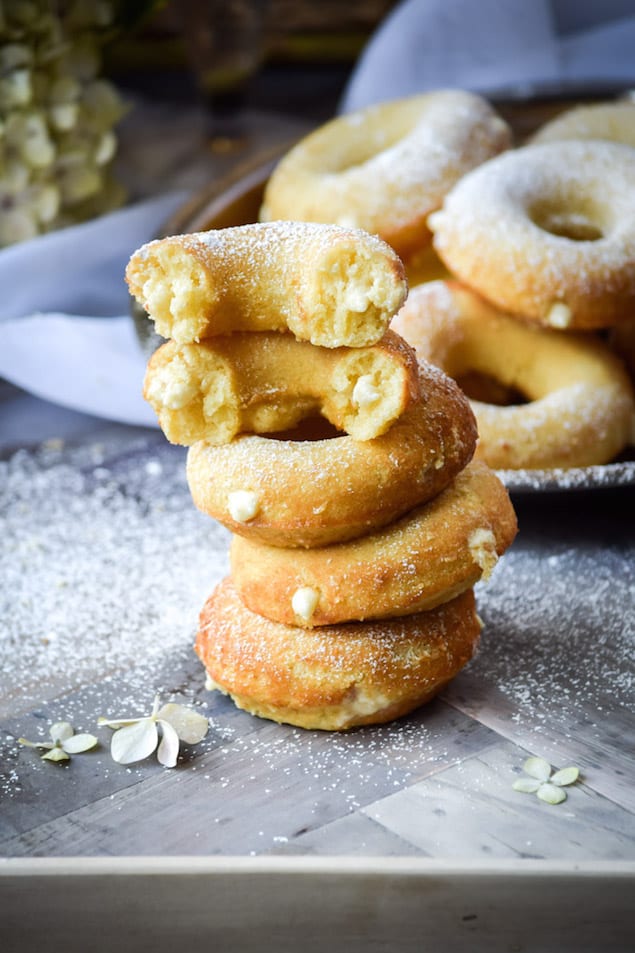 I went through a bunch of different frosting recipes to get to one that I liked for these. The one I ended up with is a Swiss meringue. Just read the instructions and have some patience because it takes a few minutes.
Print
Twinkie Donuts
Soft, baked donuts are filled, until almost bursting, with a creamy swiss meringue. They will remind you of the iconic Hostess snack, only ten times better.
Author:

Tori Cooper

Yield:

12

-

15

donuts

1

x
Category:

Dessert
Filling
4

egg whites

1 1/3 cups

sugar

1/2 teaspoon

salt

2 tablespoons

palm syrup, maple syrup, or honey

1 cup

(

2

sticks) butter, at room temp (not cold or melted)

1 tablespoon

vanilla extract
Donuts:
1/2 cup

(

1

stick) butter, softened

1 cup

sugar

1

egg and 2 egg yolks

1 cup

whole milk

1 1/2 teaspoons

vanilla extract

1/2 teaspoon

salt

1 teaspoon

baking powder

1 1/2 cups

flour
Instructions
Whisk egg whites, sugar, salt, and syrup in a small saucepan and place over your lowest setting on smallest burner. (most recipes call for putting your mixing bowl over a pot of boiling water instead so you can do that if you're worried about scrambling your eggs) Stir for 3 to 4 minutes over heat until sugar is dissolved. (If you have a candy thermometer and you want to use it you should wait until it's between 140 and 160 degrees F [60 – 70C]). Remove from heat and pour into the bowl of a stand mixer. Allow it to cool for about 5 minutes, then start beating on low speed and increase speed a little after every minute for about 5 minutes. Now turn onto high speed and beat until stiff peaks form. It needs to be very stiff if you push it to one side and it doesn't stay then it's not stiff enough Here's the tricky part, change to your beater attachment and add the butter to the bowl. Turn onto the lowest setting and let it mix nice and slow until it's done. (At first it will look all separated and weird but don't freak out, that's supposed to happen. Just let it keep mixing until it gets thick and delightfully fluffy. Add vanilla and beat until mixed. See, you did it!
Preheat oven to 350 degrees F (180 C) and grease 2 non-stick, 6-count, doughnut pans well with oil. Beat butter and sugar together in mixing bowl (no need to wash after the filling) until creamed. Beat in eggs and milk, then add salt, baking powder, vanilla, and flour and mix until smooth.
Pour scoops of batter into donut pans and fill to the line. Bake for 15 to 18 minutes until just starting to brown on top. Remove and cool completely, then loosen from pan (I find the side of a spoon works well for this).
Fill a pastry bag, fitted with long narrow tip, with your filling. Use chopstick or skewer to poke 3 – 4 holes around the doughnuts then pipe filling sideways into doughnuts. Serve as soon as possible after piping because the doughnuts will absorb the cream filling after a while.
Tori Cooper
Tori is a food blogger with a passion for what she does. She shares all her recipes, photography, and bits about her life living in Patagnia Chile on her blog, Gringalicious.