Basic baked potatoes can't compare to the array of flavors — cheesy, citrusy, herbaceous — packed into crispy potato skins in this dish.
by Amber Massey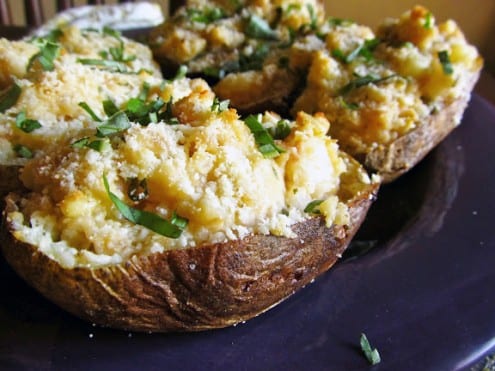 Twice-Baked Potatoes with Artichoke Hearts
Basic baked potatoes can't compare to the array of flavors -- cheesy, citrusy, herbaceous -- packed into crispy potato skins in this dish.
Ingredients
3 large baking potatoes (about 12 ounces each)
1 teaspoon olive oil
¼ cup finely chopped purple onion
2 garlic cloves, minced
½ cup half and half
½ cup vegetable or chicken broth
The juice of one lemon
½ cup chopped fresh basil
1 (14.5-ounce) can artichoke hearts, packed in water, drained and chopped
1 cup (4 ounces) grated Parmesan cheese, divided
¼ cup pine nuts, toasted
¼ teaspoon salt
¼ teaspoon black pepper
Addition chopped basil (optional)
Instructions
Preheat oven to 400°.
Pierce potatoes with a fork, and bake at 400° for 1 hour and 15 minutes or until tender (do not wrap in foil- this will steam your potatoes, and you'll miss out on the crunchy shell.)
While the potatoes cook, prepare the sauce.
Heat oil in a medium non-stick skillet over medium high heat. Add in the onion and saute for about 3 minutes. Add the minced garlic and cook for an additional 2 minutes. Whisk in the half and half and vegetable broth.
Bring the sauce to a boil, reduce heat and simmer for about 10 minutes- sauce will reduce by half. Remove from heat and season the sauce with salt and pepper. Add the fresh lemon juice and stir in the basil. Set the sauce aside.
Cut each potato in half lengthwise; scoop out pulp, leaving a ¼-inch-thick shell.
In a large bowl, mash pulp with a potato masher. Stir in the lemon-basil sauce, ⅔ cup Parmesan and the pine nuts.
Spoon potato mixture into shells; sprinkle each half with 1 tablespoon remaining Parmesan cheese.
Place stuffed potatoes on a baking sheet; bake at 400° for 10-15 minutes or until thoroughly heated. Garnish with additional basil, if desired.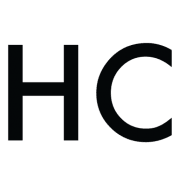 Amber Massey
Amber Massey is a southern-raised, food-loving, registered dietitian focusing on the culinary world of dietetics. Personal chef, author of her blog, Chocolate Broccoli, and accidental lover of food photography, Amber takes pride in healthy recipe development as well as culinary and nutrition instruction through personal and public cooking classes, public speaking, and media outlets. Amber can be seen in print for her nutrition expertise, as well as multiple magazine publications for her culinary creations, including Taste of Home, Healthy Cooking, Simple and Delicious, and Country Women's Magazine.