An iconic dish from the Bologna area, it is a pasta that is made from scratch with plenty of love to impress your eaters.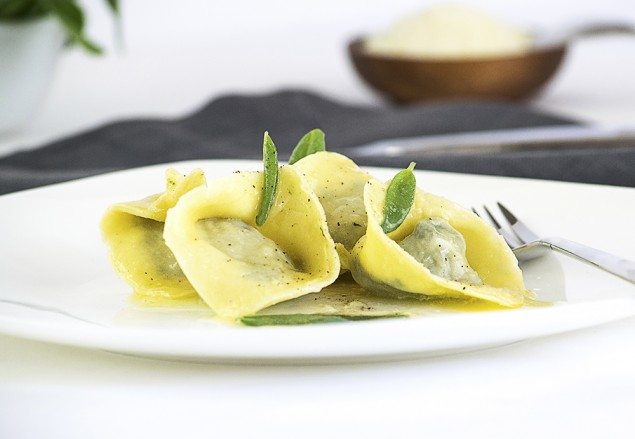 This dish is one of the most iconic recipes from Bologna. I was feeling nostalgic and wanted to create a traditional meal from scratch, that took me back to my time in Bologna. I decided to make this popular dish following the exact recipe, so I made the pasta dough and hand made each
little tortelloni filled with my spinach and ricotta mixture.
Your guests will notice the difference between homemade pasta and store bought, because of the time and care you put into hand making each delicious package. There are many types of filled pastas; ravioli, tortellini, cannelloni, but I love the shape of tortelloni. I paired it with a simple butter and sage sauce and voila…the perfect pasta dish was served and my guests were fulfilled and impressed. Thank you Bologna for inventing these delicious and simple recipes that continue to make people happy.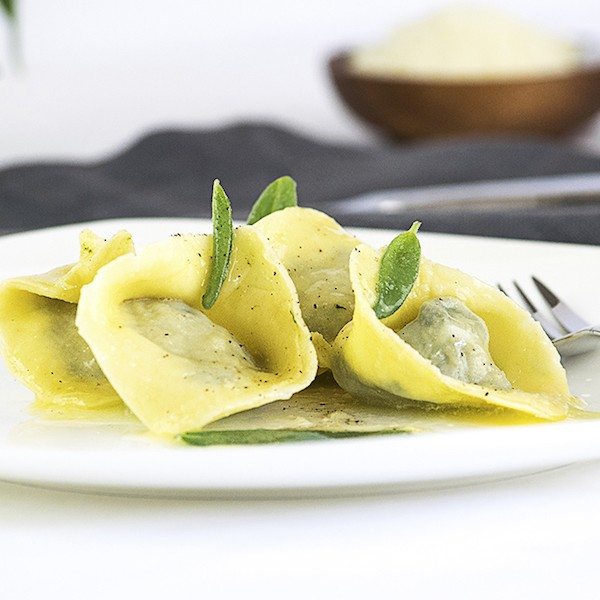 Francesco Romano
Ingredients
FOR THE TORTELLONI DOUGH
14

ounces

400 g all-purpose flour

4

large eggs at room temperature

2

teaspoons

Kosher salt
FOR THE FILLING
1

cup

fresh ricotta

2

packages frozen spinach

1/2

cup

freshly grated Parmigiano-Reggiano

1/2

teaspoon

Kosher salt

1/4

teaspoon

freshly ground black pepper

1/4

teaspoon

freshly grated nutmeg
FOR THE SAUCE
1

stick unsalted butter

4

leaves

of fresh sage
Instructions
FOR THE FILLING
Add the frozen spinach in a large skillet over medium-high heat, cover and cook for 5 minutes, transfer into a large sieve to drain while it cools.

When cooled, squeeze all the excess water from the spinach.

Put the spinach in a food processor along with the ricotta, Parmigiano-Reggiano, nutmeg, salt and pepper.

Pulse until it becomes a creamy consistency. Transfer to a bowl and set aside.
FOR THE TORTELLONI DOUGH
Add flour, eggs, and salt in the mixing bowl and attach the dough hook. Turn to speed 2 and knead for 5 minutes. Remove the dough and knead by hand for 2 minutes. Shape into an oval disc and let it rest for 30 minutes wrapped in plastic wrap.

Cut the dough into a 1-inch piece and flatten into a rectangular shape, add a small amount of flour to both sides.

Attach the pasta sheet roller to your stand mixer and set it to #1. Turn on the stand mixer to speed 2 and run the pasta dough through the roller. While on #1, fold the dough in half and run it through again. Do this twice.

Adding a little bit of flour on each side of the dough again, change setting to #2 and pass the pasta dough through the sheet roller. Do this twice and then twice each on #3 and then once on #4 #5 #6.

Once again, add flour to each side of your long pasta sheet and set on your working table.

Let them rest for 3 minutes.

Cut into squares with a 3-inch square cookie cutter.

Put one heaping teaspoon of filling on each square, brush water all around the edges.

Pick up the square and stretch the sides do not stretch the corner.

Line up two opposite corners and pinch to seal to form a triangle.

Take two of the opposite sides of the triangle and fold to the front and pinch together.

In a large pot of boiling, salted water, add the pasta and cook for 3-4 minutes.
FOR THE BUTTER SAGE SAUCE
In a medium saucepan melt the butter and sage and melt over medium heat for 4 minutes.

Add cooked tortelloni and gently stir to coat.

Serve immediately and garnish with some Parmigiano, black pepper and some torn sage leaves.
Notes
Serve immediately and garnish with some Parmigiano, black pepper and some torn sage leaves.
Francesco Romano
Francesco Romano was born in Italy and has been living in America for 25 years. As he was growing up, he didn't realize how spoiled he was! He had two of the best chefs under one roof, his Grandmother Nonna Sara and his Mama Francesca, who made every meal from scratch and with love. As a kid, he would sit in the kitchen for hours while these women were hard at work, enjoying the smells, tasting when he was allowed to, and later being put to work to help make fresh pasta. It wasn't until he was a grown up, moved away from home, and later to America, that he understood how much of his heritage and family centered on food. It was always made from fresh seasonal ingredients and was a way of bringing the family together to savor, to bond and to enjoy. On his site you WILL find mouth-watering food that is fresh, easy and authentic Italian, straight from my Mama's kitchen to yours.