The holidays and tamales go hand-in-hand and that is definitely the case in San Antonio. Check out this festive tamale recipe from a Davila's BBQ, a favorite spot serving traditional Latin American and Vaquero-style dishes.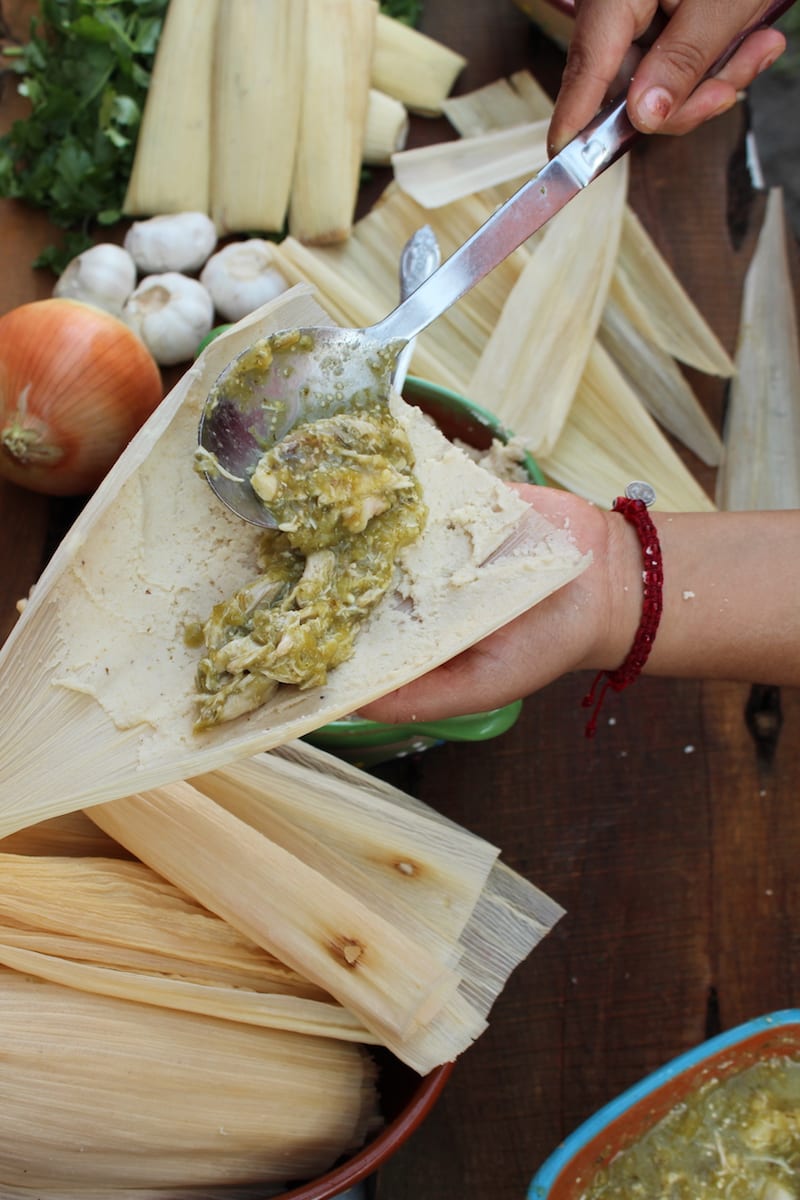 Every city in the US celebrates the winter season and all of its holidays a bit differently, but we especially love the festivities of San Antonio and the homage the celebrations pay to their culturally rich roots. From Mexico and Spain to Germany and beyond, there's a nod to a handful of different cultures and cuisines during the holidays.
One of the most delicious holiday traditions in San Antonio is the authentic tamales. Besides being able to eat them at restaurants around the city, chefs also put on classes so anyone, with any cultural background, can learn how to make them.
With more than 2,000 traditional Mexican luminarias lining the River Walk, San Antonio literally shines alongside the tamale season. So what are San Antonio tamales like? We caught up with Davila's BBQ, a restaurant in the outskirts of San Antonio that has been in business since 1959. The restaurant has been making traditional Latin American and Vaquero style dishes, including tamales that have been passed down from generation to generation. Raul Davila first opened the restaurant in an old abandoned school house in Seguin, TX. With no decorations and no cash register, the Davila family nestled in the back two rooms of the restaurant and opened for business. Nearly sixty years and three generations later, Davila's BBQ has continued to grow and has been nationally recognized as one of the top BBQ places in Texas. In 2018, Third generation Pitmaster Adrian Davila released his first cookbook, Cowboy Barbecue, the recipe below comes from the book.
While tamales are great anytime of the year, they are especially perfect during the holidays when you have to feed a crowd. Prep them ahead of time and serve them warm when your guests arrive.
Are you going to be in the San Antonio area? Be sure to take part in the festivities and check out these tamale events!
See Also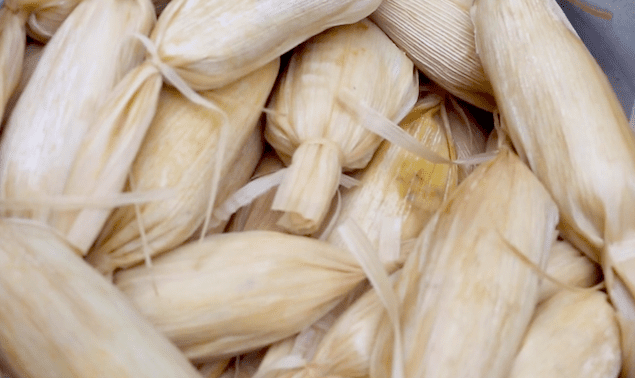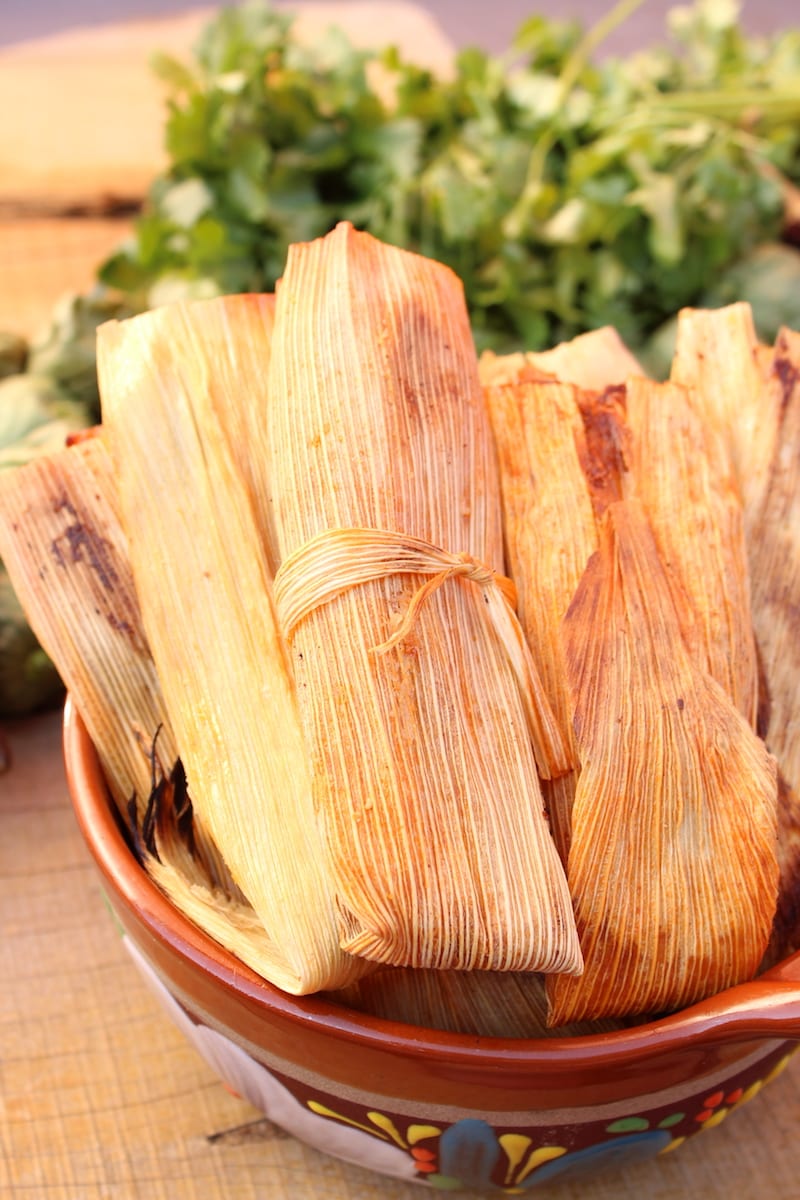 Tamales and More Tamales Events
Each year, locals and visitors alike can learn the secrets of making a perfect tamale at La Gran Tamalada, taking place this year on December 8 at historic Market Square. While most people have no trouble eating tamales, the art of actually making them takes patience and some skills, and with this free event, participants get a hands-on opportunity to learn about the ingredients, recipes and cooking methods used in making this culturally iconic dish. Additionally, on December 2, Sunday Masa – A Holiday Tamales Extravaganza's second annual celebration will offer tamales for sale, a wide array of local holiday vendors and plenty of pan dulce and hot chocolate. Don't miss it!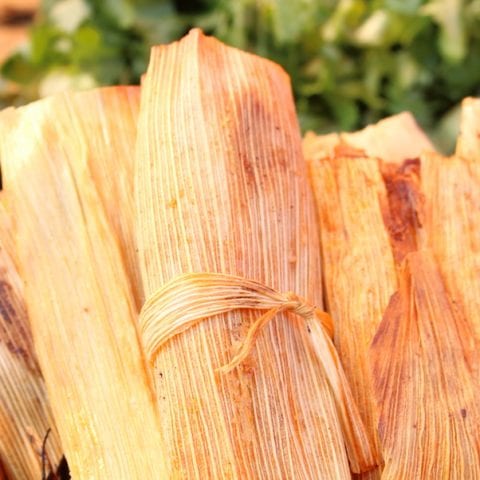 TAMALES VERDES RECIPE
from Adrian Davila's "Cowboy Barbecue"Cookbook
This spicy, tangy, and light chicken filling is a delight for those who like a traditional Mexican tamale with a kick
Ingredients
1

3-to 4-pound whole chicken, giblets removed

1/4

yellow onion

2

tablespoons

salt

4

garlic cloves

1

pound

tomatillos

2

serrano peppers

½

bunch cilantro

Tamales Masa

30

presoaked corn husks
Instructions
STEPS FOR SOAKING TAMALE CORN HUSKS:
Put the corn husks in a large bowl, then cover them with hot water, until they are completely submerged, for a minimum of 1 hour, preferably overnight. This step ensures that they are pliable and will not burn during cooking.

Remove the husks from the water and pat dry with paper towels. Put them in a covered dish or plastic bag to ensure that they do not dry out.
STEPS FOR TAMALES:
Put the whole chicken, onion, 1 tablespoon of the salt, and 2 of the garlic cloves in a large pot. Add water to cover. Bring to a boil over high heat and cook until the chicken begins to separate from the bone, 45 minutes to 1 hour. Remove the chicken, reserving the chicken broth for later use.

Allow the chicken to cool, then shred the meat, using two forks. Set the chicken aside.

Combine the tomatillos, serrano peppers, cilantro, remaining 2 garlic cloves, remaining tablespoon of salt, and 2 cups of the reserved chicken broth in a blender. Blend on high speed until it becomes a smooth, sauce consistency, not a paste. If it is pasty, add more liquid as needed.

Warm the chicken and the broth mixture together in a large saucepan over medium heat. Cook until the sauce thickens, 10 to 15 minutes. Remove the saucepan from the heat and put the chicken and broth in a large bowl to allow to cool.

To assemble the tamales, take a soaked cornhusk and put about 1/4 cup (depending on the size of the husk) of prepared tamale masa in the middle of the widest part of the husk. Use a spoon or spatula to spread the masa, covering the cornhusk evenly, leaving a 1/4-inch border around the edges.

Add 3 to 4 tablespoons of filling mixture to the center of the masa. Roll the sides over, enclosing the filling completely. Fold the tapered end of the cornhusk up, in half. If desired, you can secure it closed by tying a strip of husk around the middle. Repeat until you have used up the entire filling.

Arrange the tamales, with open ends up, in a large, prepared steamer pot or pot fitted with a steaming basket. Steam until the dough separates from the husk, about 1 hour.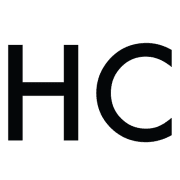 Honest Cooking
The Honest Cooking editorial team handpicks inspiring culinary stories to share with you that we think are beautiful. As an international online culinary magazine with the ambition to truly change the face of online food media we hope to create an inspiring place for serious culinary debate, salivating recipes, interesting food news and international food-fun.