Thai-Style Chicken Coconut Soup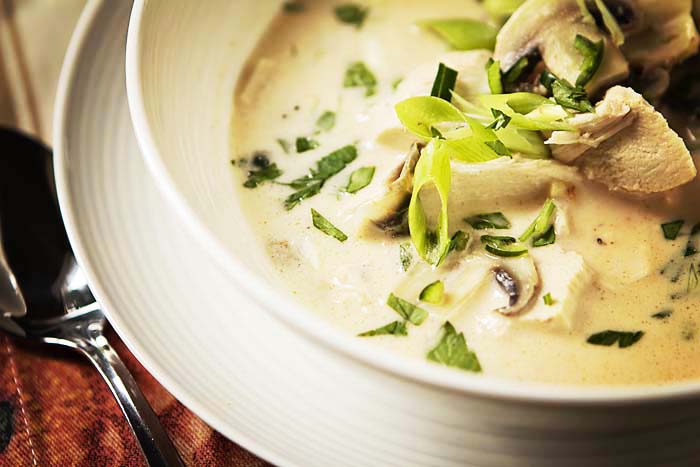 If you can't find fresh lemongrass, most grocery stores will carry a paste version in a tube that works just fine in this flavorful soup.
By Debra Smith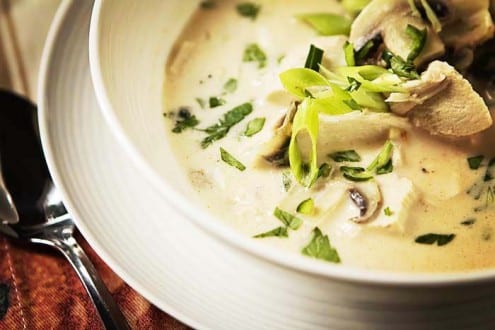 Thai-Style Chicken Coconut Soup
If you can't find fresh lemongrass, most grocery stores will carry a paste version in a tube that works just fine in this flavorful soup.
Author:
Debra Smith, adapted from Cook's Illustrated
Ingredients
1 tablespoon grapeseed oil
3 tablespoons lemongrass
3 large shallots, chopped
2 tablespoons cilantro
3 tablespoons fish sauce, 2 tablespoons reserved
4 cups chicken stock
2 14-ounce cans full-fat coconut milk, well shaken
1 tablespoon sugar
8 ounces white button mushrooms, wiped clean, stems removed and cut into ¼ inch slices
the entire breast of one rotisserie chicken, sliced in ⅛ inch slices
3 tablespoons fresh lime juice (2-3 limes)
2 teaspoons Thai red curry paste (more to taste)
For the garnish
½ cup fresh cilantro leaves
2 serrano or jalapeno chilies, thinly sliced
2 green onions, sliced thin on the diagonal
1 lime, cut into wedges
Instructions
Heat the oil in a large saucepan over medium heat until simmering.
Add lemongrass, shallots, cilantro and 1 tablespoon of the fish sauce; cook, stirring frequently until just softened, 3-4 minutes.
Stir in chicken broth and one can of coconut milk; bring to simmer over high heat, cover and reduce heat to low; simmer for 10 minutes.
Pour broth through fine mesh strainer and discard solids; rinse saucepan and return strained broth mixture to pan.
Return pan to medium-high heat. Stir remaining can of coconut milk and sugar into broth and bring to simmer.
Reduce heat to medium, add mushrooms and cook for 3 minutes; add chicken and cook for another 5 minutes, remove from heat.
Combine lime juice, curry paste and remaining 2 tablespoons fish sauce in a small bowl; stir into soup.
Ladle soup into bowls and garnish with fresh cilantro, chiles and green onions. Serve immediately with lime wedges.
Debra Smith
Debra and 'The Professor', Midwest-based husband and wife freelance videographers, photographers, writers, storytellers, and publishers of the Smith Bites. Using images, words, music and video, they connect the stories about food, friends and family to the world around them.