A Taste of Ristorante Livello 1 in Rome, Italy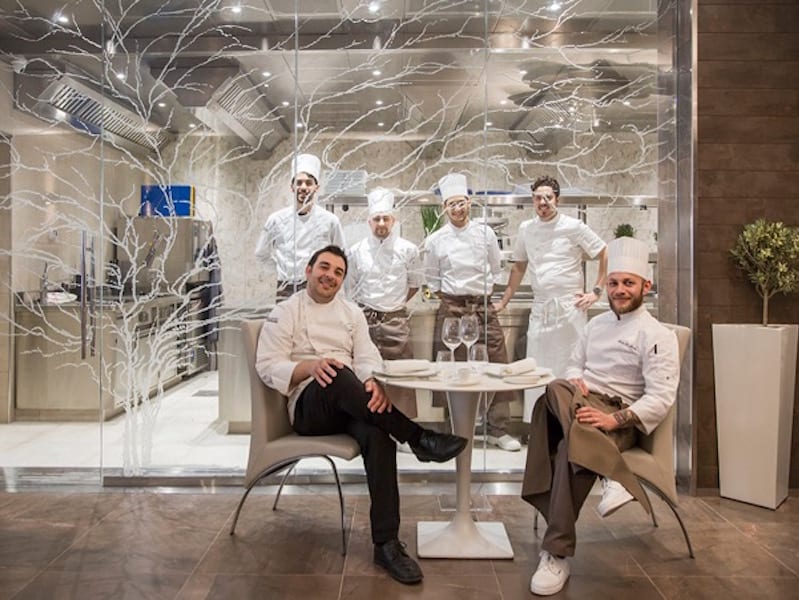 Have a visual taste of Rome's modern and creative restaurant, Ristorante Livello 1, and it vibrant plates.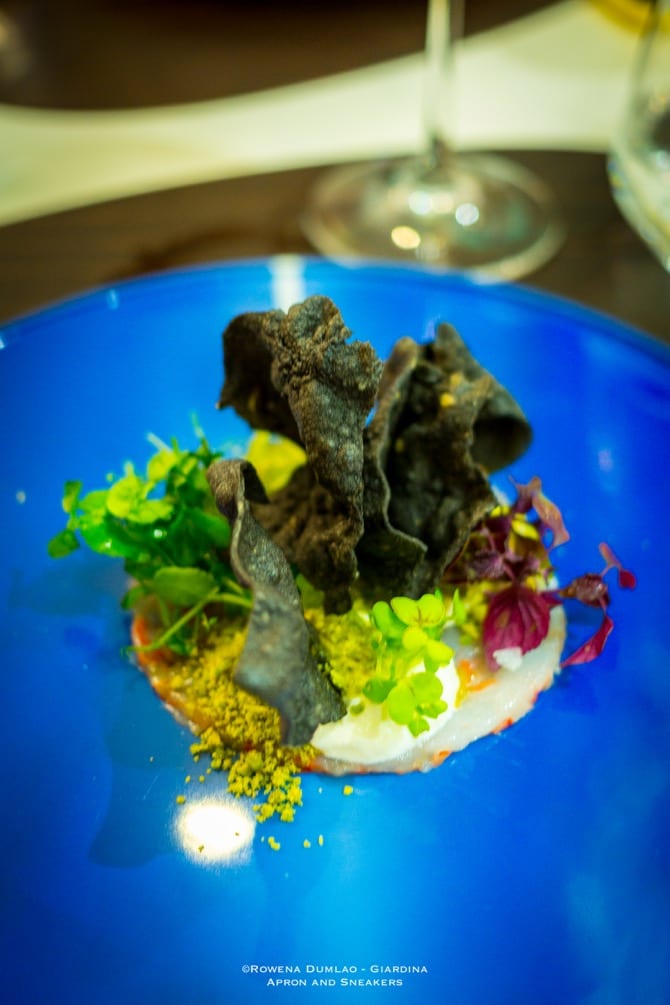 Italian restaurants often give you visual access to the kitchen through a window from the dining area. It breaks the barrier that confines the kitchen staff and the diners to two separate spheres. It breathes more friendliness to the atmosphere and direct connection between guests and chefs. Upon entry to Ristorante Livello 1, the first thing that you will notice is the complete visibility of the kitchen from the dining area. With a minimally designed glass wall, you can witness all the movements that go on in the kitchen and if you position yourself right next to the glass wall, you can even learn a thing or two about cooking. It's a unique kind of view that you can't get everywhere.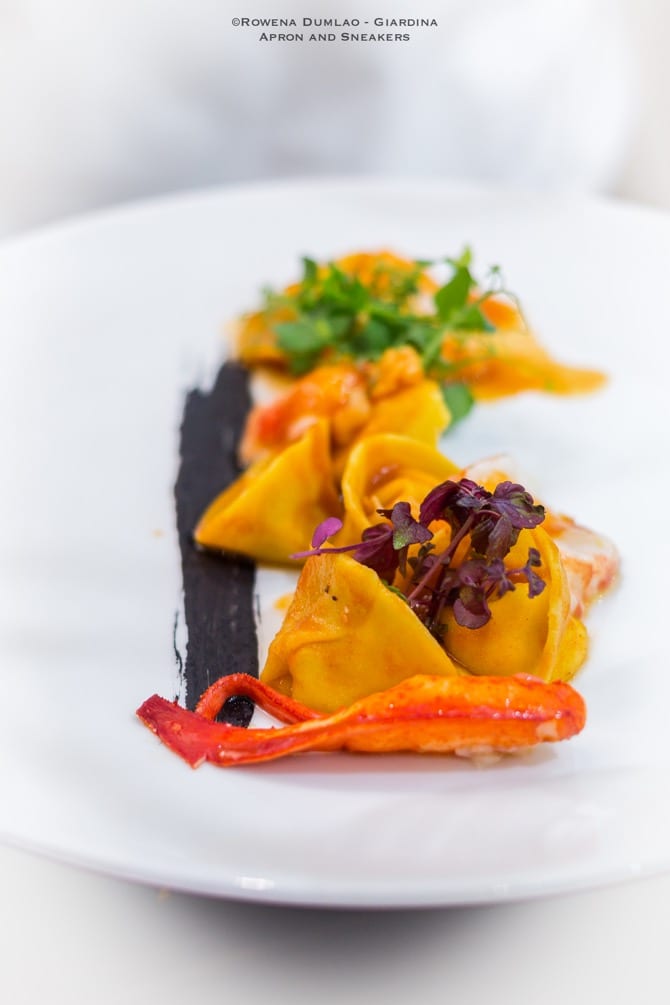 Michelin-starred Chef Felice Lo Basso of Felix Lo Basso Restaurant in Milan functions as the consulting chef of Ristorante Livello 1 while the helm of the kitchen is controlled by the young and talented Chef Mirko Di Mattia (right in the picture), who made an incredible start of his career in Gavius Restaurant (also in EUR Rome) a few years ago.
It was in the previous restaurant where I met him for the first time after trying a full dinner that he prepared. His creativity approaches the fundamentals of a perfectly orchestrated dish. There is visual impression and a smooth combination of flavors without overwhelming the senses. His signature is printed all over his creations and that's what makes his work distinctive. And that is what took me to Ristorante Livello 1.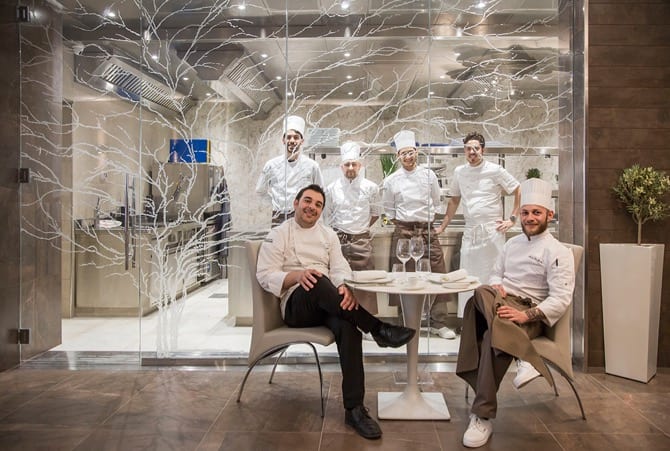 Emilia Branciani gave her restaurant an elegant modern design with clean unadorned interiors. One wall is made of natural wood from medium tree trunks while the end of the room has a large lighted aquarium poster that gives the only bright colors in the natural-toned room. The place is spick and span as the tables are spaced well enough to give everyone privacy. With a spacious dining area, the capacity is seventy while the exterior is also organized for thirty more spaces. Next door, with a another decorated glass wall separated from the restaurant is the fish shop named La Pescatoria, where you can buy fresh seafood coming from the areas of Fiumicino, Anzio and Ponza which are all close to Rome.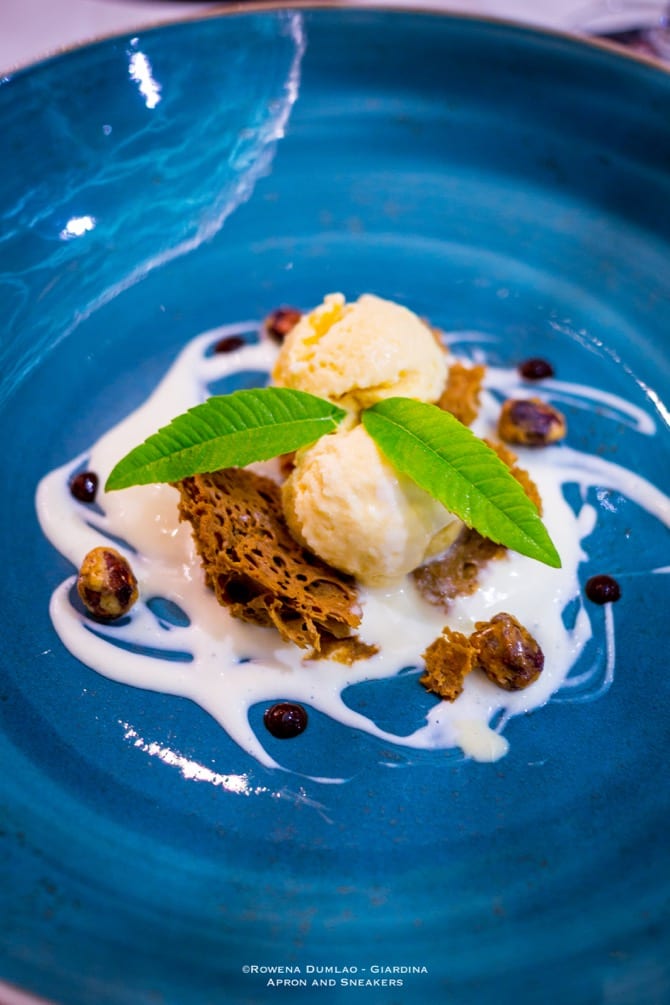 Ristorante Livello 1 is open for lunch, dinner and cocktails giving varied choices at the menu. For lunch, they have lighter and quicker seafood-based meals ranging from €15 to €27. Whereas for cocktails, they have the Fish and Cocktail offering different kinds of fish appetizers with cocktails created by Nicolò Andrenacci, a young and talented barman with an fine trail of experiences in Dorsia Bar & Restaurant and La Pergola Restaurant of Heinz Beck.
With such creative people under one house, you will definitely not be disappointed with what the restaurant can come up with. It's an inspiring sensory trip to the gastronomic world of Ristorante Livello 1.
RISTORANTE LIVELLO 1
Via Duccio di Buoninsegna, 25
00142 Rome, Italy
Tel: +39 06 5033999
Email: info@ristorantelivello1.it
Open all week except Mondays and Sunday lunch.
How to get there: The restaurant is located in EUR, the residential and business district of Rome which is in the south of the city center. To reach it from the city center, you can take the Metro Line B and get off at the Laurentina stop. From the metro stop, there is about a kilometer walk that takes 15 minutes to arrive at the restaurant. There are also buses going around the area.
Rowena Dumlao Giardina
Rowena Dumlao - Giardina is the author and photographer of Apron and Sneakers and The Chosen Table. Besides her blog, she's also a recipe developer and a travel writer for other food and travel sites.