Ashley Gaudiano with the perfect suggestion for what to serve for Sunday meal this weekend.
By Ashley Gaudiano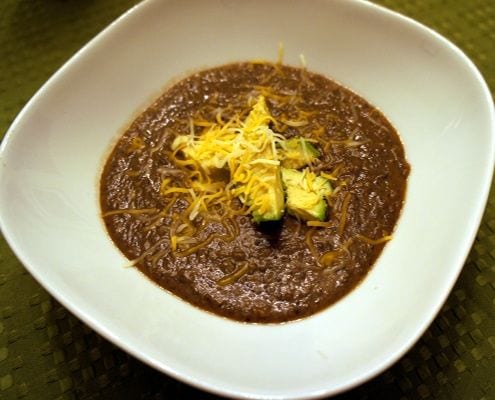 For starters, who doesn't love sweet potatoes and black beans?  When pureed together, these ingredients come together to make a delicious soup. The ancho chile peppers add quite a bit of spice and the lime juice take this sweet and spicy dish and adds a bit of zest. Top this with fresh, thinly sliced avocado and grated cheddar cheese and serve it alongside a piping hot piece of freshly made bread for a perfect Sunday meal.
Sweet Potato and Black Bean Soup
Ingredients
28 oz black beans
½ large yellow onion, chopped
3 cloves garlic
1 ancho chile pepper
1 tbsp lime juice
2 tsp cayenne pepper
2 medium sweet potatoes, peeled and cubed
1 tbsp olive oil
1 cup vegetable stock
1 avocado
Fresh grated cheddar cheese
Instructions
Heat olive oil in a large pot.
Add garlic and onion and sautee until translucent, 3-5 minutes.
Add sweet potato cubes and stir. Let cook for 10 minutes or until sweet potatoes begin to brown.
Add remaining ingredients and stir. Cover and let cook on low-medium heat for 30 minutes, stirring occasionally.
Check to ensure sweet potatoes are thoroughly cooked. If they are not, continue to let simmer for another 10 minutes.
Transfer ingredients into a blender or food processor and puree until smooth. Add ¼ cup of water at a time, continuing to blend until the soup has reached your desired consistency.
Top soup with thinly sliced avocado and freshly grated cheddar cheese.