Judith Klinger finds herself in wonderland on Lago Tresimano in Umbria, Italy.
By Judith Klinger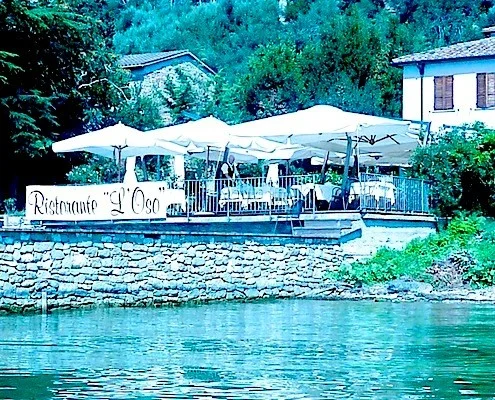 In a fantasy world, the sky would be blue, the clouds busy, the sun warm, soft guitar music would be drifting over from  the yard next door, a cool breeze from the lake would keep you comfortable, and a plate of perfectly grilled fish would be served to you, along with a crisp, local chardonnay.  Welcome to Ristorante l'Oso, on the tiny island of Maggiore in Lago Tresimano in Umbria, where if the sun is shining, your fantasies come true.
Lago Tresimano is the largest lake in Umbria, and it is ringed by sharp mountain ridges, and views of even steeper peaks in the background. There is a short ferry ride to Isola Maggiore that leaves from various towns around the lake, click here for the ferry schedule, or you can do like we did, and rent a pedal boat and pedal across the serene lake.
You can work up an appetite, eat spectacularly and then work off your lunch pedaling around the island to get a good look at the gigantic, surely haunted, ruin of a castle that is on the far side of the island. Plan some time to wander around the evocative dirt lanes that meander through ancient olive groves, and do visit the stone church at the top of the hill.
Ristorante l'Oso is on the only paved street in town, via Guglielmi. Make a right after you get off the ferry.  The front of the restaurant is a modest, pretty room, but the summer action takes place outside in the back yard.  And it is a yard, with grass and little walkways, beach umbrellas and scattered tables that lead onto their private stone docks.   The waiters are casual but professional. One harried father with two small girls, asked where he could get some gelato for his angels. The waiter explained it was down the block, but then he asked what flavors did the girls want because he would run down and get it. Now that is service!
As you would expect, the wine list at Ristorante l'Oso is more whites than red, but it is a well thought out list. We opted for the Lungarotti Chardonnay, and it worked perfectly from starter to finish. Lungarotti is one of the largest wineries in Umbria, and if you happen to come across their 100% chardonnay spumante wine…snap it up! It's delicious.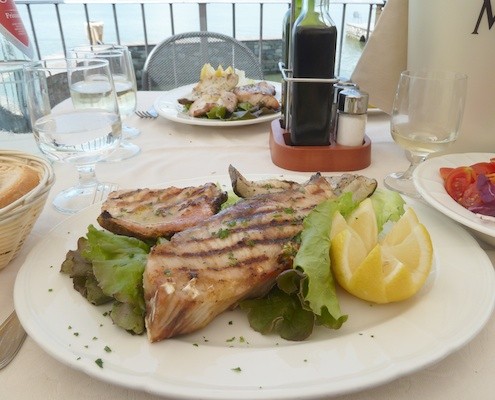 Our mixed starter was an interesting combination of fish and vegetable salads, a huge orange scented crawfish and a crostone loaded with cavair from the 'queen carpe'  (carpa regina) that lives in the lake.  There was no dithering about the main course, we both wanted a plate of grilled lake fish, and it arrived perfectly done with a little olive oil and a lemon if you so desired.  In the summer, in Italy, fish dinners are always finished with a 'sorbetto limone'. It's basically a vodka or prosecco enhanced lemon sorbet slushy. Who wouldn't want that to round out a yummy fish meal?
And in case the ferry doesn't work for you, the restaurant has a private shuttle service to take you to the mainland. Call for details. Reservations recommended, open for dinner on Friday, Saturday and Sunday in the summer.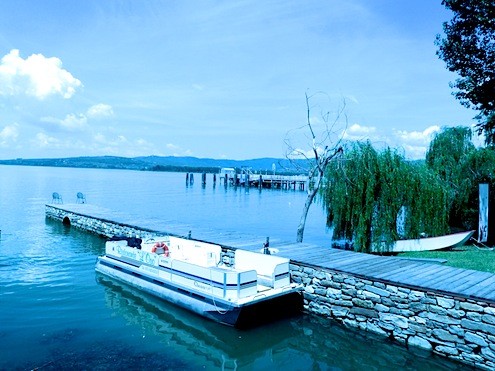 My current fantasy is a private ferry boat ride over, we're dressed in medieval costumes, the back yard of the restaurant is lit with candles…. perhaps, all things are possible at Ristorante l'Oso?
Ristorant L'Oso
via Guglielmi, 39
Isola Maggiore, Lago Tresimeno
Tel: 075 825 4255
Judith Klinger
Judith Klinger is a culinary events producer, former Director of Operations for the International Association of Culinary Professionals. Judith and her husband, Jeff Albucher are the creators of Aroma Cucina, an Italian lifestyle blog. She is the author of Cooking Simply The Italian Way.