Satay is one of the must try Malaysian street food – charcoal grilled succulent skewered meat served with a delicious satay sauce.
By Shannon Lim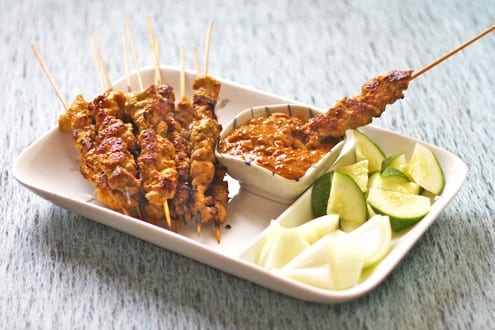 If you have never had satay, you don't know what you are missing!  Satay is one of the must try Malaysian street food – charcoal grilled succulent skewered meat (chicken or beef) served with special satay sauce. Don't get mixed up with the Malaysian Satay Sauce and the Thai Peanut Sauce, they are 2 different sauces.
I prepared some of these Chicken Satay during a recent barbeque party with my extended family and it was an instant hit. This recipe requires marinating the chicken with more spices than any usual Malaysian recipe and it does not require any satay sauce. The sugar in the marinate caramelizes during grilling makes the satay taste better and the marinated chicken satay by itself is already full of flavour that they do not need the satay sauce.
But Chicken Satay is not complete without the satay sauce! The sauce recipe is almost similar to the Indonesian peanut sauce, except Malaysian version uses milk instead of creamy coconut milk.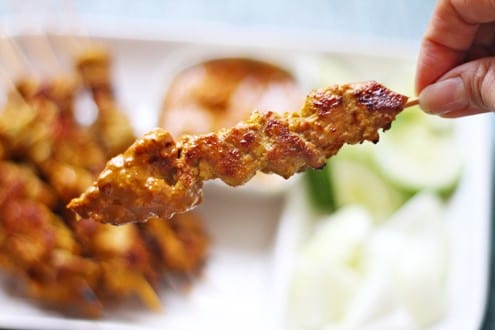 Over the years of eating tons of satay, one of the secrets of making the perfect satay is the skin or fat pieces skewered between the meat that makes the satay so succulent. Of course you can opt for an all-healthy chicken breast satay, but trust me – for once it's a must to indulge in succulent Chicken Satays!
If you do not have a barbeque grill, don't worry. A toaster oven works well, or cook the satay in a frying pan and finish off in the oven.

Chicken Satay – charcoal grilled succulent skewered chicken served with special satay sauce. This Chicken Satay is full of flavour even without the sauce. A must try Malaysian street food.
Ingredients
Chicken Satay
500g de-boned Chicken Thigh (or chicken breast), include the skin and fat
½ Onion
½ teaspoon Salt
3 teaspoon Brown Sugar
½ tablespoon Coriander Powder
½ tablespoon Turmeric Powder
½ tablespoon Cumin Powder
½ tablespoon Sweet Paprika Powder
½ tablespoon Chili Powder
1 tablespoon Curry Powder
½ teaspoon sesame oil
Satay Sauce
3 Shallots – chopped
1 clove Garlic – chopped
2 Red Chili – chopped
¼ teaspoon Turmeric Powder
1 tablespoon Coriander Powder
1 tablespoon Galangal – chopped (substitute with ginger if galangal is unavailable)
Juice of 2 Limes
1 tablespoon Soy Sauce
Salt to taste
1 tablespoon Brown Sugar
2 tablespoon Crunchy Peanut Butter
125ml Water
2 tablespoon Milk
2 tablespoon Vegetable Oil (for frying)
Instructions
Chicken Satay
Cut chicken thigh (and skin) into thin strips of 1inch slices. Blend onion in a food processor. Mix all ingredients in a plastic container, cover and refrigerate for several hours or preferably overnight.
After marinating, thread the marinated chicken through soaked skewers. Thread the skin in between meat slices. This makes the satay more tender and juicy.
Arrange the skewers on a heated grill or barbecue and grill until meat is evenly browned on both sides and cooked through. Prick meat with a toothpick. If no liquid runs out, it's done.
Serve with satay sauce, cucumber and onion.
Satay Sauce
Ground the first 6 ingredients with a pestle and mortar (or you can also use a food processor).
Heat oil in a wok/pan and fry the ground ingredients until the oil rises to the top.
Add the other ingredients except milk. Bring to a boil, then simmer the mixture until the gravy turns thick. Add the milk and simmer another 5-6 minutes. The sauce is ready for serving.
Notes
*Alternative Cooking Method: Cook the skewered chicken in a frying pan over medium heat until both sides are light brown. Transfer the skewers onto baking tray lined with aluminum foil and bake for 25 minutes.
Shannon Lim-de Rooy
Shannon's kitchen is her playground and creative outlet, where she loves to experiment with recipes. As a Malaysian, her food influences are mainly Malay, Chinese and Indian cuisine but her curiousity in other culture lead to cross cultural cooking. On her blog JustAsDelish.com, she pursue her mission in creating healthy and delish food.