Focaccia di Recco is an Italian flatbread, stuffed with a cheese called Stracchino or Crescenza. It's a little messy to eat, but well worth the flavor.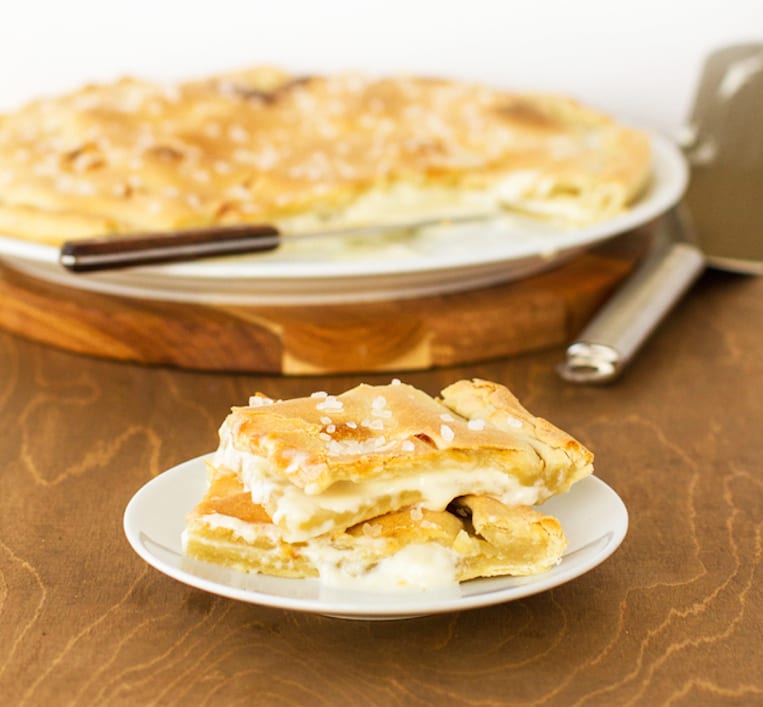 Focaccia di Recco is from the northern coastal region of Italy called Liguria. It is an unleavened flatbread, stuffed with Stracchino (Crescenza), which is a very young cheese with a fine rind barely encapsulating a gooey cheese much like a very thick mascarpone. It is very messy but utterly delicious!
If you can't get Stracchino (Crescenza), you can use another young, melty cheese – I have used fresh mozzarella with good results.
See Also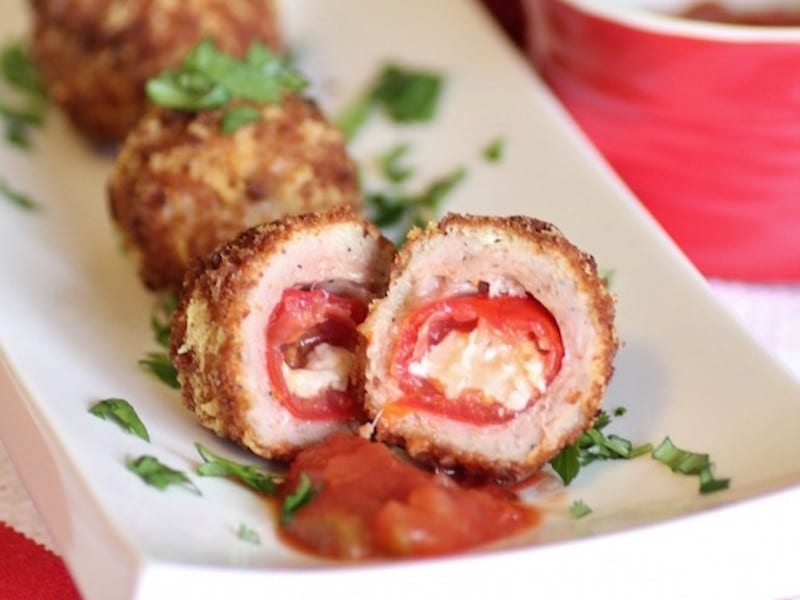 This recipe will probably make more dough than you need, depending on how léarge you are making your focaccia, but any excess dough can be wrapped well and frozen for several months. Alternatively, you can just make the crust thicker, as I tend to do because it's easier to handle.
Print
Author:

Rachael Hooper

Yield:

16

pieces

1

x
Category:

Pane
500 g

4 cups, spooned and scraped all-purpose flour
pinch course sea salt (plus extra for topping)

45

ml 3 Tbsp extra virgin olive oil, plus extra for oiling and topping

300

ml 1 1/4 cups water

500 g

a little over a pound Stracchino (Crescenza) cheese
Instructions
In a large bowl, whisk together flour and salt and form a well in the middle. Add cold water and 3 tablespoons of olive oil. Start mixing the dough with a fork, incorporating the flour little by little.
Once the dough has come together, start kneading it with your hands. Knead the dough for 8 to 10 minutes, until smooth. When the dough is ready, wrap it well with plastic wrap, being sure to expel all the air so your dough doesn't dry out, and let it rest for an hour at room temperature.
Preheat oven to 480°F/250°C.
Divide the dough into two equal parts and roll each piece out on a floured surface with a floured rolling pin, trying to keep them as round and as thin as possible. I rolled these ones a little thick, because we find it easier to handle when it's more sturdy, but traditionally it should be almost transparent.
Grease a round pizza tray (not the type with holes in it, or you will have a very messy oven) or baking dish with olive oil. Place one layer of dough on the bottom of the dish. Add the cheese in pieces using your hands.
Cover the cheese with the second sheet of dough. Use a knife or a pair of kitchen shears to remove any excess dough from around the edges of the pan.
Seal the edges by pinching them together. Snip small holes into the top layer of dough so that the steam can escape during baking. Brush with extra virgin olive oil and sprinkle with salt.
Bake in centre of oven for 6 – 8 minutes, until golden. When the focaccia is done, remove it from the oven and let cool enough to be handled.
Rachael Hooper
I live in Geneva, Switzerland, where I moved with my family from Australia in 2001. I have a husband whom I adore, two adult sons and a delightful daughter-in-law, I'm an EFL teacher, I love to travel and I spend as much time as possible in the kitchen. Cooking, for me, is all about sharing delicious, healthy and sometimes wickedly indulgent food - either literally, at the table, or metaphorically, via the internet. I have a burning passion for Italian food, I also dabble in Middle Eastern, French and Asian cooking, as well as trying my hand at cakes, desserts and breads. In fact, baking has become a bit of an obsession! I'm always ready for a challenge and I have developed a "never-say-die" attitude in the kitchen.