This simple, rustic strawberry galette is made extra special with a basil butter crust.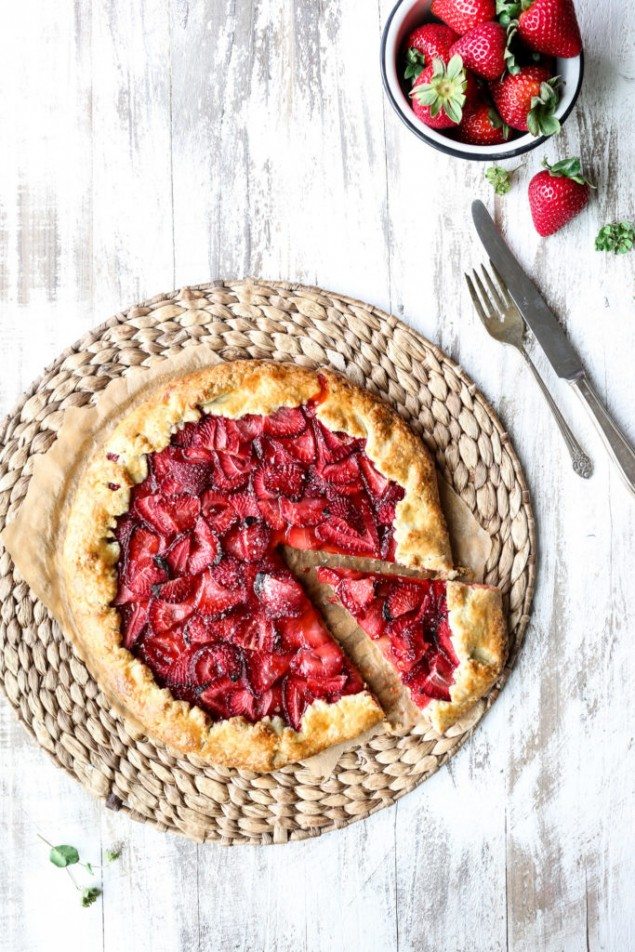 Galettes are one of my favorite desserts to make because they could not be easier to put together in a pinch, and always seem to go over tremendously well whenever I make them. It's as easy as making and rolling out dough, filling the center with something delicious, and then baking. Done and done. And the more handmade and rustic it looks, the better. There's no room for perfection here which takes all of the pressure off…
I thought this would be the perfect dessert to share for a spring weekend because it's one that I will actually eat and REALLY enjoy. If I'm eating dessert, it's most definitely got some fruit involved. I absolutely LOVE fruit desserts, especially berry ones, and they always seem to end up looking beautiful. Galettes are a really easy way to showcase all of the fresh, sweet yet tangy, flavor of any kind of berry. Since we've been getting in some killer sweet strawberries lately that have crazy shades of red, I felt like I just had to do something with them. And this rustic galette is the result. I toss the berries with just a small amount of sugar to help bring out their natural flavor, but if you like a sweeter dessert, you can add a tablespoon or so more and be just fine. Another great thing about this recipe is that it keeps really well in the fridge, wrapped tightly, for a couple of days. So in addition to in being perfect right when you take it out of the oven, the leftovers, if any, are just as good cold for a sweet treat when the mood strikes. ENJOY!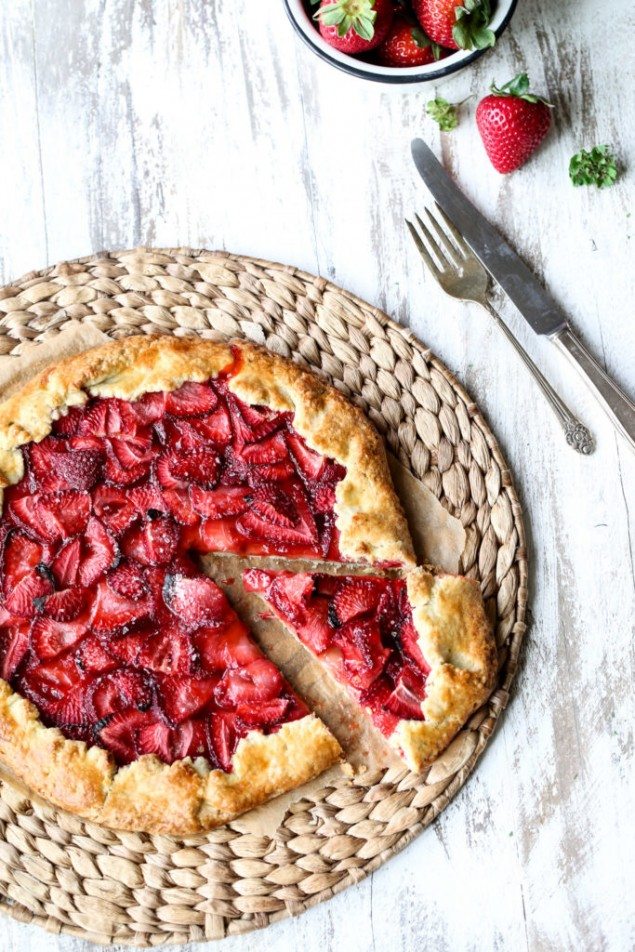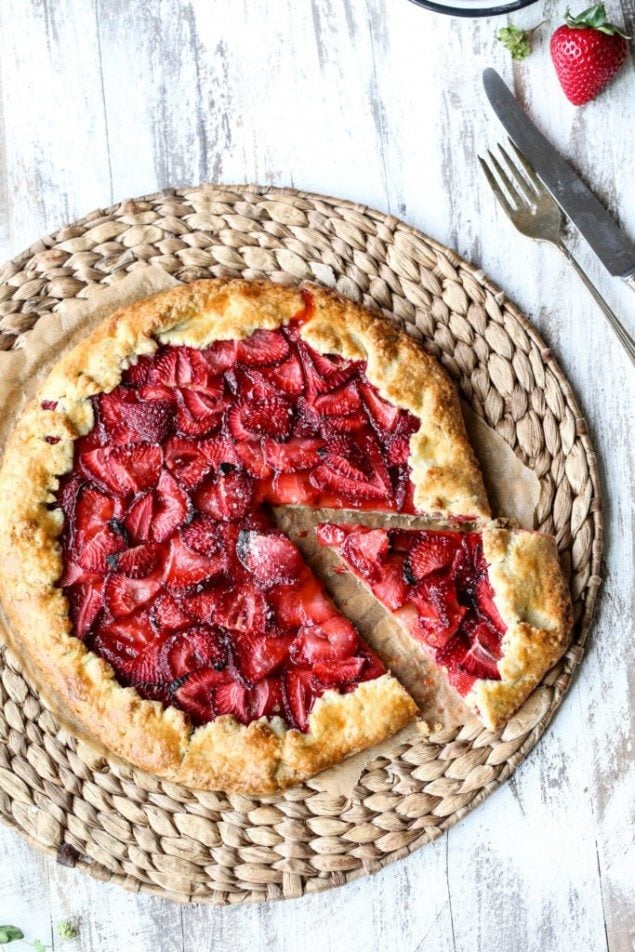 Click here for the crust recipe.
Print
Strawberry Galette with a Basil Crust
This simple, rustic strawberry galette is made extra special with a basil butter crust.
Author:

Lindsay Russell

Category:

Baking, Dessert
Crust:
Click the link above for the recipe
Filling
3 cups

sliced hulled strawberries

2 tablespoons

sugar (or more if you want it sweeter)

2 teaspoons

cornstarch

1

egg mixed with 1 tablespoon of water
coarse sugar for serving
Instructions
Place the flour, sugar, and salt into the bowl of a food processor fitted with the blade attachment and pulse a few times to combine. Add in the butter and basil and pulse 10-15 times until the butter is the size of small peas.
With the food pro set to low speed, pour the water into the tube so that it can add itself slowly to the dough. Continue running the food pro until the dough starts to come together into a ball. When this happens, turn the dough out onto a lightly floured surface and form it into a disk. Wrap it tightly with plastic wrap and chill for 1 hour.
Preheat oven to 400 degrees. Remove the dough from the fridge and roll it out to about 1/8 inch thickness. I try to get mine into a circle but don't worry about perfection. This is rustic, remember? Place the dough, whatever shape it is, onto a large baking sheet lined with parchment paper or a Silpat liner.
Combine the strawberries, sugar, and cornstarch in a large bowl and gently mix until the berries are evenly coated. Place the berries in the center of the rolled out dough leaving about a 2-inch edge open. Fold the edge over the berries and brush with the egg wash.
Bake for 40-45 minutes until the crust is lightly browned and the berries are bubbling and softened. Allow to cool briefly, then sprinkle with the coarse sugar and ENJOY!
Lindsay Russell
I am a food stylist and photographer, and the recipe developer and blogger behind With Salt and Pepper. I love nothing more than creating and staging beautiful foods made with wholesome and clean ingredients. Let's get cooking!