An Italian-style tart filled with fresh strawberries and an orange and rhubarb jam. Top the bubbling berry tart with a scoop of vanilla ice cream and you are in business.
By Patty Price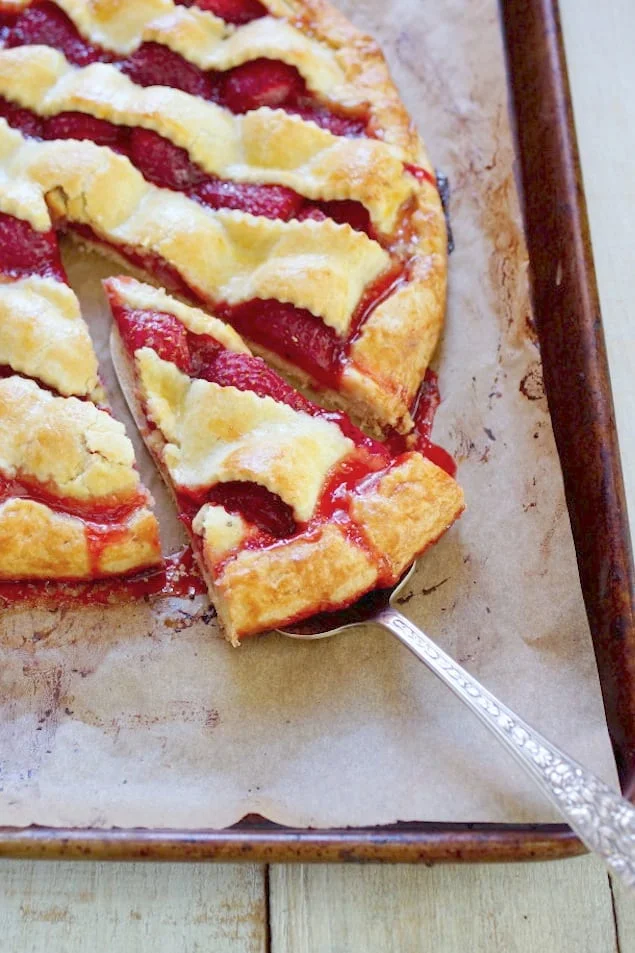 I have a thing for pies and tarts. Now- I've added crostata, an Italian inspired pie/tart filled with fresh strawberries and spread with rhubarb jam to my list of favorites. I look forward to a summer filled with visits to the local farmer's markets to find the freshest ripest fruits for the rustic pastry creations that I love to make.
I used the rhubarb jam with strawberries and orange that I made using a recipe from food in jars by Marisa McClellan. The verdict is the jam is delicious and I will be trying more recipes from this little gem of a preserving book.
I also will be baking more of summer's fruit (blackberries -for one!) using this crostata dough which is quick and easy to make, chill, roll out and bake. Make sure you use parchment paper for the baking pan to save on the clean up from the bubbling fruit juice escaping from your hot crostata. A scoop of vanilla ice cream on top is another good idea to try.
No matter how you decide to place the strips on top of your crostata-the cut pieces all come out beautifully and make lovely slices of strawberry pie. Don't forget the rhubarb jam-I love rhubarb and think it adds so much flavor to this recipe, but purchased strawberry jam would be good too.

Strawberry Crostata with Rhubarb Jam
An Italian-style tart filled with fresh strawberries and an orange and rhubarb jam. Top the bubbling berry tart with a scoop of vanilla ice cream and you are in business. Adapted from Four-Star Desserts by Emily Luchetti.
Ingredients
2 cups plus 1 tablespoon all-purpose flour
⅔ cups plus 1 tablespoon sugar
1 stick (8 tablespoons) cold unsalted butter, cut in bits
2 large eggs
1 large eg yolk
⅔ cup rhubarb jam (recipe from food in jars by Marisa McClellan)
2 pints strawberries, hulled and cut in half
Instructions
Combine 2 cups of the flour, ⅔ cup sugar and butter bits in a medium bowl.
Mix the ingredients with pastry blender or fingers until mixture looks like cornmeal.
Add 1 egg and egg yolk, mix until dough comes together (1-2 minutes)
Divide the dough in half, flatten, wrap and chill for at least 30 minutes.
On a lightly floured work surface roll one of the pieces of dough into a 10" circle.
Carefully lift the dough circle and place on a parchment lined baking sheet.
Roll out the second piece of dough into a 10" circle and cut into strips- I used a decorative fluted cutter.
Chill both the dough circle and the dough strips until firm -about 30 minutes.
Preheat the oven to 375F.
Remove the dough from the fridge and spread the jam on the 10" round circle, leaving a 1" edge all the way around.
Place the prepared strawberries on top of the jam spread dough and sprinkle with the remaining 1 tablespoon of sugar. This would be a fun and tasty place to use vanilla or lavender spiced sugar.
Lightly beat the egg and brush it on the 1" edge of dough circle.
Lay the strips on top of the strawberries (how you like), letting the end of each strip end on the egg washed edges.
Fold the edges of the dough circle back over the lattice, about ½" over the edges of the strips.
Brush all the edges and the dough strips on top with more of the egg wash.
Bake the crostata for around 35 minutes or until filling is bubbling and pastry is golden brown.
Cool on a metal rack, slice and serve the same day it is baked.
Patty Price
Patty Price is a former assistant pastry chef at Bizou (currently CoCo500) who was previously recognized for her signature dessert by The New York Times. She also spent time learning classic French cooking techniques at a three-star Michelin restaurant in France which she incorporates into her personal food blog, Patty's Food. Inspired by the diversity of seasonal vegetables, fruits and herbs available locally in the San Francisco Bay Area, Patty hopes to inspire her readers to cook seasonally and try new recipes.