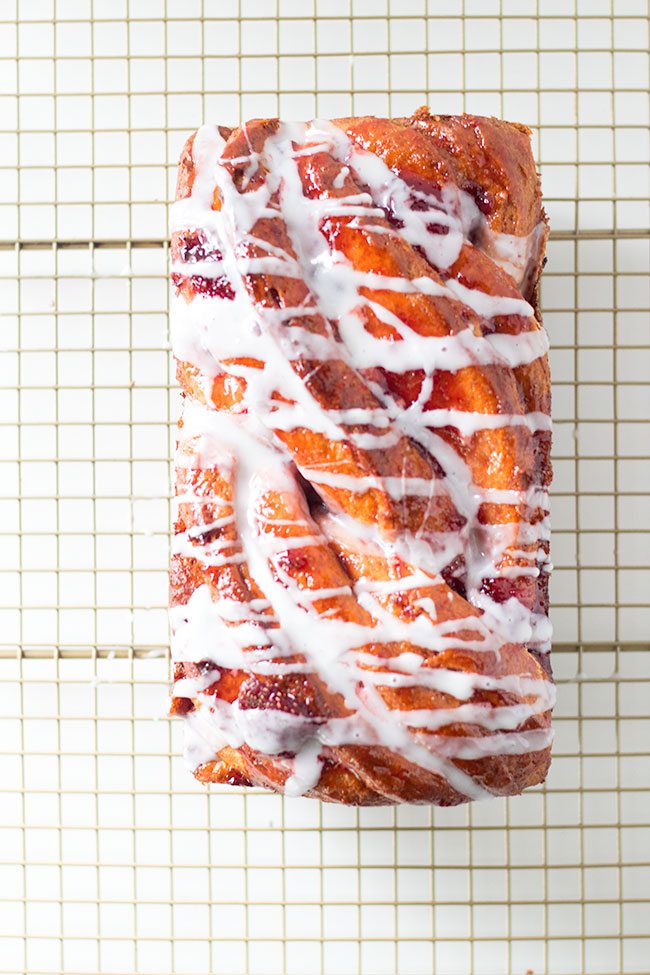 babka. sweet, twisted, yeast bread. what's not to love? it makes the perfect sweet breakfast or brunch treat, snack for afternoon tea, or even a delicious dessert. I do love a good multi-use recipe.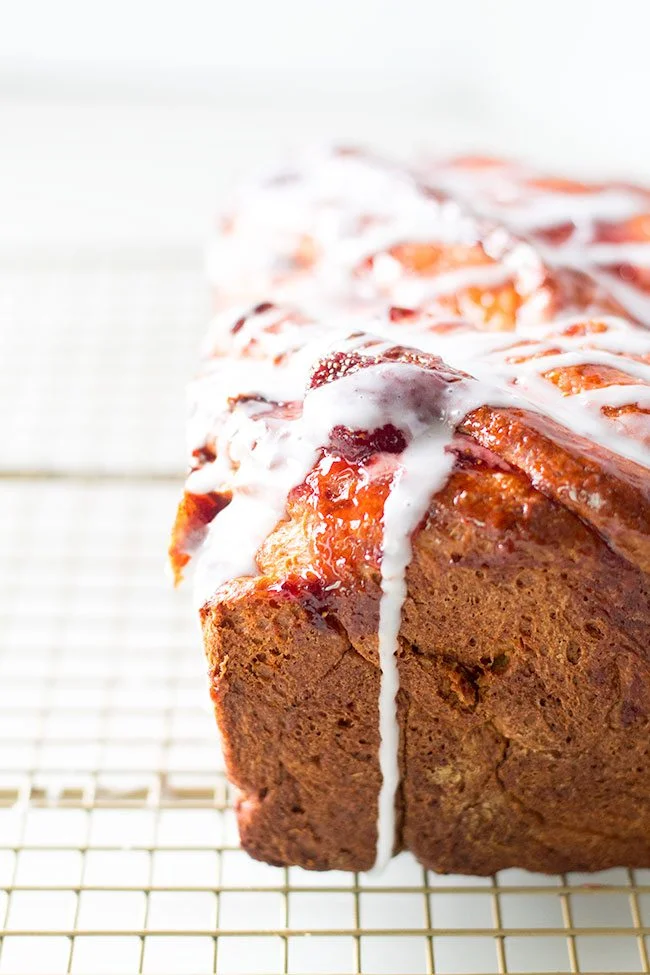 Babka is traditionally filled with cinnamon or chocolate, check out my chocolate babka recipe here. But our beautiful weather has me dreaming of all things strawberry.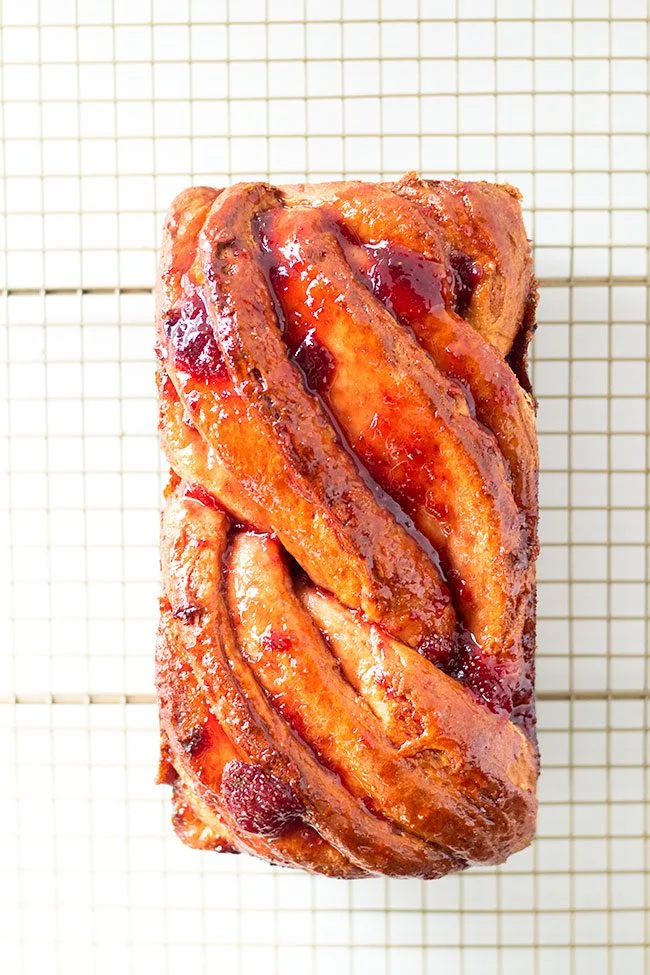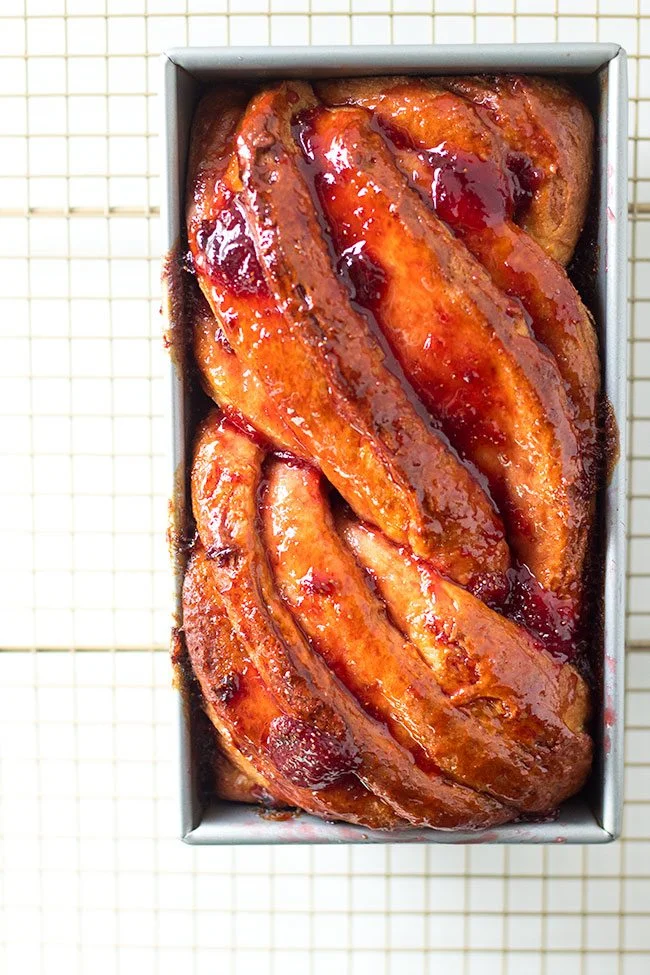 Click here for the strawberry filling recipe.

Strawberry Babka Bread
Ingredients
babka dough
2 tsp instant yeast
3 cups flour
¼ cup plus 2 Tbsp sugar
½ tsp salt
⅓ cup warm milk (about 110 degrees)
3 eggs, divided
½ tsp vanilla
½ cup butter, at room temperature, cut into small pieces
strawberry filling
Click the link above for the recipe.
glaze
1 cup powdered sugar
1 -2 Tbsp whole milk
½ tsp clear vanilla extract
dash salt
Instructions
in the bowl of a stand mixer combine the yeast, flour, sugar, and salt
add the milk, 2 of the eggs, and vanilla, and mix on low using the dough hook attachment until the dough starts to come together. if the dough is too dry, add 1-2 Tbsp more milk
add butter 1 piece at a time, making sure the butter is fully incorporated before adding more
knead on medium speed until the dough pulls away from the sides of the bowl; dough should be smooth and elastic
place dough in an oiled bowl, cover, and let rise until doubled (this could take 1½ - 2 hours)
make the strawberry filling while the dough is rising -
combine the strawberry preserves, cinnamon (if using) and cornstarch
cook over medium heat util thick (about 5 minutes) cool and then refrigerate at least 30 minutes
once the dough has risen, roll to a rectangle 12 inches by 16 inches
whisk the remaining egg with 1 Tbsp water and brush the edges of the dough
spread strawberry filling over the dough, leaving a 1 inch border
beginning with a short end of the rectangle, roll dough, making sure to press the edges
cut dough in half, lengthwise, and twist pieces around each other
place babka cut side up in a loaf pan lined with parchment paper
cover and let rise until doubled again - about 1 hour
preheat oven to 350 degrees
bake for 30 minutes, cover with foil, and bake an additional 30 minutes
brush the hot loaf with strawberry preserves
cool in pan 15 minutes, remove and complete cooling on a rack
to make the glaze, whisk together the powdered sugar, milk, vanilla, and salt
drizzle glaze over cooled loaf
Notes
make sure loaf is completely cool before slicing
adapted from my chocolate babka recipe, and from bake from scratch