Steak and Roasted Tomato Bruschetta is a great appetizer and one that's simple to make. Have a starter to dinner or your next party ready to go in no time!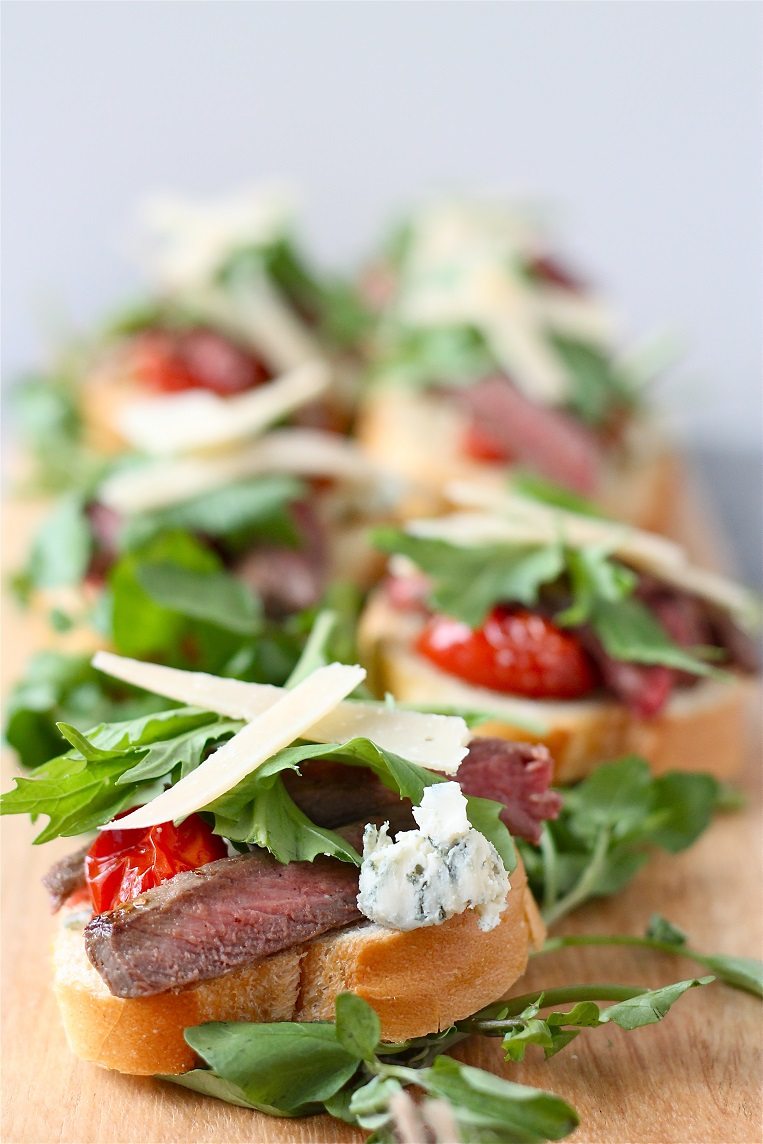 Recently, I went out to dinner with my mom when she was in town visiting and instead of a big, heavy meal out, we opted for a glass or two of wine and appetizers. We seem to do this a lot, often at my urging, because I always want to try everything on the menu and this way we can get a couple of small bites of a few plates instead of settling on one dish. That night we were seated in the bar area on cozy couches and while sipping our white wines, we settled on two appetizers – a spicy shrimp on top of eggplant and a steak bruschetta. When they came out, not only were they both beautiful, but they were so delicious. Right then and there we said that these needed to be re-made for the blog and a couple days later, we got to work and made this steak and roasted tomato bruschetta.
This is such a quick appetizer to make – pop the tomatoes in the oven and then cook the steak. While the steak is resting after cooking, take the tomatoes out and put the sliced baguette in. Then all you have to do is pile on the toppings – so easy. This would be a great dish to serve with pasta, a big salad, or even just with a few other small plates.
Print
Author:

Taylor McBride

Category:

Antipasto
8 oz

grape tomatoes
Olive oil
Salt and pepper

1 1/2

lbs top sirloin

1

baguette (sliced)
Gorgonzola cheese (crumbled)
Arugula
Parmigiano-reggiano (shaved)
Instructions
Begin by pre heating the oven to 375 degrees. Place the tomatoes in a small baking dish. Drizzle with a generous amount of olive oil and sprinkle with salt and pepper. Toss to coat and place in the oven. Cook for 10-20 minutes or until the tomatoes have burst and the skin is wrinkled. Remove from the oven.
Heat a skillet over medium high heat. Season both sides of the steak liberally with salt and pepper and place in the pan. Sear on both sides until the steak is to your desired doneness. Remove from the pan and let rest for 10-15 minutes, then slice the steak thinly across the grain.
Take the sliced baguette and place on a baking sheet. Drizzle the tops with a little olive oil and broil for 1-2 minutes just until golden.
To assemble, take one toast and top with 1-2 tomatoes, 1-3 slices of steak, a few crumbles of gorgonzola, arugula, and shaved parmigiano-reggiano. Repeat with remaining toasts and serve immediately.
Taylor McBride
Taylor is a self-taught cook currently living in Charlotte, NC. Having grown up around a family of great cooks, Taylor has always had a passion for food, wine, and cocktails. She is a Mexican and Southern food enthusiast and has never met an avocado she hasn't liked. You can find her on her blog, Perpetually Hungry.