Hearty peanut broth soup with rice noodles and pumpkin is delicious comfort food with a plethora of vegetables and warm chili spice.
By Pallavi Gupta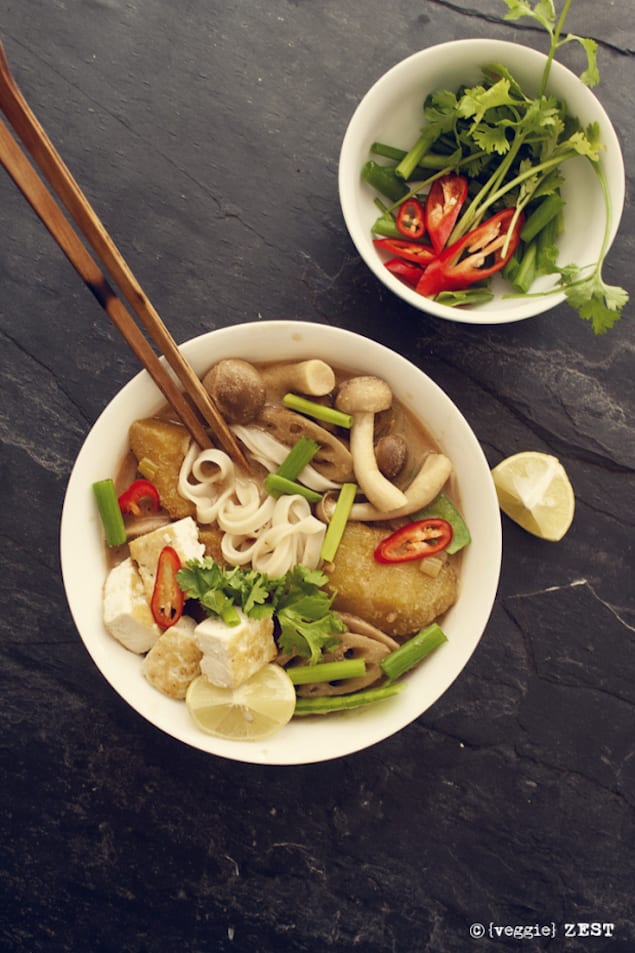 I am a big fan of noodle soups and it is in my top 5 list of comfort foods. This recipe is super simple and you can pretty much throw in whatever vegetables you have left in your fridge. Carrots, snow-peas, pumpkin, squashes, mushrooms, scallions etc work great with this recipe. The broth is easy and made with peanut butter and spiced up with sriracha and sweet chili sauce. You can also add coconut milk to the broth which will make it more rich and wholesome but this time I have only added vegetable stock to keep the soup on the lighter side.
Its a very quick and easy recipe and is great to replace any kind of instant noodle preparation.
See Also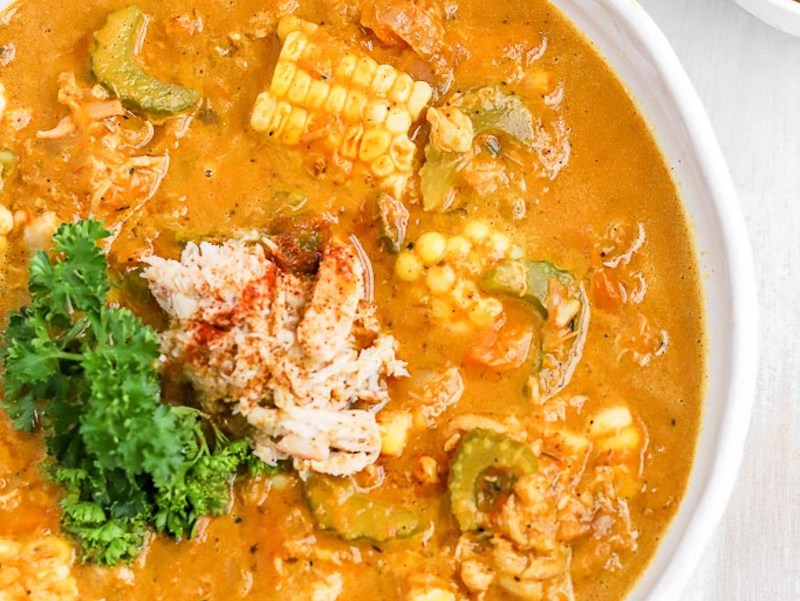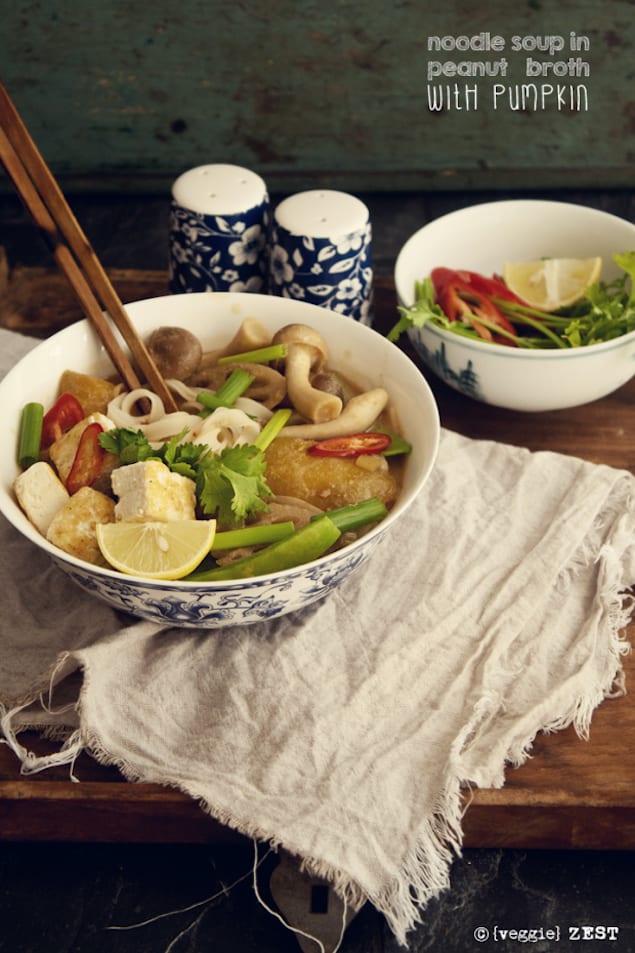 Spicy Peanut and Pumpkin Rice Noodle Soup
Hearty peanut broth soup with rice noodles and pumpkin is delicious comfort food with a plethora of vegetables and warm chili spice.
Ingredients
For the broth
2 tbsp smooth peanut butter
1 can vegetable stock
1 tbsp soy sauce
2 tsp sriracha (or less, as per taste)
2 tsp sweet chili sauce
1 cup water
Other ingredients
1 cup pumpkin, peeled and diced
handful of mixed mushrooms
2 scallions, cut into 1 inch pieces
¼ cup lotus stem, sliced
4 to 5 snow-peas
rice noodles (for 2)
few sliced red chili peppers
2/4 cup diced tofu
handful of fresh cilantro
few lemon wedges
Instructions
To make the broth
Add vegetable stock and water in a deep pot and bring to a simmer.
In a separate bowl mix together peanut butter, soy sauce, sriracha and sweet chili sauce.
Once the broth starts to simmer add the peanut butter mix to it and stir gently to mix well. Continue to cook on low heat for 5 minutes. Give it a taste and adjust the seasoning.
Turn the heat to minimum and leave the broth covered while you prepare the veggies for soup.
To put the soup together
Steam pumpkin and lotus stem together till they turn soft.
Stir fry mixed mushrooms & snow peas in a little oil with some salt for a few minutes.
Boil rice noodles until soft and strain. run through ta water to cool completely (this will avoid them from sticking to each other).
Divide the noodles and veggies into 2 bowls. Ladle the hot peanut broth on it.
Place few pieces of tofu and sliced red chili pepper. Sprinkle chopped cilantro, scallions and serve with a wedge of lemon.
Pallavi Gupta
Pallavi is a vegetarian globetrotter, who currently lives in the southern part of India. Past ten years of her life includes living in six cities in three different countries. It has added to her vast exposure of cuisines from different parts of the world which is now reflected in her cooking. She shares her knowledge of vegetarian and vegan recipe from around the world via her blog Veggie Zest. When not cooking or photographing, she does graphic design.