This recipe is a slightly retro creamy pasta dish with scallops, white wine and lemon zest. It is quick and easy to make, about 20 minutes from start to finish.
By Jess Lacey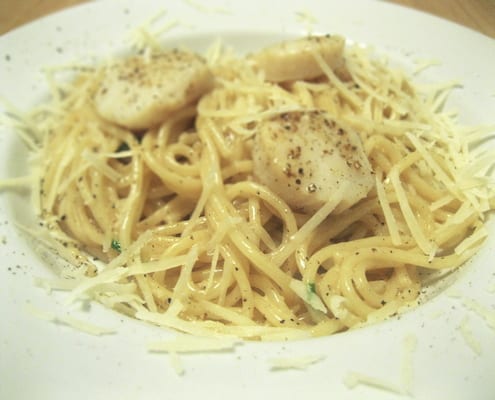 Spaghetti with Scallops and White Wine
This recipe is a slightly retro creamy pasta dish with scallops, white wine and lemon zest. It is quick and easy to make, about 20 minutes from start to finish.
Ingredients
6 large sea scallops
2 shallots, finely chopped
a few sprigs tarragon
1 handful chives
100ml cup white wine
200g spaghetti or other thin pasta
115ml cream
2 tsp lemon zest and ½ tablespoon lemon juice
50g Butter
75g finely grated parmesan
Olive oil
Instructions
In a saucepan over a medium heat, saute the shallots and tarragon in a teaspoon or two of olive oil.
Add in the chives and season well.
Cover and cook for five minutes until the shallots soften.
Add wine and bring to the boil, then reduce the heat and simmer for 10 minutes.
Meanwhile, set a large pot of salted water boiling for the spaghetti.
If you have large scallops, slice them in half horizontally so you are left with two thinner discs.
Set the pasta to cook as per instructions on pack, or your own intuition regarding pasta.
Season the scallops and pan fry in a large frying pan (big enough to take all the pasta and sauce a little while later) in a little oil until golden brown on each side (approximately 1 minute each side if cut in half).
Transfer the scallops to a warm plate and cover with foil and set aside.
Put the frying pan that contained the scallops on medium-high heat, and add in the strained onion mixture (you can get rid of the onion bits and tarragon sprig).
Use this to deglaze the pan and scrape up the browned bits from the scallops.
Drain the cooked pasta.
Add the cream, butter, lemon zest, juice and season well.
Add the pasta and stir well to combine with the sauce.
Cook for 2 minutes until the sauce is thickened and coating the pasta.
Serve with some finely grated parmesan and fresh black pepper, topped with the scallops.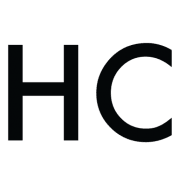 Jess Lacey
Jess Lacey is an Irish food blogger and soon to be lawyer. She has found a home in London, Dublin, Leiden, Melbourne and Aarhus. After a brief foray into the world of Michelin starred cooking, she decided to keep cooking and food as relationships based purely on passion rather than income. She travels frequently, and justifies this by writing about it. More of her musings and recipes are available on her blog, Canal Cook.