Spaghetti With Creamy Mullet Sauce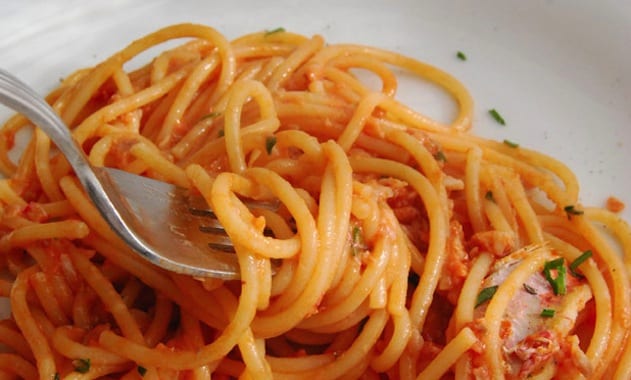 When I was a child this was my favorite pasta dish. I truly loved its creamy and fishy sauce. My mother was a fish monger so she knew fish very well and she also knew exactly how to cook it.
This recipe reminds me of Sundays or holidays in late autumn because little mullets perfect for this sauce are, at least here in Italy, available mostly in November, I assure you this is a real treat!
If you want to impress your friends or family this is the perfect recipe, and you may also be sure it's real italian family cooking, as you won't find this dish in any restaurant (shh!! it's kind of a secret family recipe :D ).
TIPS
1.If you find those little fishes, you may want to buy in large batches and freeze them (with no bowels and heads) so you can enjoy this dish even if mullets are not available.
2. You may also prepare a large quantity of sauce and then freeze it into ice cubes molds then transfer them into a ziplock  (two or three cubes of sauce are good for one serving)
3.To remove the bones* you just need to cut the head, then slide a knife or a finger on one side along the central bone, starting from the point where the head was attached, do it on the other side and pull it away.
This fish has not firm meat, so you might need to be delicate when pulling the bone.
The little bones that are on the belly can be eaten.
*some fishmongers can do it for you, just ask them
4. For an healthier twist, you may use 200ml of milk with half a teaspoon of starch dissolved in it instead of cream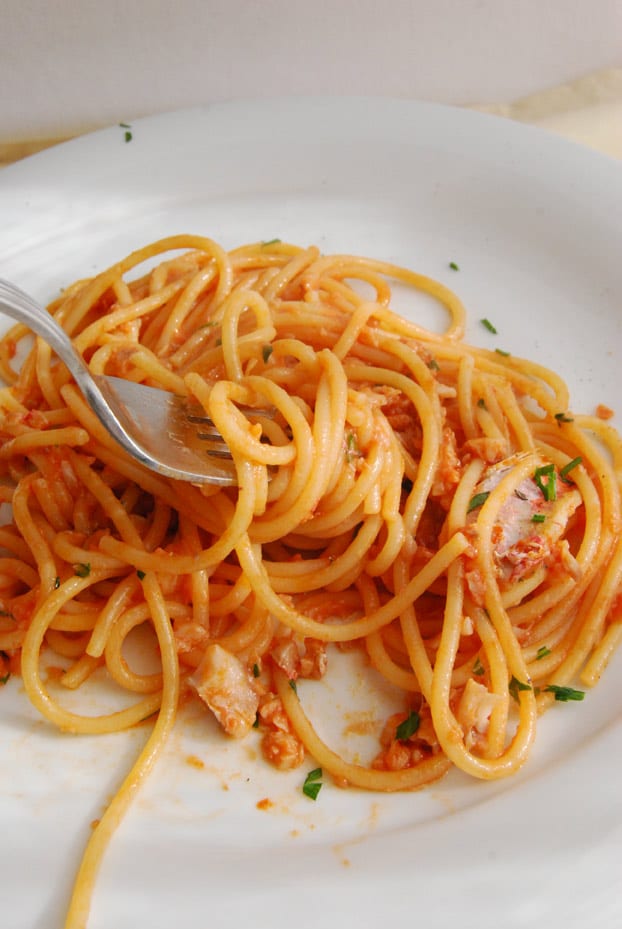 Spaghetti with mullet sauce
A real treat for fish and pasta lovers
Ingredients
2 mullets per person (just 1 if they're bigger than 10cm)
400gr of tomato puree
150ml of single cream
2tbsp of extra virgin olive oil
salt, pepper and chili pepper to taste
400gr of spaghetti (or any other pasta you like)
parsley
1 clove of garlic
Instructions
Bring 4lts of water to a boil, add 40gr of coarse salt and when it boils again add the spaghetti.
While the spaghetti are cooking, pour the oil on to a non stick pan, add garlic crushed with a knife and the chili pepper. Let it sizzle for 20 secs then add the tomato puree. Add salt and pepper and stir. Let it cook for a couple of minutes.
Add the mullets fillets and crushed them with a spatula, let them cook for 3 to 5 minutes, remove the garlic clove and add the cream (or milk), stir well to mix evenly and then turn the heat off.
Drain the spaghetti a couple of minutes before the cooking time, and remember to take out a cup of cooking water. Add the pasta to the pan and stir well, pour some water and cook for a minute. Add the chopped parsley and serve.
Elisa Gennari
Elisa Gennari was born and raised in Rome, with a true passion for home made food. Her goal is to share her ideas about eating delicious food while still staying healthy. In her blog she teaches her secrets on how to cook Italian recipes, always with a healthy twist.