Smoked Mackerel Salad With Honeydew Chili Salsa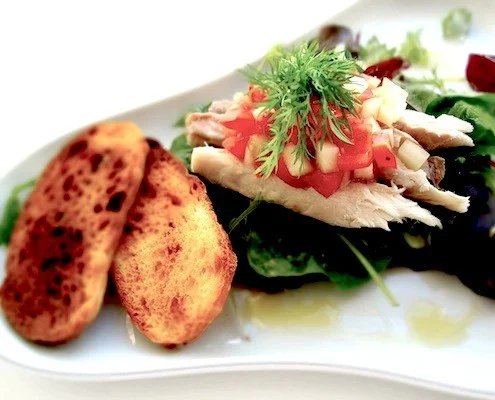 Fat and juicy, but at the same time sweet and spicy. Not the author, the fish and the salsa.
By Kalle Bergman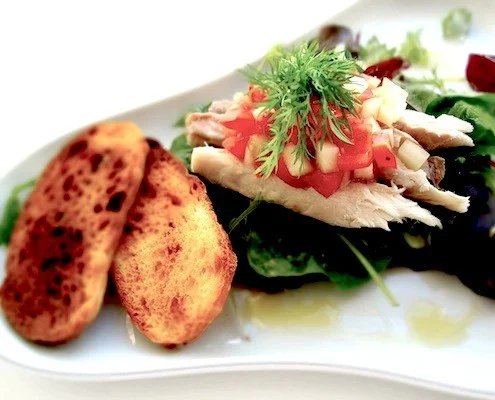 Mackerel is one of my all time favorite fish, and smoking it makes it even better. The naturally fatty, oily and juicy flavors of the mackerel are lifted to new heights in the smoking process, creating a taste that is quite unique.
To me, mackerel is best enjoyed in the company of as few accessories as possible. Some new potatoes, a little sour cream and some fresh lemon. That's enough for me. But in this salad, I have chosen a combination that might be a little less traditional – nevertheless, it's a match made in heaven. The large flavors of the smoked mackerel are really complemented well by the spicy freshness of a salsa based on cocktail tomatoes, chili, ginger and honeydew.
Bon Appetit!

Smoked Mackerel Salad With Honeydew Chili Salsa
A great way of balancing a the oily and fatty flavors of the mackerel with the pungent freshness of the sweet salsa.
Ingredients
2 large smoked mackerels
10 sweet cocktail tomatoes
¼ honeydew melon
2 teaspoons finely chopped fresh ginger
½ finely chopped green chili (adjust amount to your own taste)
1 teaspoon granulated sugar
1 tablespoon balsamic vinegar
Salt & pepper
Extra virgin olive oil
1 lemon
1 bunch dill
7 oz (200 g) mixed salad leaves
8 thin slices of day old white bread (here ciabatta)
Instructions
Preheat the oven to 400°F (200°C)
Flake the mackerels, and make sure to remove all the skin and bones.
Finely dice the honeydew and cocktail tomatoes and place them in a mixing bowl. Add the finely chopped chili and ginger, sugar and vinegar. Gently stir until all the ingredients are well mixed. Season with salt and pepper to taste. Leave in the fridge for at least 30 minutes.
Bake the bread slices in the oven for about 5 minutes, or until crispy and golden brown (you can also coat them in some olive oil and herbs before, but with the mighty flavors of the mackerel in this dish, I actually prefer the "croutons" aú natural here)
Rinse and dry the salad leaves. Place the salad on the plate and the mackerel fillets in the middle. Top with a good amount of salsa (avoid the liquid), and garnish with dill.
Gently pour some of the remaining liquid from the salsa on the salad. Squeeze a little fresh lemon on the fish, and finally drizzle a little olive oil around the plate as a finishing touch.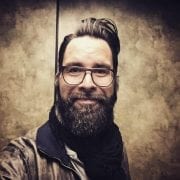 Kalle Bergman
Kalle Bergman is a food writer and media entrepreneur who is the founder of Honest Cooking. As a food writer, his writing has been regularly featured in publications like Gourmet, Los Angeles Times, Huffington Post and Serious Eats. He is obsessed with simple food, more often than not from his native Scandinavia.