A winter salad recipe topped with homemade beet-cured salmon from Skuna Bay.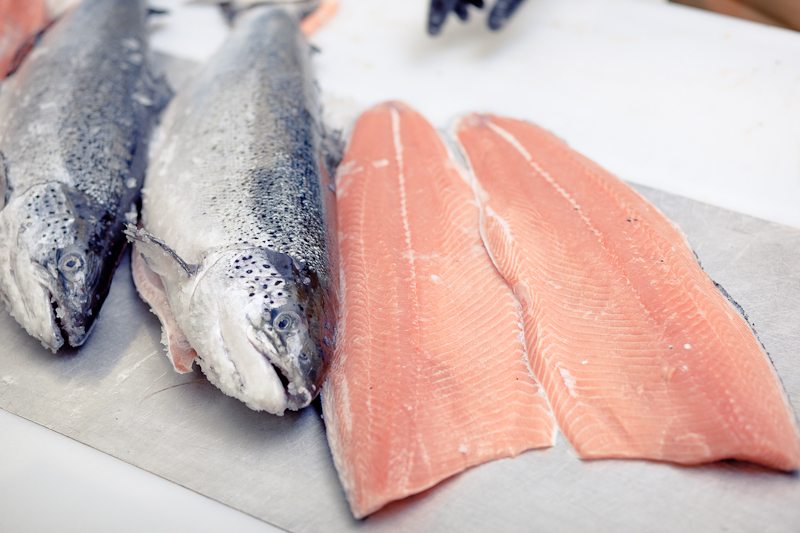 As the chill of winter sets in across several parts of the country, comfort food is something plenty of people are craving. While salmon is often considered the ideal option for dishes foodies favor in spring and summer (guilty as charged), it's also something that is just as sensational to savor during colder months too. In fact, a refreshing fillet can satisfy your need for a healthy pick me up when the days seem too long and the sun severely lackluster. And it was during late fall at the James Beard House that inspiration for serving this fish in all seasons could be found.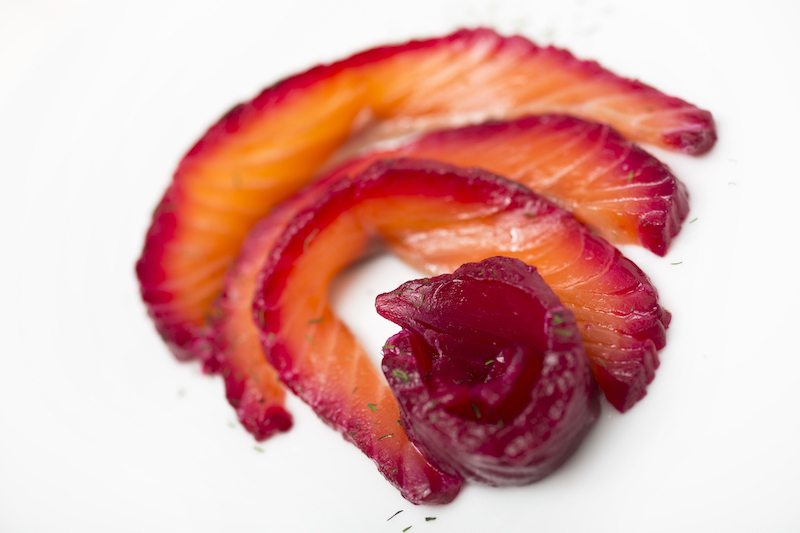 Salmon Seduction – a dinner event hosted by Skuna Bay, a Vancouver Island craft-raised salmon producer – featured a range of amazing entrees prepared by six renowned chefs from across the US. Each dish was paired with a selection of international sparkling and still wines. The quality of the fish, which is selected by one of six approved salmon experts at this small, family-run operation, was apparent in every bite. These culinary innovators' delectable takes on Skuna Bay Salmon resulted in some seriously delicious experiences. For example, Ian Coogan of NYC-based ABC Kitchen & ABC Cocina fame brought some heat with a Mezcal-cured Salmon cooled down by Cucumber-Yogurt Relish and Golden Potato Flakes, while celebrated St. Paul, MN chef Tim McKee of Market House Collaborative dropped the temperature down a notch (but kept the taste up) with a Salmon Crudo featuring Saffron Pickled Skuna Roe and Kohlrabi. Props must also go to celebrated chef Charleen Badman of FnB in Scottsdale, AZ for her Seared Salmon with fall eggplant, tomatoes, black barley, figs and luscious Meyer lemon chermoula.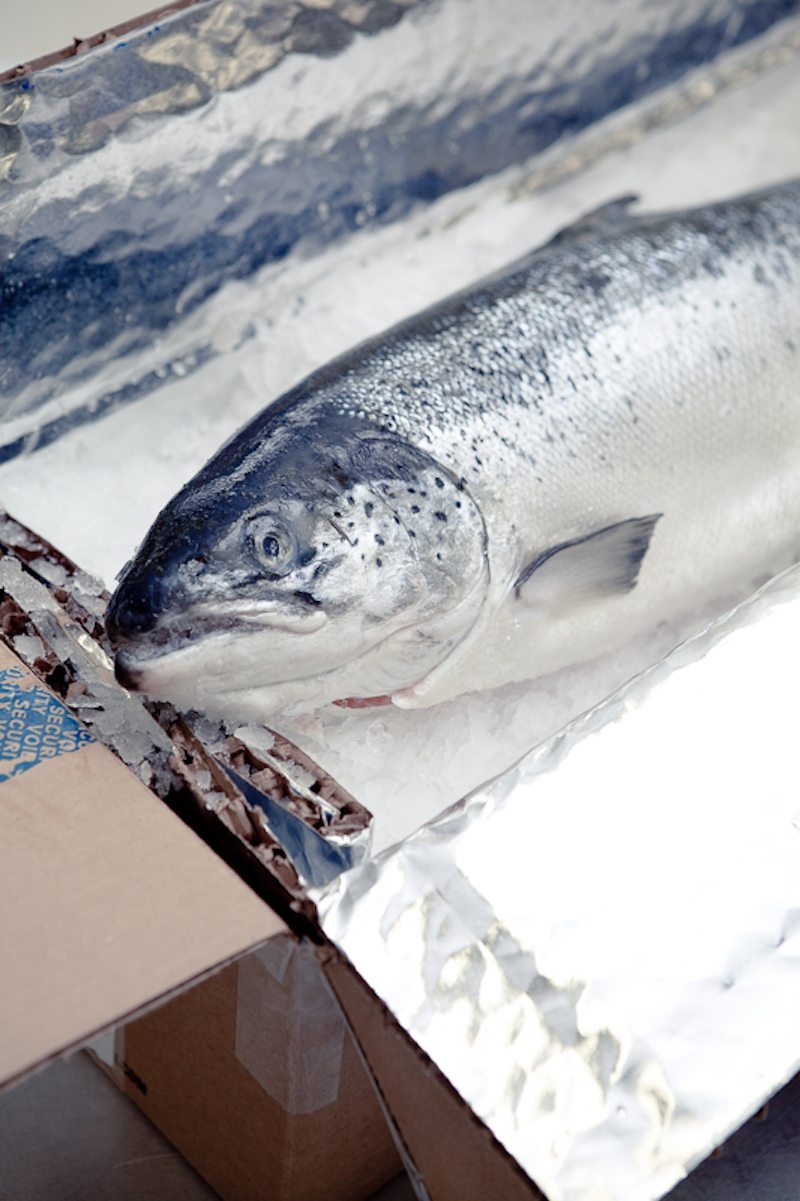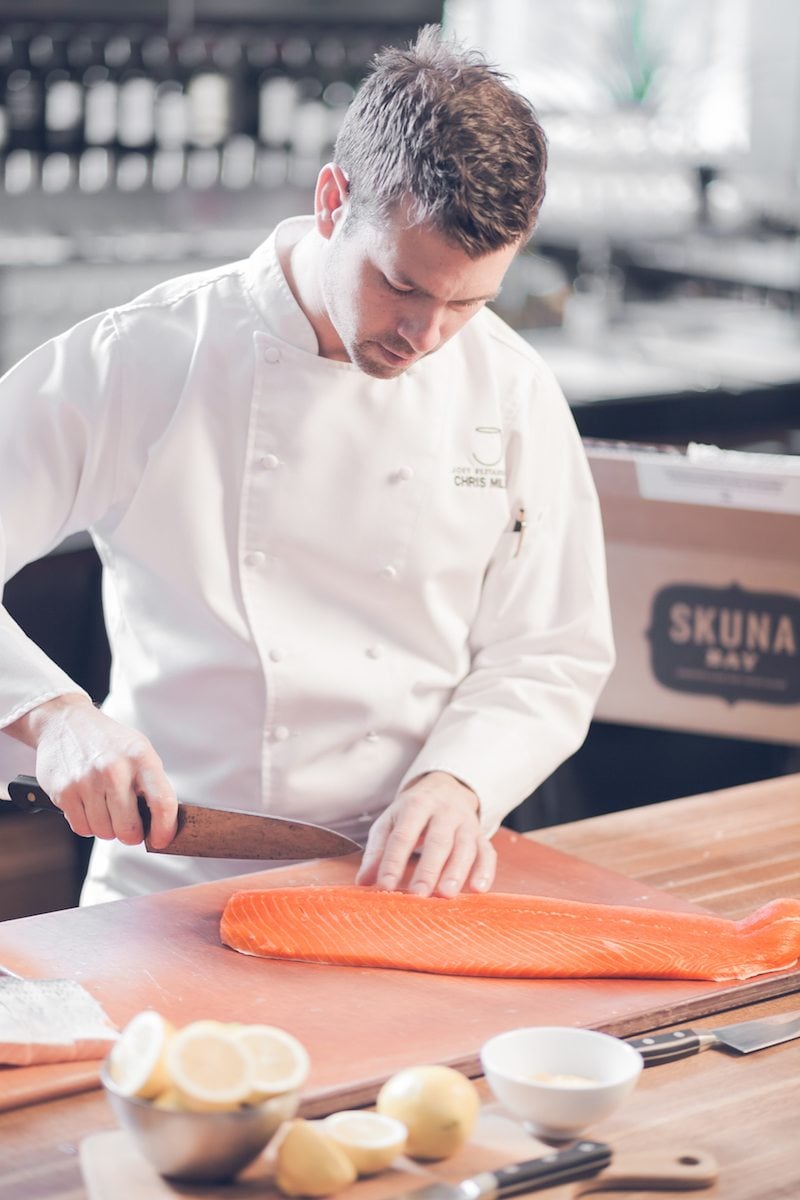 Now that winter has come, a recipe designed with even colder months in mind is exactly what we need right now – and it's easily enjoyed when the dish is a Beet-Cured Salmon and Winter Salad.
Print
Beet-Cured Salmon and Winter Salad
For the Cure
2

lbs. (Skuna Bay Salmon (fillet or portions, skin-on and pin-b

one

out))

3 cups

(Kosher Salt)

1 cup

(Sugar)

1 cup

(Raw Beets (grated))

4 Tbsp

. (Red Beet Juice)

1 cup

(Vodka)

2 Tbsp

. (Coriander Seeds)

2 Tbsp

. (Pink Peppercorn)

2 Tbsp

. (Fennel Seed)

2

pieces (Star Anise)

2

Zest of Oranges (whole)

1 cup

(Fresh Dill (chopped))
For the Winter Salad
1

bulb (Fennel (finely sliced))

1

large handful (Winter Leaves (peppery leaves will do))

2 tsp

. (Lemon Juice)

1 tsp

. (Honey)

1 Tbsp

. (Extra Virgin Olive Oil)
Instructions
Toast spices – coriander seeds, fennel seeds, pink peppercorn, star anise – and let cool. In a large bowl, combine all cure ingredients and mix well. Place salmon skin-side up in a glass baking dish. Evenly pack mixture over the salmon. Plastic wrap the baking dish and cure for 12 hours. Check at 12 hours and flip the salmon over and redistribute the mixture. Cover and cure for another 12 hours. After 24 hours of curing, wipe away the mixture with paper towel and refrigerate until ready to slice. When ready to serve, slice the fennel bulb and place in bowl with winter leaves. In a small bowl, mix together the lemon juice, honey, and extra virgin olive oil. Salt and pepper to taste. Toss to coat. Serve by arranging the winter salad on a place and strewn the beet-cured salmon on top.
Notes
*Recipe adapted with permission from Chef Freda Sugarman of Sarabeth's Park Ave. South, New York, NY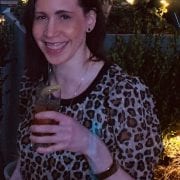 Stef Schwalb
A born and bred New Yorker, Stef Schwalb's love of everything culinary knows no bounds. Her claim to fame? Her Jameson-infused, dark chocolate chip oatmeal cookies. Fun facts! Stef was once a finalist in Dunkin' Donuts' Create Dunkin's Next Donut Contest, and she won a trip to New Zealand based on a 140-character Sauvignon Blanc tasting note Tweet. She is currently communications manager at Gregory White PR, where she writes about enticing food and wine experiences at wineries and wine regions across the globe.