You don't even need to frost this cake, it's so pretty with just a sprinkle of powdered sugar.
By Deena Wachtel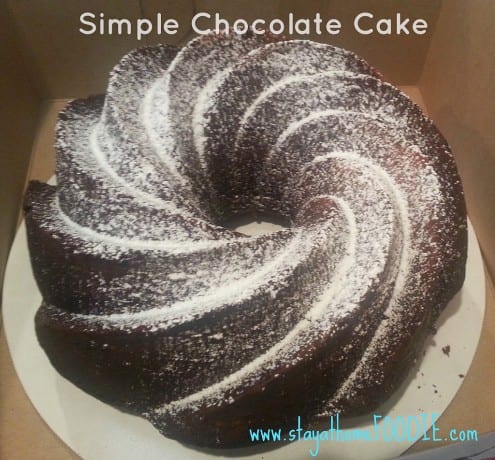 Simple Chocolate Cake
You don't even need to frost this cake, it's so pretty with just a sprinkle of powdered sugar.
Ingredients
Basic chocolate cake mix
1 pkg. instant chocolate pudding (3 oz.)
1 c. sour cream
½ c. water
½ c. oil
4 eggs
1 pkg. (12 oz.) chocolate chips
cocoa powder - for dusting
Instructions
Preheat oven to 350°F. Grease and Flour (with cocoa powder) a BUNDT pan.
Mix first 6 ingredients until well combined. Add the chips last and stir until just incorporated.
Pour into a well greased and floured Bundt pan.
Bake for 1 hour or until cake tester inserted in center comes out clean.
Remove cake from pan and allow to cool in pan for 1 hour before removing.
Deena Wachtel
Deena is a stay at home foodie, obsessed with food and intent on changing her finicky family into a foodie family. She lives by a set of FOODosophies and has pledged to get her kids into the kitchen to teach them how to cook and love good tasting food. It's not always pretty and there are nights when the kids go hungry. But, for her, it's all for the greater good. She blogs daily at stayathomeFOODIE.com.