Shrimp Burgers with Sweet Potato "Buns"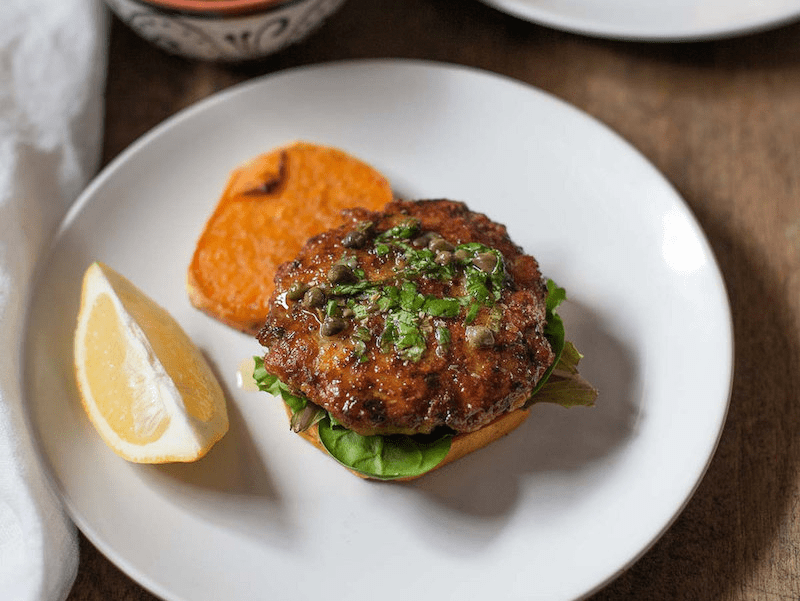 These paleo shrimp burgers are a delicious and fun alternative to regular burgers, and are especially tasty on a sweet potato "bun" with lemon caper relish.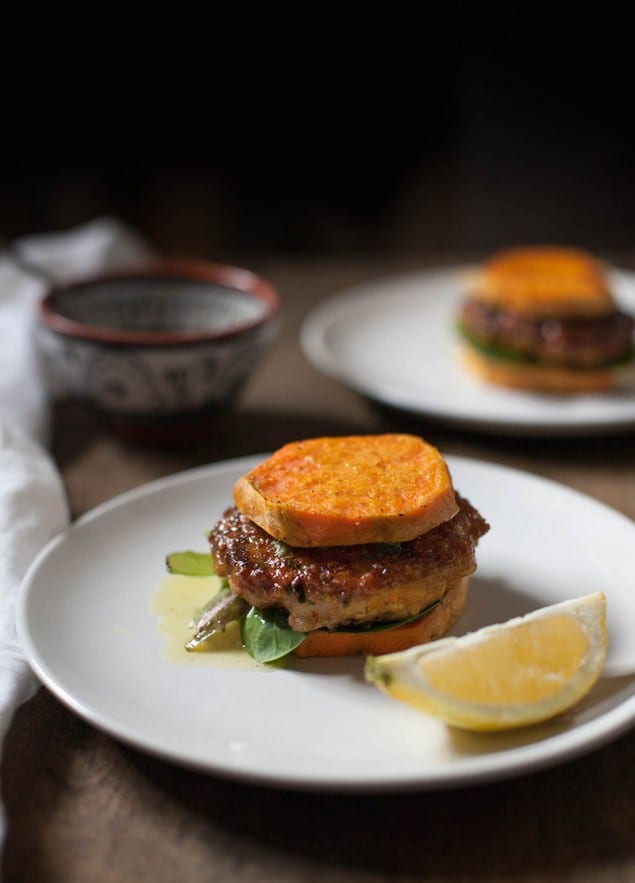 I've actually been working on this recipe on and off for over a year. First I had to perfect the burgers themselves. While all my attempts were delicious, I made multiple versions last year that completely fell apart when I tried to flip them. I ended up serving what was basically a pile of shrimp hash. It tasted so good that I almost leaned into it and changed the whole concept of the recipe, but in the end I really had my heart set on these being burgers, so I persevered.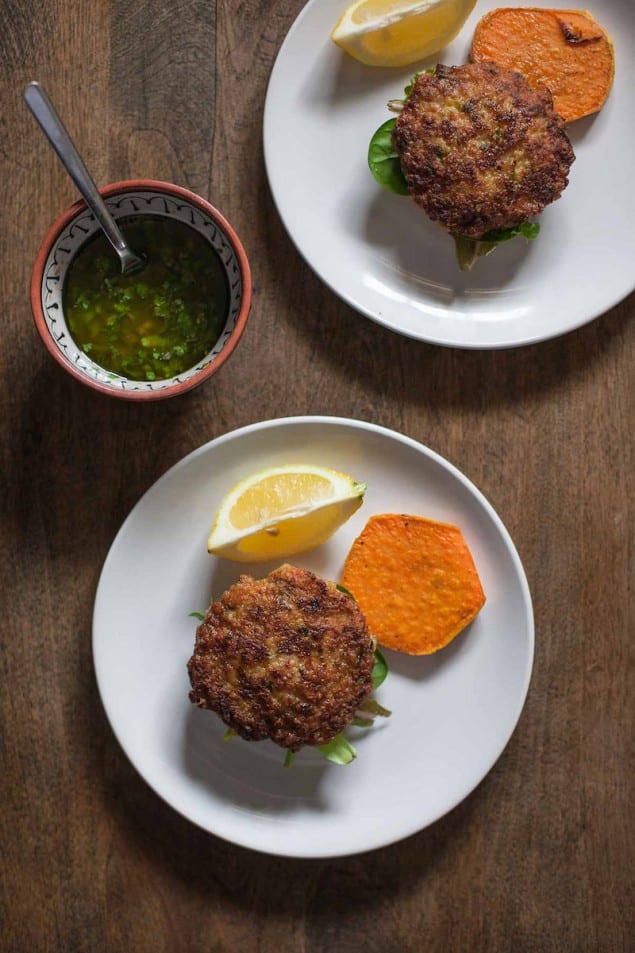 I took a few months off because I was tired of defrosting shrimp and removing their tails. It really isn't that hard, but after a while it can be a pain. Once it didn't seem daunting anymore I jumped back in, and finally discovered the two keys to making sure these burgers stick together. First, you need to use a food processor to blend the ingredients, and second, the patties need to chill in the fridge for a bit before you cook them (that key tip is from America's Test Kitchen via The Frugal Girl).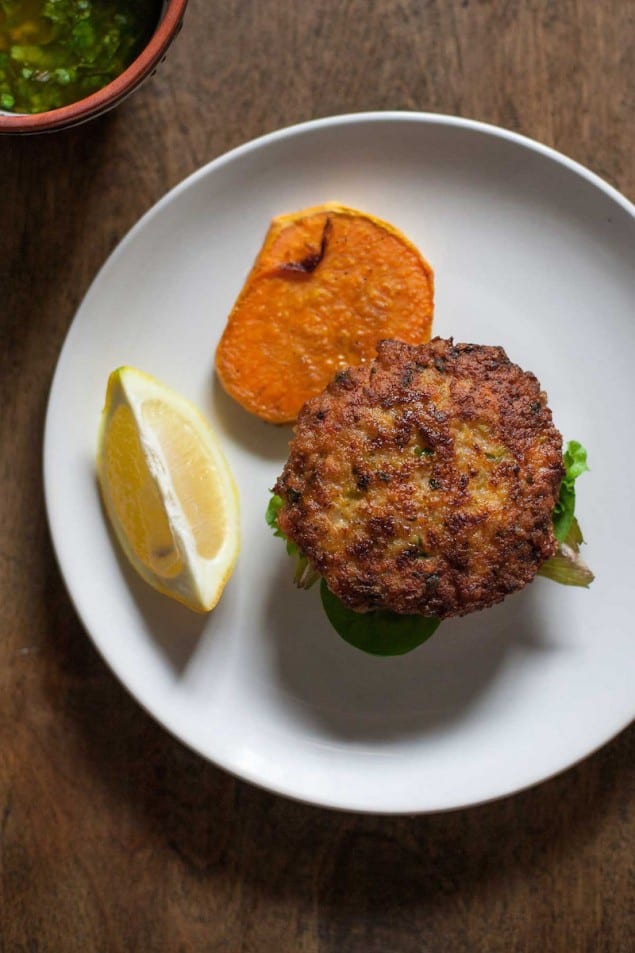 To make the recipe paleo, I used almond flour and tapioca flour instead of breadcrumbs. Shallot, bell pepper, celery, and smoked paprika are pulsed in with the shrimp and give these burgers great depth of flavor. The topping is much more Italian than Jamaican, but it's so good that no one should worry about where it comes from. It's a simple, lemony vinaigrette tricked out with basil and capers, and it's also fabulous on fried eggs. Shrimp burgers are rich to begin with, so to me they don't need a mayo-based topping–this lemon caper relish is a far superior counterpart.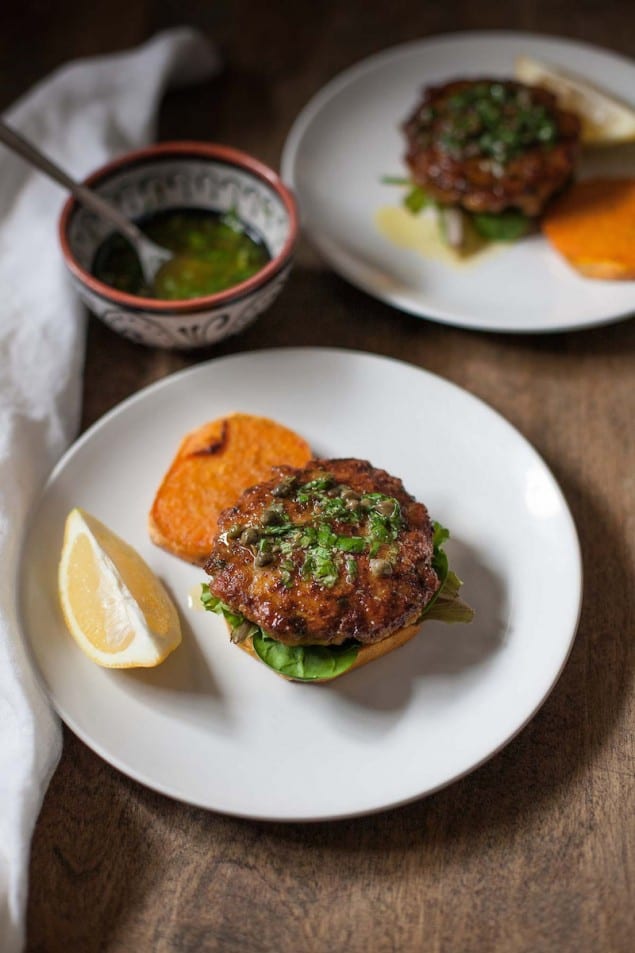 I served these on roasted sweet potato slices that masquerade quite nicely as buns, but shrimp burgers would also be fabulous, and arguably more so, on my paleo burger buns. They're yeasted so they take a little time to rise, but they're more than worth the effort.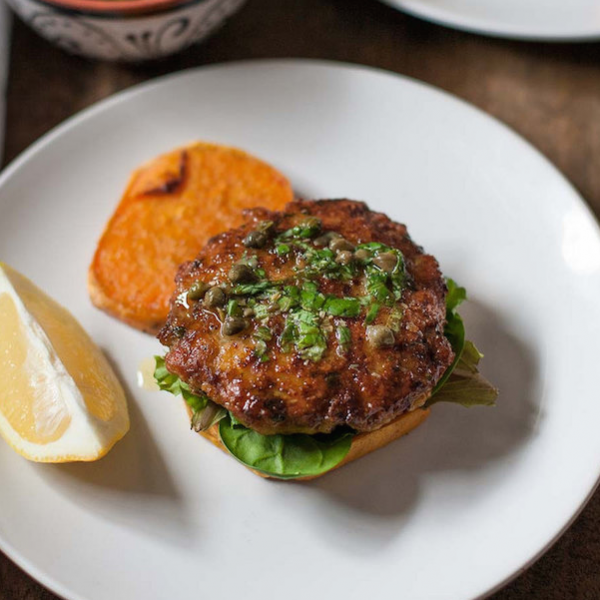 Becky Winkler
Ingredients
For the shrimp burgers:
Zest of one lemon

1 rounded teaspoon

½

cup

almond flour

3

tablespoons

tapioca flour

½

teaspoon

bittersweet smoked paprika

½

teaspoon

sea salt

¼

teaspoon

freshly ground black pepper

1

large egg

1/2

shallot

½

red bell pepper

stemmed and deseeded

1

rib celery

¼

cup

lightly packed fresh basil leaves

1

pound

raw shrimp

peeled and deveined, tails removed

Ghee

avocado oil, or fat of choice, for cooking
For the lemon caper relish:
2

tablespoons

extra virgin olive oil

1

tablespoon

lemon juice

2

tablespoons

minced fresh basil

1

tablespoon

drained capers

chopped

Sea salt

Freshly ground black pepper
Instructions
To make the shrimp burgers, whisk together the first seven ingredients (lemon zest, almond flour, tapioca flour, paprika, salt, pepper, and egg) in a large bowl. Set aside.

Put the shallot, bell pepper, celery, and basil in the bowl of a food processor and pulse briefly until chopped, pausing to scrape down the sides of the bowl once or twice in between pulses to be sure no large pieces remain. Add the shrimp and pulse briefly again, until most of the shrimp is well combined with the vegetables but a few larger pieces remain.

Transfer the shrimp and vegetable mixture to the bowl with the other ingredients and stir.

Line a plate or baking dish with parchment paper. Divide the mixture into six equal patties, put them on the parchment-lined plate, cover, and refrigerate for at least 30 minutes. This gives the shrimp burgers some time to firm up so they won't fall apart when you cook them.

When you're ready to cook, heat a large skillet over medium-high heat. Add the ghee. Once it's hot, carefully add as many shrimp burgers as will fit in a single layer. (If your pan is not big enough for all of them, use two skillets or cook the burgers in batches.) Cook for 4-5 minutes, until nicely browned on the bottom, then gently flip and cook for another 4-5 minutes on the second side. Transfer the burgers to a plate lined with paper towels.

To make the lemon caper relish, use a fork to mix all the ingredients in a small bowl.

Serve the burgers hot with the lemon caper relish on top, on sweet potato buns or paleo burger buns with a small handful of mixed greens if desired.
Notes
These are delicious on sweet potato rounds or paleo burger buns. To make the sweet potato rounds, preheat the oven to 400°F and slice 2 very large sweet potatoes into rounds about ¼ inch thick. Arrange the rounds in a single layer on a parchment-lined baking sheet, brush them with a little olive oil, and season them with salt and pepper. Roast for 20-25 minutes, or until tender when pierced with a fork.
Becky Winkler
Becky Winkler is an enthusiastic eater who shares paleo and gluten-free recipes on her blog, A Calculated Whisk. She enjoys chopping chocolate, salting dessert, searing short ribs, and taking pictures. In her other life, she's a grad student in Boston.