Sense Memory – No Photo Available: Not Living Life Through a Lens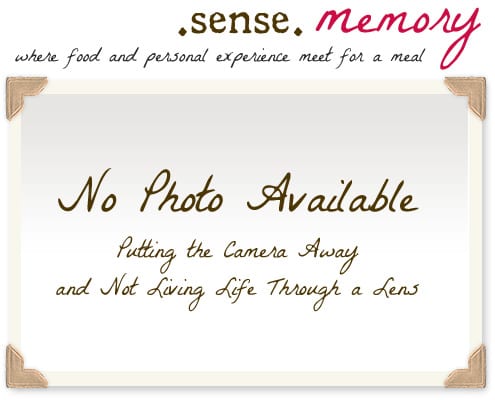 A backyard tabletop decked out in big platters of food with a menagerie of beer and wine glasses illuminating the afternoon light, casting rose and amber hues on a teak surface, weather-worn to a rustic silver. From a photography standpoint, it would be criminal to not capture this moment of food blogger perfection. But there's nary a camera to be seen. And you know what? That's completely fine.
By Denise Sakaki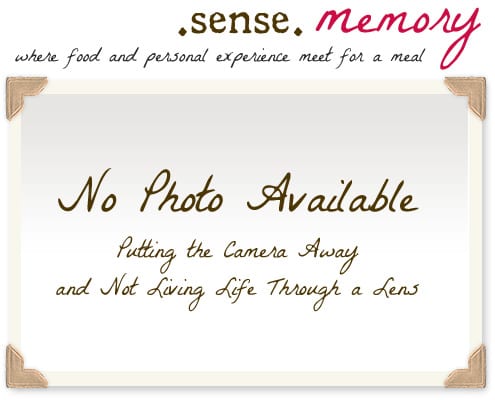 Now that summer is finally in full swing, we're using our backyard more, cooking outdoors, making tasty things on the grill, and enjoying good times with friends. Our backyard tabletop is decked out in big platters of food with a menagerie of beer and wine glasses illuminating the afternoon light, casting rose and amber hues on a teak surface, weather-worn to a rustic silver. From a photography standpoint, it would be criminal to not capture this moment of food blogger perfection. But there's nary a camera to be seen. And you know what? That's completely fine by me.
I've maintained a food blog for about five years now, along with writing and photographing food-related stories for magazines. I'm thankful every single day to be blessed with creative work and that it's something I enjoy. But anyone who's managed a blog or a steady photostream of food and restaurant photos knows that you always feel "on," that a discovery could be around every corner, so you keep your camera phone at the ready, or in my case, I'm often lugging a heavy bag with photo gear in it. When I go purse shopping, I moon over the adorable little clutches and mini-handbags longingly before going for the giant tote bags with heavy straps, seeing if they could fit a DSLR camera with an extra lens, in case I need to use it as an ad hoc equipment bag.  I've fully adopted the awkward "food blogger stance" (legs akimbo, knees likely bent, leaning backwards, back fully extended while staring through a camera lens) when snapping a photo in a restaurant of some marvelous new menu specimen, fully aware that I probably look like an awful flash mobber whose lost their mob. And it's not just a camera lens you're peering through all the time, your smartphone overloaded with convenient food and restaurant apps becomes the means with which you explore your surroundings.  You're heads-down, walking through the streets, looking at your phone;  a blue dot trying to get to a red dot on a GPS map, so you can finally say you went to that hot new restaurant that everyone's been raving about, nevermind all the other perfectly great, unexplored places you passed by.
Not to say there's no enjoyment in the delicious sport of searching out great dining experiences – someone has to be the intrepid (sometimes awkward) explorer to share this news with the masses. But it's when you're just enjoying a moment with friends, out at a restaurant, and someone asks, "Where's your camera?" or "You're not going to take a picture of this food?" Your role as reveler comes to a standstill and you question your own participatory status, wondering if you should have been an observer. And then you come to the realization that you're in a co-dependent relationship with a piece of hardware. The Aborigines believed a photograph could steal one's soul and that it would be imprisoned within the camera. Perhaps I've been in a macro lens purgatory, not realizing how much I was viewing life through a lens. And so I've become a little more distant with my camera these days. I'll shoot photos for project-related work, but unless there's a real need, the soul-stealer machine stays home. I've been to some amazing restaurants in and around Seattle, and as I'm savoring each bite, there's a little part of me wishing the camera was there to document the experience, but then I look at the table full of friends and happy conversations. I see a scene that would be interrupted with the presence of a camera. An awkward, clinical-looking lens can be an intrusive, unexpected guest at an otherwise casual gathering. People immediately jump out of the way, worried they'll "ruin" a shot, despite the fact that a plate of food, no matter how lovely, can look downright lonely at a table without revelers surrounding it. You're art directing your own good time and revoking your role as partygoer. Not fun.
The notion of just enjoying your meal sounds ridiculous, but I find that I'm rediscovering this ridiculous, wonderful notion all over again. I wrote a little about it on my blog, mostly because I felt conflicted with the need to define private and public time – it's nearly impossible when you can instantly upload a photo of the most amazingly flaky croissant in the known universe, right at the bakery you discovered it. There's a thrill in little mundane discoveries; it feels as though if you didn't tell someone, the discovery would cease to exist. In those impromptu moments of food admiration, the joy of the moment is captured, and that's what people really connect to more than what's on the plate. But there's definitely experiences that transcend a blog post or a 140-character-or-less statement — they're usually amazing meals paired with equally amazing company. For those times, I choose to be selfish and keep those all to myself. Mostly, I'm just relishing in the joy of how food and drink tastes much better served fresh, not getting cold, waiting for its photo to be taken.
Denise Sakaki
Denise Sakaki is a freelance food writer and photographer who is always searching for the connections between food and personal experience. She is the creator of the food blog Wasabi Prime and contributor to Serious Eats, 425 Magazine and Drink Me Magazine.