Exactly what you were thinking – a mac and cheese that is both sweet and savory? Well, it's pretty darn good.
By Jocelyn Ruggiero of Relish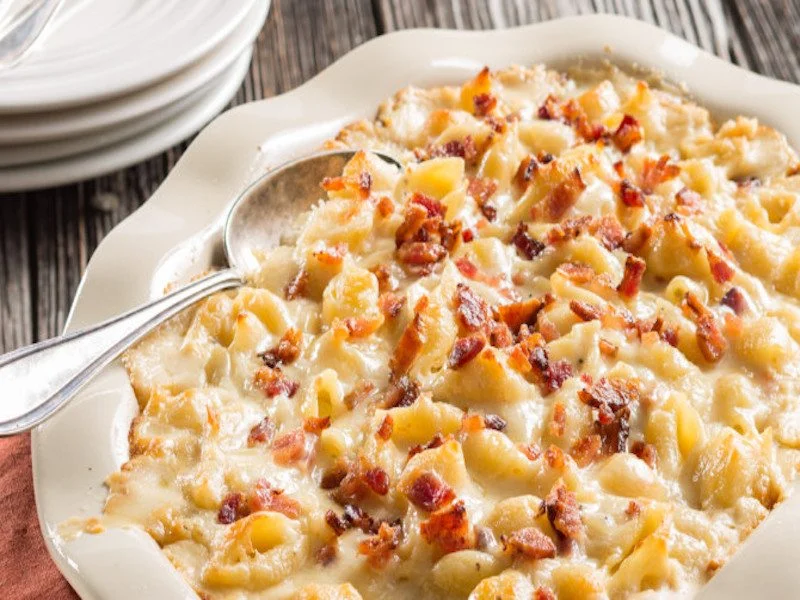 Mark Boughton Photography / Styling by Teresa Blackburn
The savory is bacon and parmesan cheese. The sweet is honey. Generously mix these ingredients with a deep dish of cream cheesy pasta shells and you've got a main dessert course
This article has been posted with permission and originally appeared as, "Sweet and Salty Mac and Cheese" on Relish.


Savory and Sweet Mac and Cheese
Author:
Jocelyn Ruggiero for Relish
Ingredients
5tablespoons butter
6tablespoons flour
3cups 2% reduced fat milk
2cups grated Parmesan cheese
1 (8-oz) package cream cheese, cut into small pieces
1pound large pasta shells
½cup honey
¾pound plus ¼ cup bacon, cooked and crumbled
Instructions
Preheat oven to 350 °F. In a large saucepan, melt butter over medium heat.
Whisk in flour and milk. Reduce heat to low, and cook until slightly thickened, about 2 minutes,
stirring frequently. Add Parmesan and cream cheese. Stir until melted.
Cook pasta. Pour cheese mixture over pasta and mix well. Stir in honey and ¾ lb bacon.
Pour into a 2½-qt casserole dish, top with ¼ cup bacon and bake 20 minutes.