Roasted Red Pepper and Feta Dip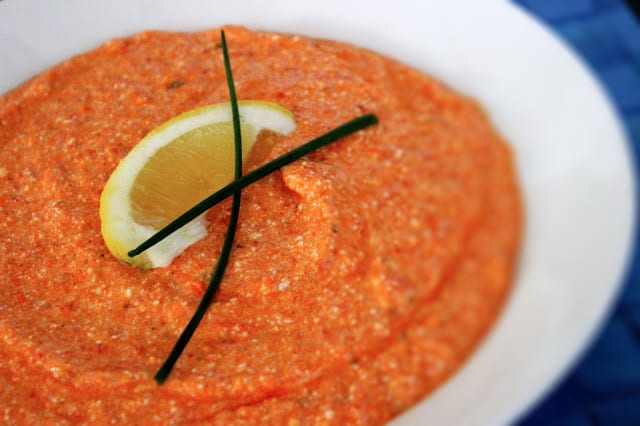 The blend of Mediterranean flavors in every bite triggers your taste buds for the meal ahead.
By Kara and Marni Powers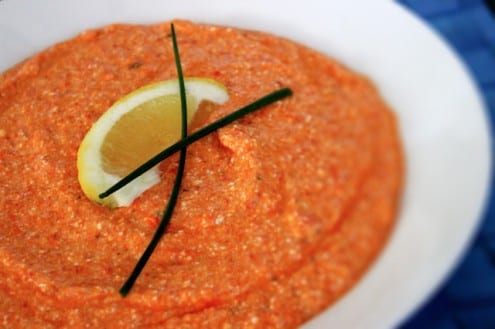 To prepare ourselves for our excessive feta consumption, we whip up a light feta dip for some friends. Htipiti is a spread combining the salty cheese with roasted red peppers and spices, kind of like a Greek Romesco Sauce.
Roasted Red Pepper and Feta Dip
The blend of Mediterranean flavors in every bite triggers your taste buds for the meal ahead.
Author:
Kara and Marni Powers
Ingredients
8 oz feta cheese, roughly crumbled
1 whole roasted red pepper, roughly chopped
1 t lemon zest
1 T lemon juice
2 T EVOO
1 t cumin
1 t dried oregano
1 t chopped fresh chives
1 clove garlic
1 t cracked black pepper
Instructions
In a food processor, add all the ingredients and pulse until fully blended and smooth. If the mixture is too thick add more EVOO. Plate and serve with pita chips and/or sliced vegetables.
Kara and Marni Powers
Kara and Marni Powers are twin sister cooks, dining and blogging their way through Boston's North End and beyond. They see the act of cooking and entertaining as a form of creative expression, an art that encourages the mixing of flavors, spices, techniques and stories. Their interest in cooking dates back to their Greek grandmother's open-arms approach, letting them taste her savory creations like her famous spanakopita. Kara and Marni's fascination with food and culture continued during their travels abroad in Europe where they saw firsthand the limitlessness of cooking.