Deliciously oven roasted Italian pork with balsamic vinegar, rosemary and bay leaves.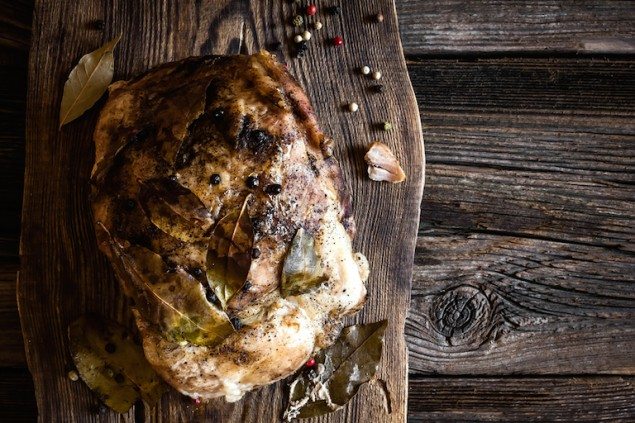 Shutterstock: Sunny Forest
Balsamic vinegar is one of the most well-known Italian contributions to the culinary world, now a basic condiment found in many kitchens here in the US. It is common all over Italy, we find it at every table in the regions we tour, but to truly appreciate it requires a bit of background on it's origins and the role it has played in the households over the centuries. Balsamic vinegar hails from the Emilia-Romagna provinces of Reggio Emilia and Modena, with its origins dating almost 1000 years ago. The name comes from the Latin Balsamum, meaning a 'balm' or a restorative, and it was originally used for it's curative properties. Supposedly, during the plague of 1630, the Duke of Modena carried an open jug of the vinegar in his carriage to ward off the disease.
The incredibly popularity of this vinegar has, unfortunately, spurred a rash of imitators. The traditional original product is not a true vinegar, in which the alcohol is converted to acid, but a reduction of cooked Trebbiano and Lambrusco grapes, in which the sugars are eventually converted to the acid, producing a much 'sweeter' end product. It is referred to as "Aceto Balsamico Tradizionale di Modena" or "di Reggio Emilia", and both are currently protected by both the Italian and EU DOP (Denominazion de origine protetta) quality regulations.
In the farmhouses and estates that in Reggio Emilia and Modena which have been producing balsamic vinegar for centuries, enter their sunny attics and you will find a row of wooden barrels, of increasing size, lined in a row. The number of barrels may vary, but the minimum was 3, and the DOP regulations require at least 7 barrels, and a total aging period of at minimum 12 years. The types of wood used for the barrels varies as well, one may be chestnut, one cherry, one mulberry. Each year, a bottle of vinegar – the families allotment for the year – is removed from the smallest of the barrels. The smallest barrel is then topped off with vinegar from the next smallest barrel, and so on down the line. The sweet concentrate produced each fall by pressing and cooking down this year's grapes enters the largest barrel, beginning its slow progress into the wonderful balsamic vinegar – now one may understand why, in Modena, it is said "One generation makes balsamic for the next." Balsamic vinegar was traditionally part of a brides dowery, and one of the families prized possessions that travelled with them during wartime evacuations during WWI and WWII.
Other varieties of balsamic are available. The Condimento grade, labeled as condimento balsamico, is made in a similar fashion to the tradizionale, but with the following exceptions to the true DOP regulations: aged less than 12 years, or made by producers outside of Modena or Reggio. Commercial grade products are simply wine vinegar to which artificial colors, caramel flavor and thickeners have been added to imitate the thicker consistency and sweeter flavor of the real thing.
See Also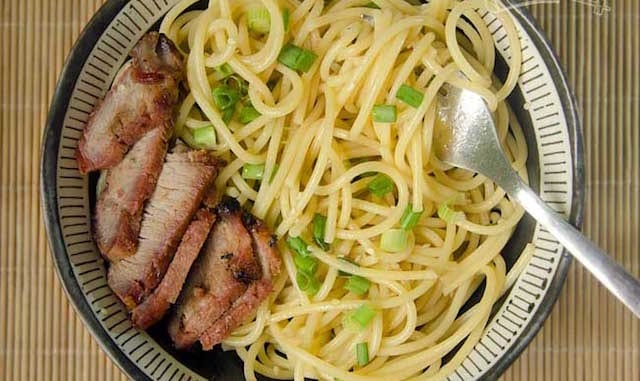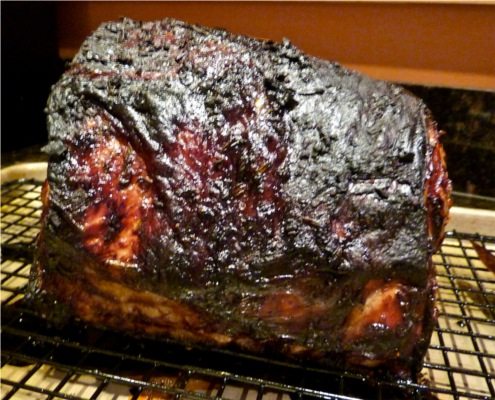 I have found several different Italian recipes for cooking pork or beef with the combination of vinegar and bay leaves. If you have the wonderful tradizionale vinegar, simply drizzling it over a grilled steak is perfect. I had a bone-in pork roast to cook, and used this combination of flavors to develop a marinade for the roast. It results in a beautiful, dark crust on the pork, and smells wonderful while roasting. Serve with some cooked garlic greens and farro or polenta.
The classic regional wine pairing would be a Lambrusco, which we think of as a light, fizzy wine, but can be found in both frizzante as well as dry versions in the Emilia region. Or if you're trying to find a pairing here in the US, a nice full Valpolicella would be wonderful.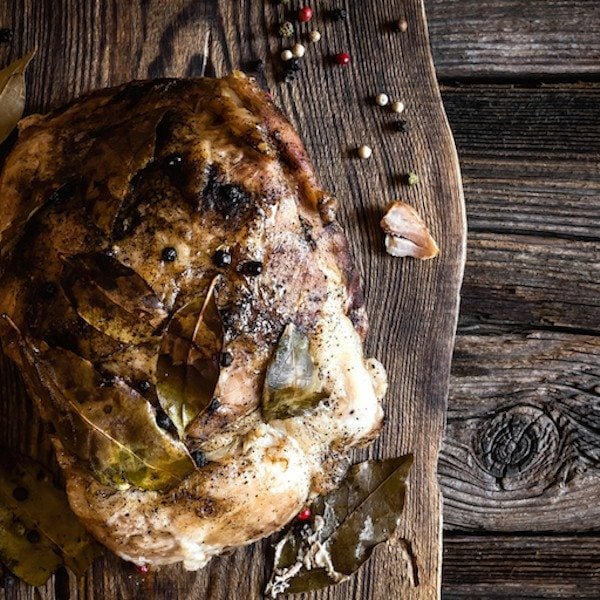 Maiale con Aceto Balsamico, Rosmarino e Alloro
Kathy Bechtel
Deliciuosly oven roasted Italian pork with Balsamic Vinegar, Rosemary and bay leaves.
Ingredients
4

bay leaves

1/4

cup

60 ml good quality balsamic vinegar

1

large clove minced garlic

1

spring fresh rosemary

chopped

1

teaspoon

5 g fresh ground pepper

1 1/2

8 g teaspoons kosher salt

1 5-

lb.

2.25 kg pork roast, bone-in
Instructions
Combine the first six ingredients in a small bowl.

Place the roast in a sealable plastic bag - it should just fit into a gallon bag. If not, place in a roasting pan. Pour in the marinade, and seal the bag. Turn the bag over a couple of times to move the marinade around and cover the meat on all sides. Allow to marinate for a couple of hours, or overnight.

Preheat the oven to 400°F (200°C).

Remove the pork from the bag and place in a roasting pan. Put into the preheated oven. After 15 minutes, reduce the oven temperature to 375°F (190°C). Roast until the internal temperature of the meat is 130°F (54°C), about 90 minutes in total. I would suggest checking at 60 minutes, just to see where you are.

Remove from the oven, and let rest for 10 minutes. Slice and serve.
Kathy Bechtel
Kathy Bechtel's obsession with food and cooking began as a teenager. After years following a traditional career path as a telecommunications engineer, she left to attend culinary school and wine training, and is now combining her passions for food and wine, the outdoors, and travel as owner and Culinary Tour Director of Italiaoutdoors. In this role, Kathy leads small bicycle, skiing and walking tours that explore the authentic regional cuisines, local products and undiscovered wines of Northeastern Italy.