PARTNER POST: We've teamed up with Bonne Maman to bring you the best homemade breakfast and brunch recipes to show Mom you care this Mother's Day and all spring long.
Swap out the usual cinnamon roll for these raspberry sweet rolls with bright lemon zest.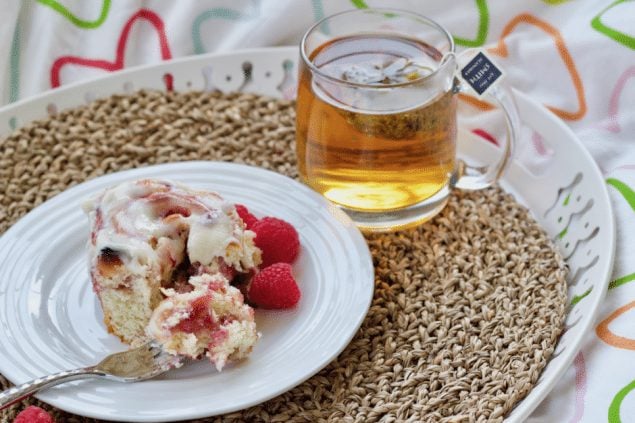 Fruit preserves are one of the most versatile items in a kitchen. They keep well, and can be added to any meal of the day–but my favorite use is, of course, adding preserves to breakfast dishes. Traditional, I know, but there's something about having a variety of jellies to choose from for my scone, biscuit, or toast that I really love. So I thought recently–why couldn't I extend this philosophy to more complex recipes I enjoy? Enter: Raspberry Sweet Rolls (think like cinnamon rolls, but with preserves!).
And so today I get to share with you my favorite recipe for sweet rolls featuring Bonne Maman Raspberry Preserves, which is the sponsor of this post. I have been very impressed with their products, which align with my food preferences for no GMOs, no HFC (high-fructose corn syrup) or other additives, and while it doesn't apply to this specific use, the preserves are gluten-free. Bonne Maman, french for Grandmother or Granny, is very reminiscent of homemade jarred jellies and preserves.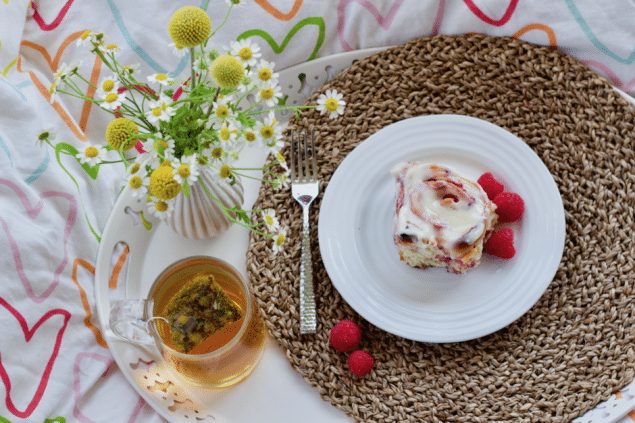 This recipe is much more straightforward than it may first appear, and I think even if you've never made sweet rolls or their very close cousin, cinnamon rolls, you can have a lot of success with this recipe in particular. Please do yourself a favor, however, and read through the entire recipe prior to signing on because it is an odd balance of active an inactive time totaling to about 4-4 1/2 hours. I have bolded the timing below to help it jump out more because I found myself referring back to books a lot when researching this process and timing is key.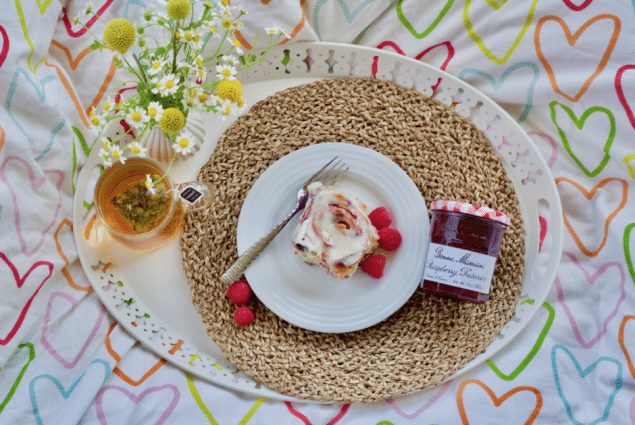 Bonne Maman is giving away a gorgeous 12-piece set of Le Creuset cookware plus many other goodies (over 1,000 prizes!) on their website. Click below to enter! Who doesn't love beautiful cookware?!
See Also
For another recipe idea, check out these strawberry muffins.
Click here for the written recipe.
Print

Raspberry Sweet Rolls
---
Author:

Bee

Yield:

20

rolls

1

x
Description
Swap out the usual cinnamon roll for these raspberry sweet rolls with bright lemon zest.
---
Dough
1

c Whole milk

1 1/2

T Active yeast

2/3

c Sugar

1/2

c Butter (unsalted and sliced)

2

Eggs

1/2

t Salt

1

t Fresh lemon zest (grated)

4 1/4

c All purpose flour
Nonstick spray or additional softened butter for greasing the pan
Filling
1 1/3

Jars Raspberry Bonne Maman Preserves
Zest of

1

large lemon
Glaze
3

T Butter (unsalted)

1 1/2

T Heavy whipping cream

3/4

c Powdered sugar

1

Vanilla bean or

1/4

t vanilla bean paste
Equipment
Small saucepan
Digital thermometer
Stand mixer with dough hook
Large bowl
Rolling pin
Baking twine or unflavored dental floss
Large (9×13 baking dish)
Parchment paper
---
Instructions
Begin by heating the milk to 95°F in a small saucepan over low heat. Keep track of the temperature using a digital thermometer. Meanwhile, equip the mixer with a dough hook, and portion out the yeast and sugar as the next steps will go quickly. Once the thermometer hits the noted temperature, transfer the milk to the mixer's bowl; using a spoon, mix in first the sugar, then yeast. Let the mixture sit for 5 minutes with the mixer off. During this time, collect the butter, lemon zest, and flour.
Turn the mixer to a medium-low speed, and begin by adding the butter, then zest, and finally, the flour–1 cup at a time, incorporating up to 90% prior to adding the next batch. Do not be afraid to stop the mixer halfway through adding the flour and scrape down the sides using a spatula to ensure things are fully incorporated. Once the flour addition is complete, turn the mixer up 1 level to medium and allow it to mix for the next 8-10 minutes, stopping to scrape down the sides halfway through. After the time has elapsed, move the dough to a lightly floured surface and knead 2-3 times before transferring the dough to a large buttered bowl and cover with cling wrap. Allow to rest for 1 1/2-2 hours. During this time, the dough will nearly double in size.
Move the dough to a large lightly floured surface and roll out using a rolling pin (flour this too to be safe), to approximately 10 inches by 24 inches, approximately 1/4 inches thick. Prepare the baking pan by spraying it with nonstick spray or buttering it, and place a parchment sheet at the bottom of the pan.
Back to the dough, spread the preserves across the dough, covering all of it EXCEPT for a line of dough at the top of your workstation–i.e. leave an inch of empty dough at the top border of your dough. This will make it a lot easier to close off the roll at the end. Before you begin to roll it up though–remember to sprinkle the lemon zest over the the preserves on the dough, distributing evenly.
Rolling things up is the most challenging part of the recipe, so before beginning this process, prepare a 12 inch piece of baker's twine and have the baking pan prepped and near the work station. Begin rolling the dough up from the long end up going away from you to make one long roll. Go quickly as the dough will settle quickly. Once rolled up completely, close out the roll, and using the baking twine, cut the rolls up. Here's a very helpful video to communicate this process. If you do not have floss or twine, you can use a very sharp knife, however, be warned, it will be messy!
Arrange the rolls into the baking pan and spoon on any additional jelly you lost into the creases of the rolls. Now ready for its final resting phase, move the full pan to a warm undisturbed spot for 2 hours of rest. If you're like me, know that 90 minutes will suffice in a hurry, but if you have the time to spare, it's worth the wait! I like to warm my oven up to about 180°F and then turn it off and crack the door for a moment before adding the rolls and closing the door completely, thus putting things out of sight and out of mind.
Once the time has passed, remove the rolls from the oven if you were storing them there, and preheat the oven to 425°F. You will note that at this point, the rolls have filled the pan rather nicely. You may even find that they look very cramped in their pan–you can do something about it! using a second set of hands and the parchment paper for assistance, move the rolls to the next size up oiled pan if you need to. I mention this as I originally tested this recipe with a beautiful oval baking dish and found myself in need of a larger home for the rolls–hence, my suggestion of a 9×13 pan.
Bake for 20-25 minutes, until the tops are golden brown. Remove from the oven and cool for 30 minutes. During this time you can make the vanilla glaze. To do this, melt the 3 tablespoons of butter over low heat, then remove from heat and whisk in cream, vanilla, then powdered sugar (1/4 cup at a time). If using a vanilla bean, slice it open and remove the innards using the back of a knife (I personally prefer the paste as it's hard to come by good fresh vanilla beans–most you will find will be old and dried out). Top the rolls with the glaze at your leisure.
LPT (life pro-tip): Have a kitchen torch on hand and torch the glaze upon adding it to the rolls–this will liquify and caramelize things nicely and impress guests!
Category:

Baking, Breakfast
Bee Talmadge
Hi. My name is Bee. I am a health conscious, adventurous food writer originally from Chicago. I reside in Portland, OR. I am most comfortable in front of my butcher block with a sharp knife in hand, and I thrive cooking and sharing food with others. My least favorite food is blue cheese (no matter how hard I try to like it!!), and I love sushi. I am a from scratch cook here to show how attainable a well-rounded and healthy meal is possible even if you work full-time, have family and hobbies to attend to. By day I'm a catering manager in a storied downtown building.