A traditional Italian dessert is given a fall spin in this pumpkin tiramisu recipe complete with delicate layers of espresso-soaked sponge cake and creamy pumpkin mascarpone filling.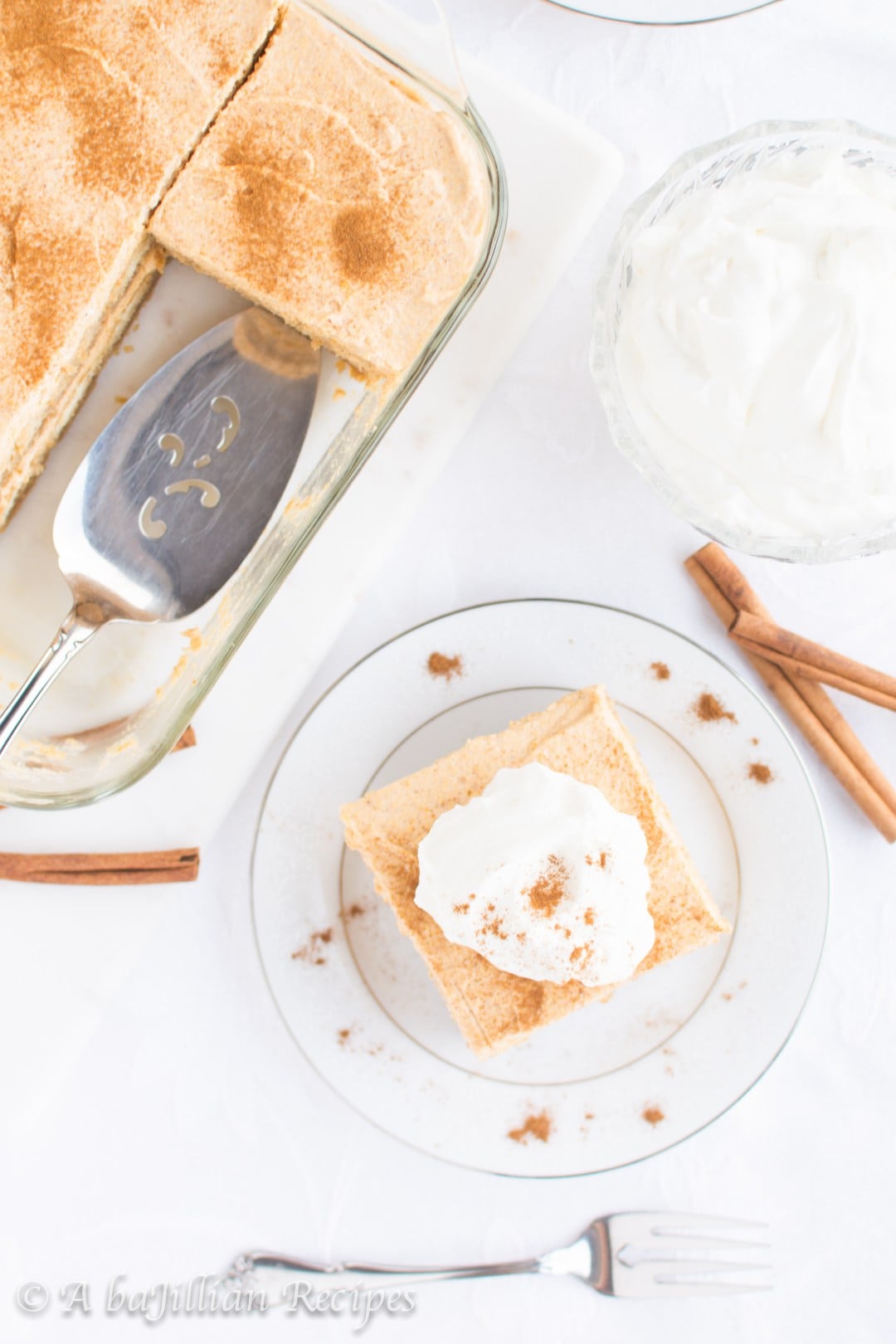 Although some people claim that this whole pumpkin-flavored/scented everything craze has gone overboard, I beg to differ. Pumpkin is a magical fruit that can taste amazing in both sweet and savory dishes. It should come as absolutely no surprise to you that I prefer pumpkin's sweeter possibilities. Speaking of…
If you thought it was impossible to improve upon the heavenliness of Tiramisu, you've obviously never had the privilege of wrapping your tastebuds around this pumpkin-kissed Italian classic.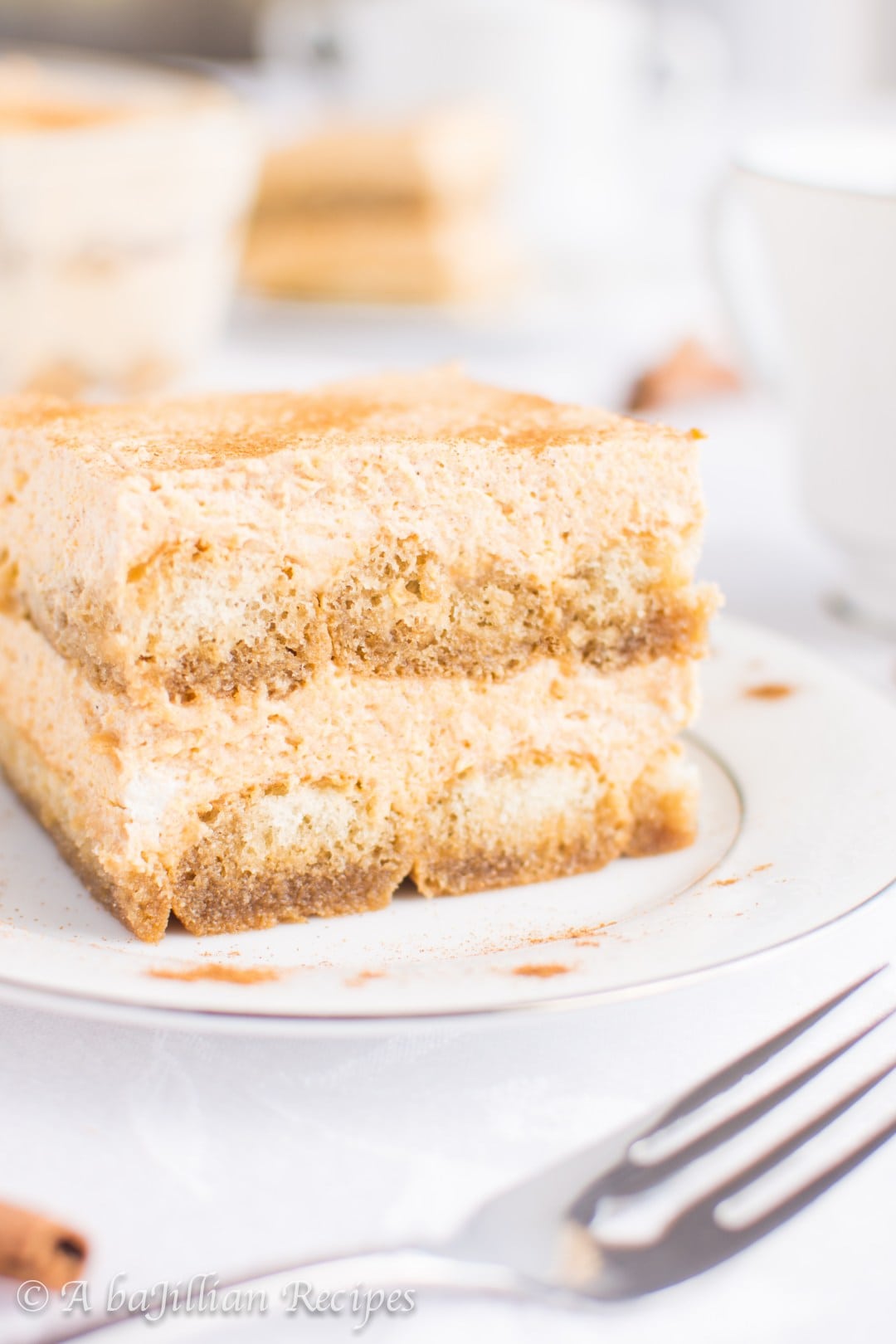 Just like traditional Tiramisu, this Pumpkin Tiramisu literally melts in your mouth. So soft and so creamy, it's like eating the sweetest, most flavorful air. Which probably means that it's extremely low in calories as well ?
Seeing as Pumpkin Spice Lattes (or PSL's in annoying Millennial speak) are a popular fall drink, adding pumpkin to Tiramisu seemed like the perfect fit. One component of Tiramisu is its coffee-soaked ladyfingers, so combining it with pumpkin was a no-brainer. And while Tiramisu looks like a rather intimidating dessert to make, there's really not too many ingredients or steps involved. The process is simple, really. The only challenging part is actually FINDING the darn ladyfingers…thankfully, it only took me FOUR flipping stores to find them. I was ready to use my OWN fingers. (Gross…)
Don't worry though, because it is SO totally worth it for this blissful experience of a dessert.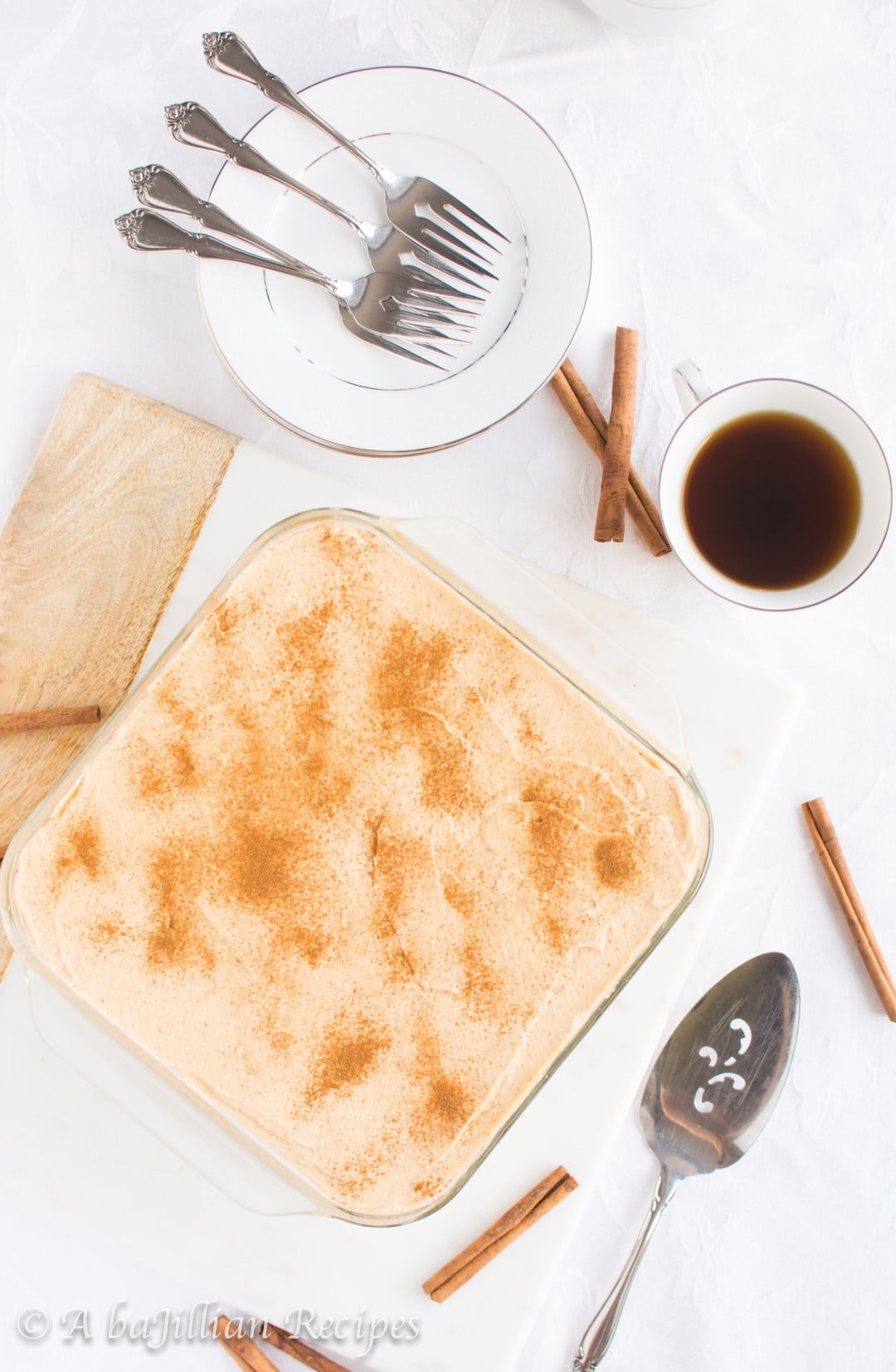 What makes this Pumpkin Tiramisu so divine is the fact that it's not too pumpkiny. There's just enough pumpkin added to the creamy mascarpone filling, making it not too overpowering or squashy-tasting. If you know what I mean…
The filling is made by simply combining some mascarpone cheese with some brown sugar and canned pumpkin. Only 1/4 cup of pumpkin is added, giving it not only that beautifully subtle orange hue, but also that light pumpkin flavor. And if you're looking for ways to use up the rest of that can of pumpkin, I highly suggest you give some my other pumpkin recipes a try. Pumpkin Oatmeal Creme Pies, Pumpkin Sugar Cookies, and Pumpkin Chocolate Chip Bread are just a few recipes I highly recommend.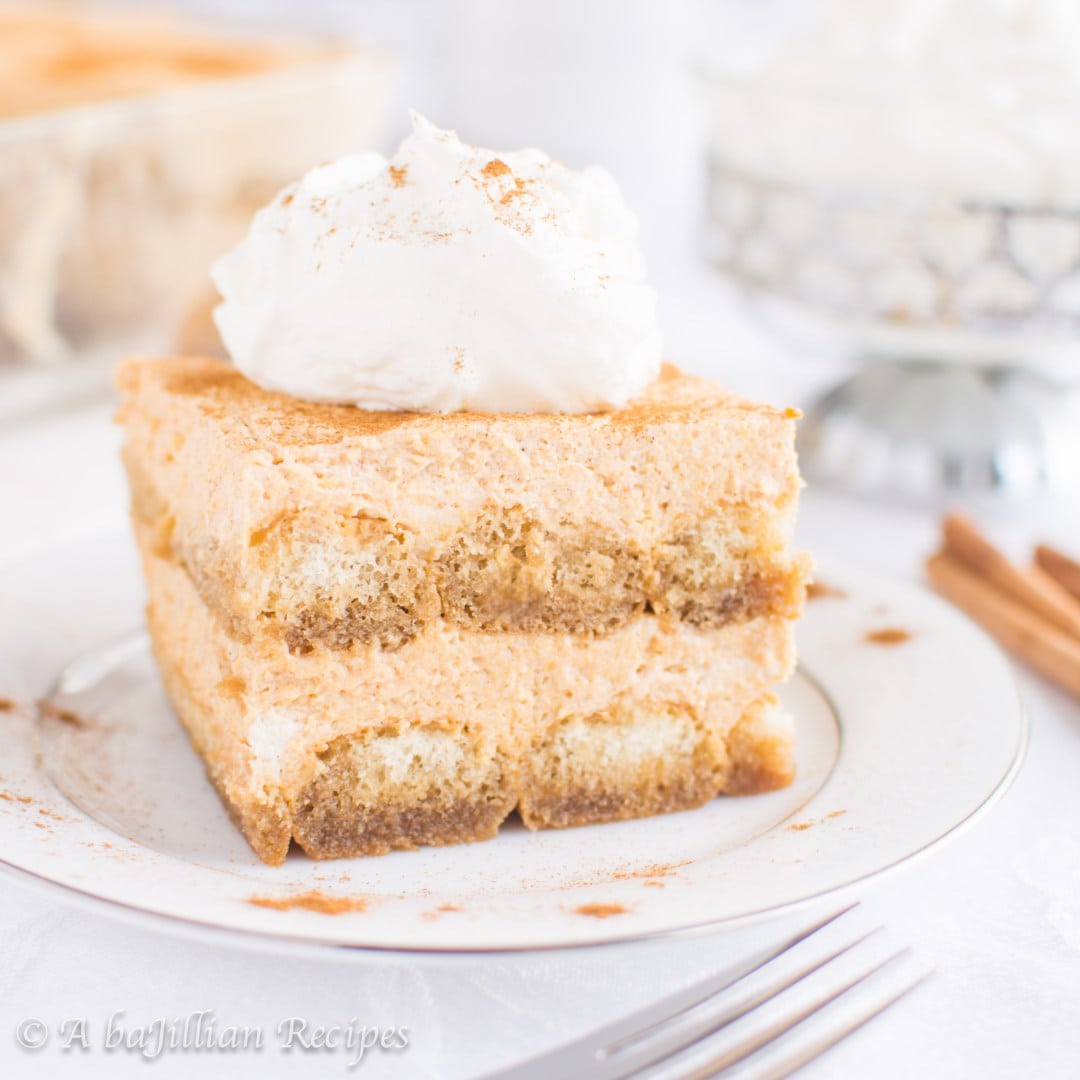 In order to enhance that flavor even more, traditional pumpkin pie spices (cinnamon, nutmeg, cloves, and ginger) are added. To make the filling light as a cloud, a generous amount of freshly-whipped cream is folded in. And that's it for the filling!
The coffee syrup is even easier to make. Just stir together some strongly-brewed espresso or coffee, water, and sugar over the medium heat until the sugar has dissolved. That's it!
Other than devouring this lovely dessert, my favorite part about Tiramisu is assembling it. Each ladyfinger is dunked into the coffee syrup, then perfectly lined along a square or rectangular dish. Half of the creamy filling is then evenly spread on top of the coffee-soaked ladyfingers. Repeat this fun (and oddly satisfying) process once more, and you have a stunner.
Just before serving, I dusted little random smatterings of ground cinnamon over the top. While Tiramisu is traditionally dusted with cocoa powder, I decided to stick with the fall theme. However, I would recommend not dusting the entire surface since cinnamon is a rather potent spice. A little definitely goes a long way.
Finally, because I'm a glutton, I topped it all off with a hefty dollop of whipped cream. Not only does it look more pleasing to the eye, but it's also more pleasing to the stomach…
Jillian Hatsumi
I'm Jillian, the writer, baker, chef, recipe creator, and amateur (very amateur) photographer of A baJillian Recipes. Though I'm not a classically trained chef, I like to think I know my way around a kitchen pretty well. Aside from baking, cooking, and EATING, I also enjoy acting, couponing (I LOVE saving money!!), running, working out, photography, and playing with my little fluffernutter, Olivia. She's a dog, if you're wondering...