Rather than compliment the pumpkin base with the classic spice pairing these biscotti offset the autumnal flavor with almond meal and a chocolate drizzle.
By Pallavi Gupta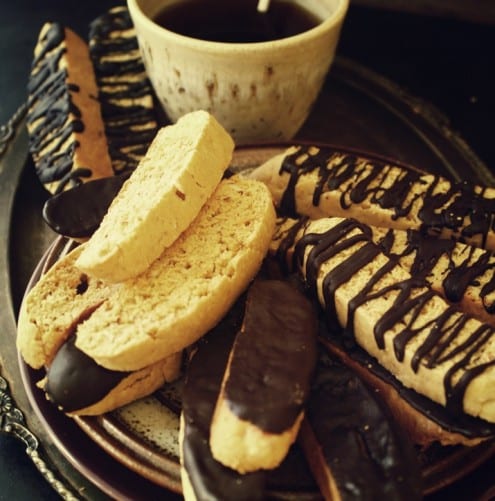 Pumpkin Almond Biscotti
Rather than compliment the pumpkin base with the classic spice pairing these biscotti offset the autumnal flavor with almond meal and a chocolate drizzle.
Ingredients
2 cups all purpose flour
¾ cup brown sugar
¾ cup pumpkin puree
1 egg
¼ cup butter
¾ cup almond meal (ground almond)
1 tsp baking powder
1 tsp vanilla extract
1 cup dark chocolate, for drizzling
Instructions
Preheat your oven to 350F.
In a bowl mix together flour and baking powder, keep aside.
In a large bowl cream butter and sugar till the mixture turns pale. Add the egg and mix well.
Add pumpkin puree & vanilla and stir till its mixed well into the butter, sugar and egg mixture.
Mix in the almond meal.
Add the flour mixture to the egg mixture and mix with a spatula till it comes together as a sticky dough.
Turn the dough out on a floured surface and using your hands form it into a ball.
Divide the ball into two equal parts and transfer onto a baking sheet lined with baking paper.
Keep them at-least 4 inch apart. Shape each dough into a 6 inch log shape, flatten the top with your hand.
Bake the logs for 20 to 25 minutes, check if its cooked completely by inserting a toothpick in the center (it should come out clean).
The logs will crack slightly on its surface – its okay. Let the logs cool completely on a rack.
Cut each loaf into ½ inch slice and bake again (on the same baking sheet) for 10 minutes turning the the baking sheet midway.
Cool the biscotti completely before adding the chocolate.
Melt chocolate in the microwave – you want it in a runny consistency.
Drizzle some chocolate using a spoon over the cooled biscotti. Add as much or as less as you want. Let the chocolate set on the biscotti before serving.
Pallavi Gupta
Pallavi is a vegetarian globetrotter, who currently lives in the southern part of India. Past ten years of her life includes living in six cities in three different countries. It has added to her vast exposure of cuisines from different parts of the world which is now reflected in her cooking. She shares her knowledge of vegetarian and vegan recipe from around the world via her blog Veggie Zest. When not cooking or photographing, she does graphic design.