Just like this simple baby portabella mushroom slider sandwich. The meaty portobellos are often regarded as alternative to steak burger, much to the delight of vegetarians. Both in taste and texture these baby bellas can make any carnivore hungry for more.
By Sukanya Ghosh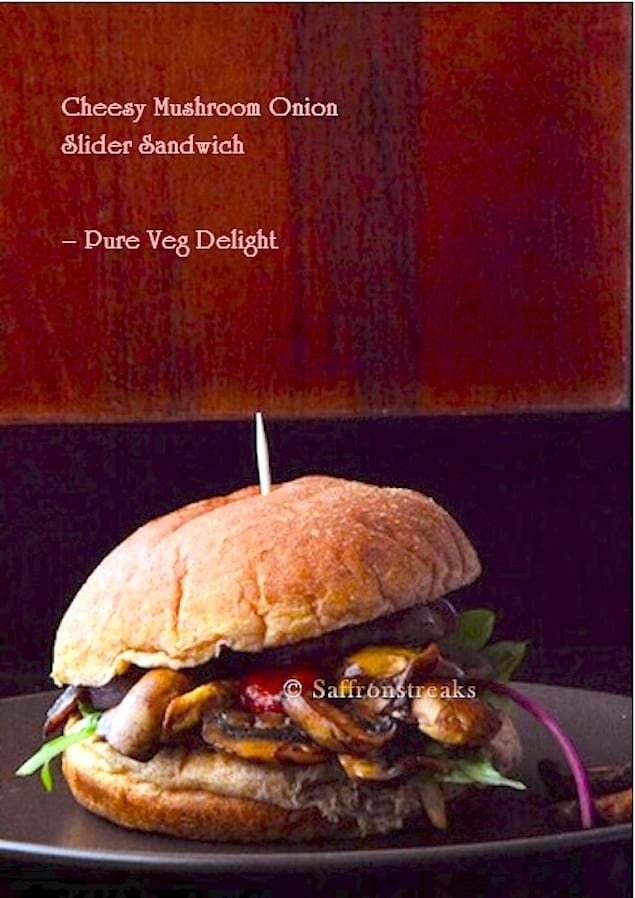 So what happens when sweet caramelized onions, cheesy cheddar and spicy shriracha meet with balsamic glazed baby portobellos, the result is super delicious, juicy, meaty filling that you can stuff it inside the slider buns.
Cleaning the mushrooms : Mushrooms are dirty unless your supermarket stocks jet-sprayed clean mushrooms. So rinse them well under cold running water. I use one tiny vegetable brush to clean the surfaces of the mushrooms. You can use any old toothbrushes too to clean it. Unlike the bigger version of portobello mushrooms baby bellas do not have those woody stems. If your mushrooms has got woody stems then it will be better to use the head or cap of the mushroom.
Tips : Do not discard the woody stems altogether. Use them to make the stock for soup like this Mushroom soup for instance.
Portabella Mushroom and Caramelized Onion Sliders
Portabella mushroom slider sandwich with heap of sweet caramelized onions some melted cheddar dash of sriracha and some greens make this a pure veg delight.
Ingredients
Baby portabella mushrooms : 1 box (approximately it contains 10-12 mushrooms)
Balsamic vinegar (aged) : 2 tbsp or more
Red onion (cut into rings) : one very large size (around 2 cups)
Sharp cheddar cheese slices : 2
Slider buns (or any other buns) : 2
Greens : few Boston lettuce, rocket leaves and frissee or any other greens
Salt, sugar and pepper to taste
Sriracha sauce : a dash of (use as little as possible)
Olive oil : 2 tbsp
Instructions
Wash the baby portabella mushrooms under cold running water and clean them properly.
Pat them dry and thinly slice them.
Caramelizing the onions
Heat some olive oil in the pan.
Cut the onions into rings and add it to the pan. Let them sweat in the pan for around 10 minutes. Keep the heat to the medium .
Sprinkle salt and sugar over it. It will help in the caramelization process.
Keep stirring the onions from time to time. If it is drying out quickly then keep it moist by sprinkling some water over it.
After 20 minutes or so lower the flame and let the onions stick to the bottom a little. But before it burns out, stir them. Continue this process till you get the nice caramelized onions.
So make it ahead and save some time. It will take around 30 minutes.
Making the mushroom melt
In another pan heat some olive oil and once the oil starts simmering add the sliced mushrooms.
Let it sweat for few more minutes.
Once the mushrooms starts changing their color, add the black pepper powder.
Take care not to burn the mushrooms.
Deglaze the pan with balsamic vinegar.
Let the mushroom soak the flavour for another 5 minute.
Check if it needed extra salt or not. Mushrooms will get fully cooked in 10 minute straight.
Meanwhile warm the buns on griddle.
While the mushrooms are still warm, separate it into serving portion and top it with the cheddar slices.
Go for extra sharp cheddar if you can find it.
Let the cheese melts on top of the mushrooms.
Arrange the buns on a serving plate and arrange the greens over it.
Arrange the sandwich in this order – base bun followed by greens, top it with mushroom melt followed by sweet caramelized onions and a dash of Sriracha sauce.
Serve immediately.
Sukanya Ghosh
Sukanya writes the blog Saffronstreaks, a food and travel blog where she experiments in the kitchen spiced up with interesting food stories and gourmet travelogues. She loves to cook with fresh produce, enjoy both spicy and sweet and her many dining out experiences become cherished memories. Sukanya is from India but now lives in North Carolina, USA.