A simple and elegant dessert, poached pears in red wine is a classic crowd pleaser. Here's Tamara Novacoviç's favorite recipe.
By Tamara Novacoviç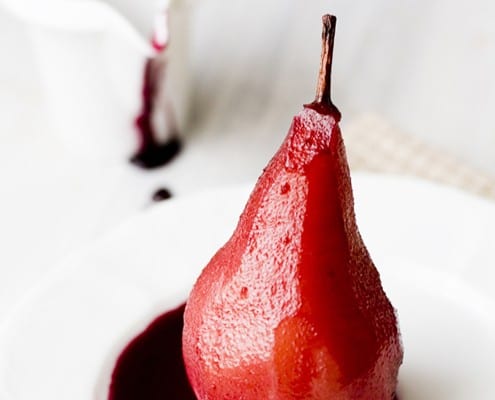 I can't believe I've never made this before. My dad used to make something similar, but it didn't include reducing red wine into a syrup, which for me is the key to this dessert. Red wine sauce is something I'll definitely make and use more often for other fruits and cakes.
Again, one of those no-fuss desserts, with few simple ingredients, pears and red wine being main stars and winning Oscars for this role. Such a great dessert, simple and elegant. Great for cold winter nights, or as  a fancy dish. Pears are anything but ordinary in this combination! Have I rhapsodized enough?
Poached pears in red wine sauce
Simple and elegant!
Ingredients
1¾ cups (400 ml) red wine (I used Merlot)
1¾ cups (400 ml) water
1 cinnamon stick
¼ tsp powdered cardamom
finely grated zest of ½ orange
1 vanilla bean pod
2.8 oz (80 g) brown sugar
1 tbsp honey
1 tbsp butter
whipped cream or vanilla ice cream for serving
Instructions
Combine water with red wine. Add scraped beans from vanilla pod, sugar, honey, orange zest, cinnamon stick and cardamon. Bring to boil.
In the meantime, wash and peel pears. Slice a bit of the bottom (so they can stand properly on the plate) and remove core through that part. Put them into red wine and poach on medium heat for 10-20 minutes (depending on how ripe they are), until they're tender (but make sure they hold their shape). Pears should be covered in liquid so they poach evenly, so turn them around every now and then. When they are tender enough, remove from wine and set aside.
Remove cinnamon stick from the wine and cook wine until it reduces and becomes thick, like syrup. Remove from heat and stir butter in.
Serve: put each pear onto a serving plate, drizzle wine syrup over it and serve with a scoop of whipped cream or vanilla ice cream.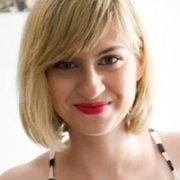 Tamara Novakoviç
Tamara Novakovic is a passionate self-taught cook, food blogger, freelance food writer and photographer behind bite-my-cake.blogspot.com. Her life journey has led her through Faculty of Humanities in Zagreb, Croatia to discovering passion for making cakes. She is currently a weekly food columnist for Croatian newspaper V magazine and food magazine Repete.