Overripe persimmons, chevre, garlic and basil fuse with a homemade crust making a deliciously unique pizza.
By Suzie Castello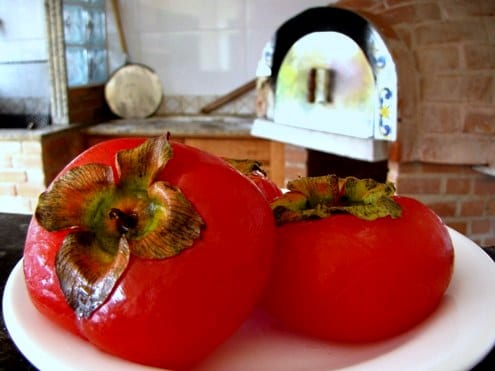 March brings the gift of Japanese persimmons to southwest Brazil.  Seeing the market shelves full with deep red costatas and bright orange fuyus, and neighborhood trees bending heavily with fruit is a delight.  It also indicates that fall is here.  I suppose the arrival of persimmons, or caquias the are called locally, are a sweet consolation for the end of summer.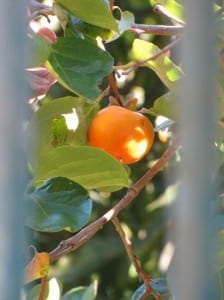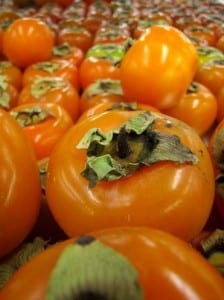 When the persimmons come into season, like zucchinis or locusts, its as a huge load all at once.  Around the third week of March there is a sudden scramble to find solutions for the sudden overabundance of persimmons.  A few years ago I had some friends over to gather around the wood-burning oven to enjoy wine and pizza on one of our last summer nights.  One guest arrived with a panicked look on his face and a heavy bag of weepy fruit splitting in their skins.  The sweet mass needed to be consumed at once.  I understood the panic.  Persimmons are so good, and they only come once a year.  It would be a shame to lose any of them.  So we did the only natural thing.  We put them on the pizzas.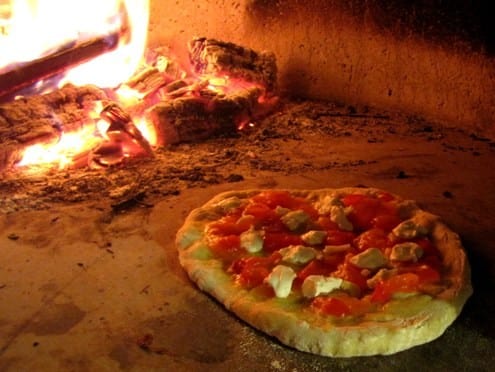 Thankfully, I had planned to serve that evening an excellent chevre from a local producer.  I had previously experimented putting persimmons and chevre together in an arugula salad, so I thought, why not put them together on a pizza?  I put olive oil, persimmons smashed in my hands, sliced roasted garlic and dollops of the soft brique-style chevre on a homemade dough.   The persimmons reacted marvelously in the dry heat of the oven, turning to jelly as they fused with the crust.  The cheese didn't melt and run like a mozzarella, but held firmly in the heat, slightly toasting on the surface.  The garlic, already roasted, gave a mild dimension to the flavors, keeping the pizza off the dessert menu.  After pulling the pizza out of the oven, I added fresh whole basil leaves (the small-leaved, tropical basil that has an acid kick) on top before serving.  The pizza disappeared in seconds.  The second one I made the same way, with the addition of roasted dedo-de-moçachili pepper cut very finely.  The hot-and-spicy fans cheered for more.  We went through half the bag of persimmons that night.  The rest ended up, as most of the persimmons in this house do, over pancakes, in salad, atop ice cream sundaes or held between juicy fingers and eaten drippily over the kitchen sink.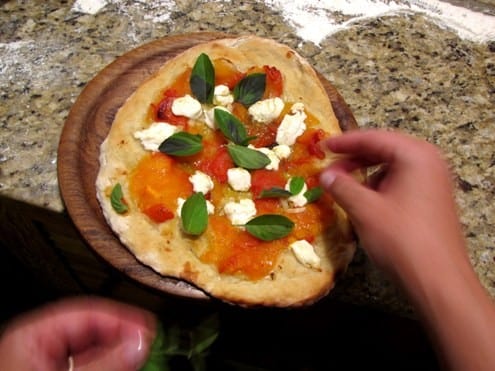 The persimmons in the photos are costata.  The pizza dough is one I have been making for years.  It works well in either a wood-burning or traditional gas oven.  I have never tried it out in an electric oven, but I imagine it would do well.  I have that letting the dough sit in the refrigerator for a few days helps it  develop a better flavor.  It also freezes very well.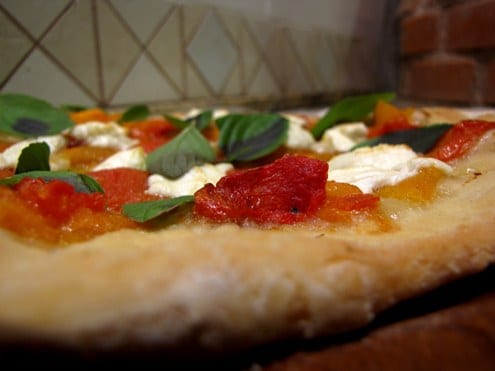 Print
Persimmon and Chevre Pizza
---
Author:

Suzie Castello

Total Time:

2 hours 12 minutes

Yield:

4

1

x
Description
Overripe persimmons, chevre, garlic and basil fuse with a homemade crust making a deliciously unique pizza. This recipe amkes four individual pizzas and works well in both wood-burning or traditional ovens.
---
3 3/4 cups

all purpose flour, plus more for the work surface

1

package of dry yeast

3/4 cup

warm water (39C or 102F, or just a little warmer than your lip)

1 teaspoon

salt

1 tablespoon

olive oil, plus more to drizzle on the pizzas

1 teaspoon

of honey

1/2 cup

cool water

4

ripe persimmons, smashed

400g

soft chevre goat cheese

4

cloves of garlic

1

roasted seeded and skinned chili pepper, if desired
fresh basil leaves
---
Instructions
In a large bowl, combine 3/4 cup of flour, the yeast and the warm water. Mix, cover and set aside for 30 minutes.
Mix the remaining three cups of flour with the salt and spread onto a clean work surface, making a depression in the middle.
Add olive oil, honey and water to the flour, water and yeast mixture. Mix thoroughly.
Pour the flour and yeast mixture into the well of flour you have made on the work surface.
With a fork, work the flour slowly into the watery mixture, making a dough.
Knead for 5 minutes, adding flour to the work surface if needed.
Cut the dough into 4 pieces. Form each piece into a tight ball. At this point, the dough may be stored in the refrigerator or freezer for later use. If you plan to use it immediately, cover and let rest for at least one hour.
Roast unpeeled garlic cloves in a dry, heavy skillet (preferably cast-iron) for 3 minutes on each side. Remove from heat and let the garlic sit in the hot pan until it becomes slightly soft. Cool, peel and cut into small pieces.
Preheat a traditional oven to its highest setting for 15 minutes or light a fire in your wood-burning oven for at least one hour before you plan to make the pizzas.
On a floured work surface, stretch one of the balls of dough out by hand or with a rolling pin.
Drizzle olive oil onto the stretched out dough.
With a knife, remove the stems the persimmons. Smash a persimmon with you hand and spread it, skin and all over the pizza.
Spread some of the roasted garlic pieces over the persimmon.
Drop about 100g of chevre in dollops onto the pizza.
Bake the pizza for 4-5 minutes in the wood-burning oven, turning once while baking,or for 10-12 minutes in a traditional oven. The crust should be golden and the chevre slightly toasted.
Garnish with basil leaves, cut with a pizza slicer and serve immediately.
Repeat with the remaining doughs balls.
Prep Time:

2 hours

Cook Time:

12 mins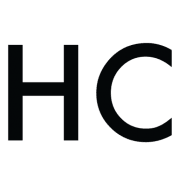 Suzie Castello
Suzie Castello is an American writer living and raising a family in a small town in the mountains just outside Rio de Janeiro. She writes about finding ways to cook, with the regional ingredients, dishes that tell her life story, from childhood in the States to travels abroad, and anything new discovered along the way. She is also the Editor of Da Minha Cozinha, a Portuguese-language blog about honest home-cooking.