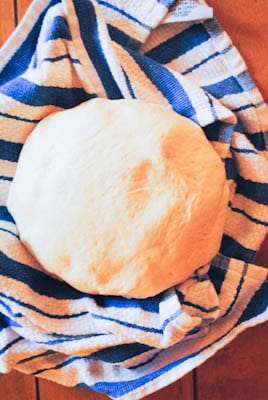 Lauren Kretzer discovers her holy grail – the secret to what she believes is the perfect pizza dough.
By Lauren Kretzer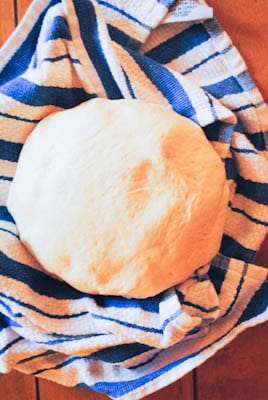 Perfect pizza dough has long been the holy grail of my home kitchen. I've tirelessly toyed with ingredient ratios and rise times, hoping to one day achieve a simultaneously crispy, bubbly, and chewy crust.
Despite my weekly efforts, the perfect crust has eluded me, until recently.  Combining bread flour and all-purpose flour in a 1:1 ratio is the secret to my success in producing an elastic dough that will bake to perfection in a 550 degree oven. Be sure to make your dough early, at least 8 hours in advance of when you plan to cook it. This will ensure a proper rise (and in the case of pizza dough, timing is everything). Once it's ready, minimize handling of the dough. Excess heat and oils from your fingers will have a negative effect on the end product. This dough will produce a crispy, tender Neapolitan style crust.

A simple recipe for pizza dough that produces a perfect Neapolitan style crust, every time.
Recipe Type:
Entree, Main
Ingredients
1½ cups all-purpose flour
1½ cups bread flour
1 teaspoon kosher salt
1 Tablespoon active dry yeast
1 cup hot water
1 Tablespoon extra virgin olive oil
Instructions
In a medium sized bowl, combine the all purpose flour, bread flour, and salt. Whisk together to combine.
In a measuring cup, combine the hot water and yeast. Stir and let sit until yeast is dissolved and solution is bubbly, about 5 minutes.
Gradually add the yeast and water solution to the flour mixture and combine until a dough forms. The texture should be only very slightly sticky and moist.
Place the dough on a floured surface and knead for several minutes, until the dough becomes smooth and elastic. Place the dough in a large bowl lightly greased with the extra virgin olive oil. Cover tightly with plastic wrap and let sit in a warm place for up to two hours, or until dough has roughly doubled in size.
Once dough has risen, punch down and place back in bowl and cover. Place in the refrigerator for atleast 3 hours, or overnight.
Remove the dough from the refrigerator 3 hours before use. Punch down and remove from bowl. Dust dough ball with flour and wrap in a clean, dry kitchen towel and place on counter top. After 3 hours, the dough should be room temperature and soft to the touch. At this point, the dough is ready for use in most pizza recipes.
Lauren Kretzer
I'm a vegetarian/vegan private chef specializing in healthy, organic cuisine - I live and work on Long Island, NY and love to use local foods in my cooking! I graduated culinary school from the Natural Gourmet Institute in New York City and am working toward my certificate in Plant Based Nutrition through Cornell University. You can find me over at www.laurenkretzer.com