Make an Italian style pear strudel common to the Trentino Alto Adige region of Northern Italy.
By Veronica Lavenia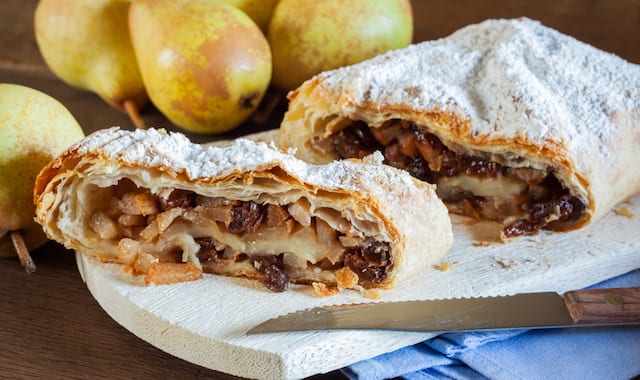 Shutterstock: Magnago
Typical of the Trentino Alto Adige region (Northern Italy), the origins of the strudel are Turkish. In the seventeenth century, the Turks ruled Hungary, handing down this sweet recipe that was modified over time by the Hungarians. From Hungary, strudel was exported to Austria. The Austrians, having dominated for a period some areas of Northern Italy, brought to Italy this delicious and simple delicacy.
Trentino is a region full of juicy apples for which the most famous strudel is filled with red apples. Pears are an equally tasty alternative. Inevitable, in both cases, some basic ingredients like raisins, pine nuts and cinnamon.

Pear Strudel
Make an Italian style pear strudel common to the Trentino Alto Adige region of Northern Italy.
Recipe Type:
Baking, Dessert
Cuisine:
Northern Italian
Ingredients
100 g (3½ oz) raisins
1 tbsp Marsala dessert wine or Rum
300 g (14 oz) pears
the juice of lemon
50 g (2 oz) raw brown sugar
2 tbsp pine nuts
1 tsp ground cinnamon
1 sheet (or about one 14 ounce package) puff pastry (better if oil palm free)
3 tbsp bread crumbs
Instructions
Wash the raisins and soak in warm water with a spoonful of liquor for 15 minutes.? In a bowl, cut the pears into cubes and sprinkle with lemon juice. Add sugar, pine nuts and cinnamon.
Drain and dry the raisins and add to the rest of the fruit.?Roll out the pastry and place on a baking sheet covered with parchment paper. Sprinkle with 2 tablespoons bread crumbs and pour the filling in the center of the dough, leaving a border of about two centimeters.
Add another tablespoon of bread crumbs over the fruit.?Roll up the strudel and seal well the edges to prevent the filling comes out.
Baked, in preheated oven at 180° (350°F) for 45 minutes.