Guard the dough for these nostalgic cookies — it's so good uncooked that it might not all make it into the oven.
By Deena Wachtel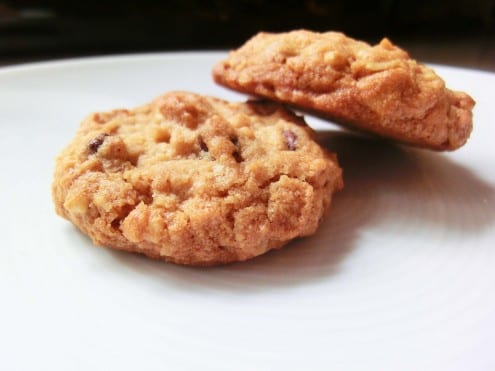 Peanut Butter Chocolate Chip Cookies
Guard the dough for these nostalgic cookies -- it's so good uncooked that it might not all make it into the oven.
Ingredients
½ stick butter
1 stick butter, softened
1 cup + 1 tablespoon AP flour
1 teaspoon baking soda
1 teaspoon salt
⅓ cup granulated sugar
½ cup packed dark brown sugar
1 large egg
½ cup all natural peanut butter
½ cup chopped peanuts
½ cup high quality semi-sweet chocolate chips
Instructions
Preheat oven to 350 degrees
Brown the ½ stick of butter in a medium saucepan over medium heat until nicely browned and smells toasty. Add oats and cook for another 3-5 minutes until oats soften. Spread oat mixture onto a parchment lined baking sheet to cool.
Whisk together the flour, baking soda, and 1 teaspoon of salt.
In a stand mixer (or with a hand mixer) beat 1 remaining 1 stick of butter with white and brown sugars until pale and fluffy.
Add egg and beat until fully incorporated.
Add nut butter and beat on medium speed until well combined.
Add oats, nuts, and chocolate chips and mix on low speed until combined.
Add flour mixture and beat until fully incorporated.
Using a small ice cream scoop, scoop out balls of baking dough and place on parchment lined baking sheet. Be sure to space the dough balls 1" apart.
Bake in 350 degree oven until golden brown around the edges (12-15 minutes).
Let cool completely on baking sheets.
Enjoy!