This cake has a lot going on, but it is very easy to make. If you are a peanut butter and chocolate lover this cake is for you!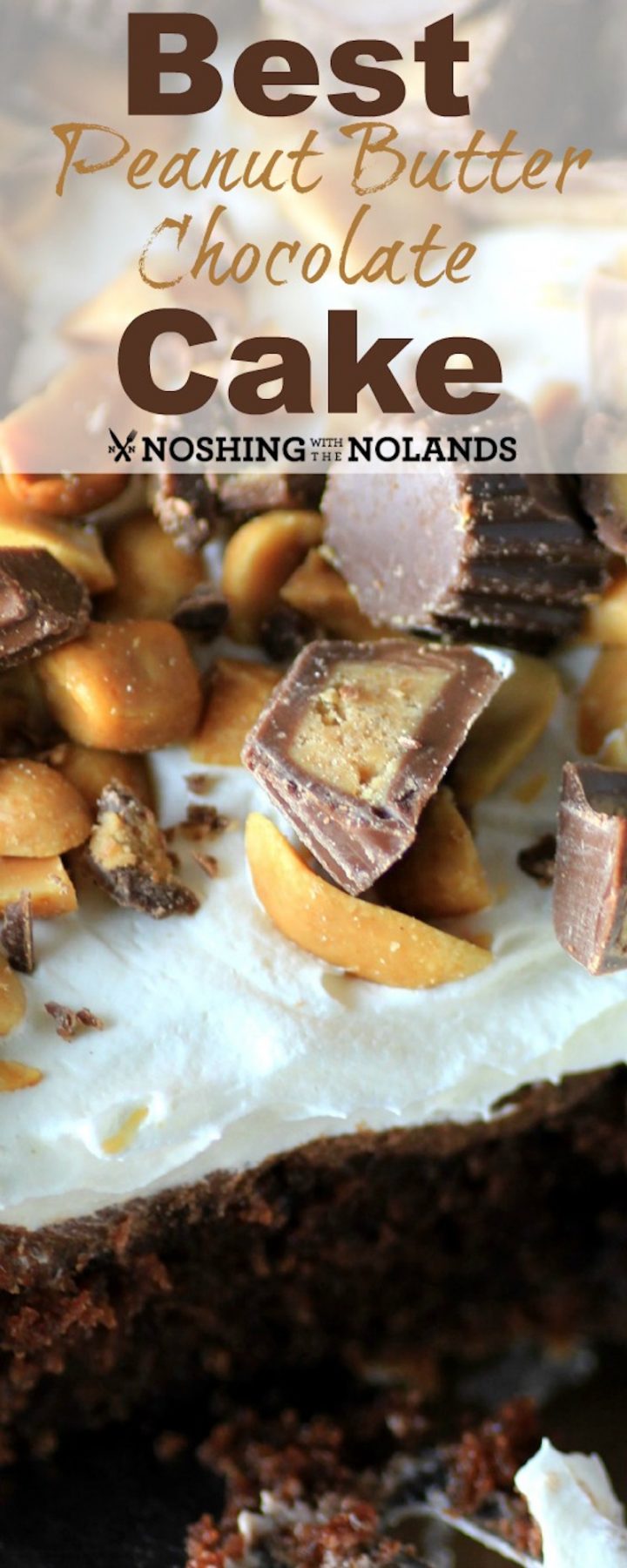 I love a yummy cake, not just an ordinary store bought cake, but one that is over the top like this MWM – Best Peanut Butter Chocolate Cake. So I pulled this out of the vault for you from last year at this time, to share with you again on Mouth Watering Mondays.
The topping is whipped dessert topping, Reese's Peanut Butter Spread, peanuts and Reese's minis. Super simple and yet divinely delicious!! Everyone will be loving you for this cake!!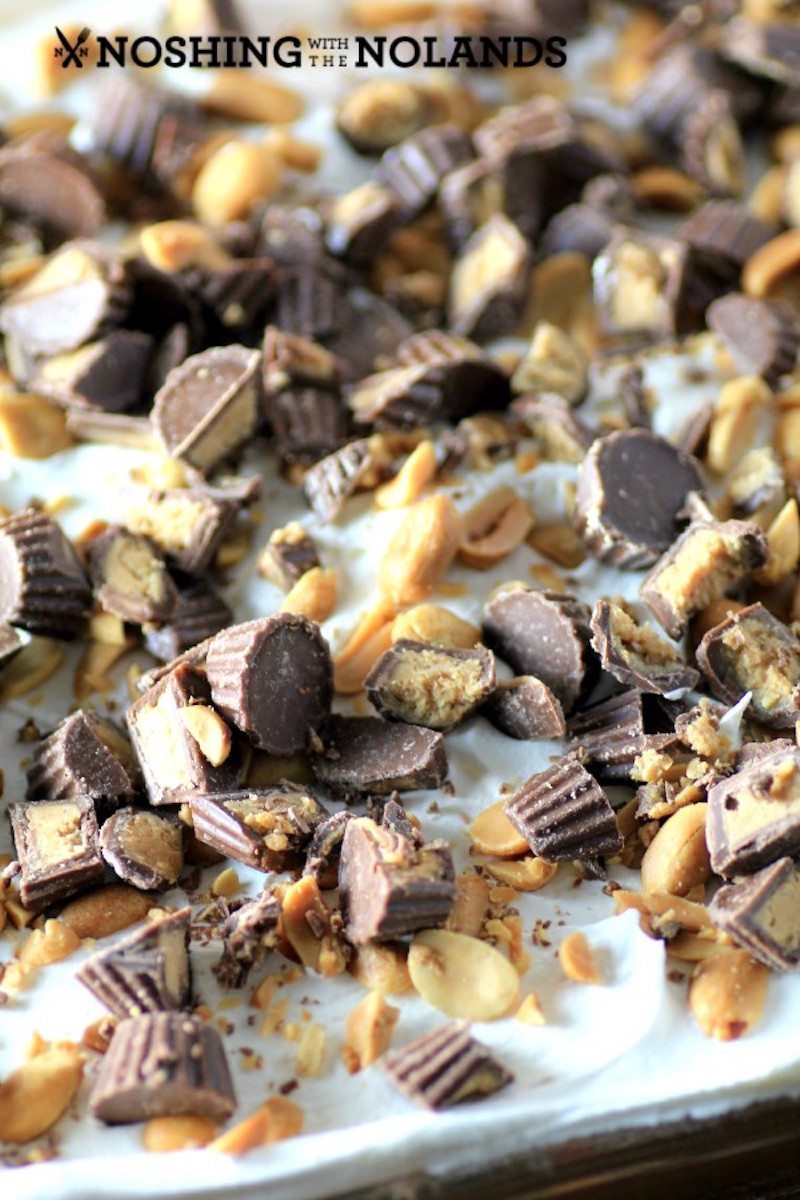 This is a poke cake so the flavors are through the cake, not just on top. Reese's Peanut Butter Spread is warmed after the cake is poked and then the spread can ooze down right in!! The cake is moist to start with and then has a gorgeous layer of peanut butter spread added.
This cake would be great for any occasion from a birthday celebration to sharing over the holidays. It will have everyone asking for seconds!!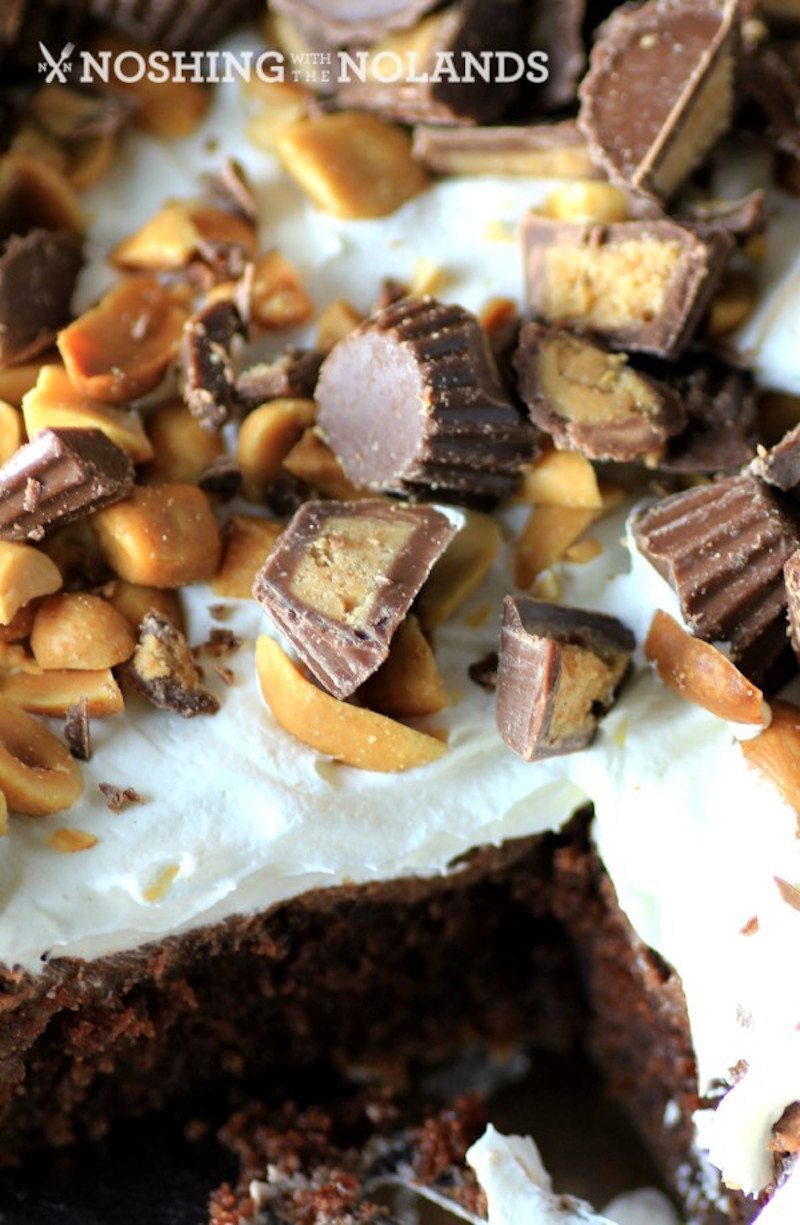 Creamy, dreamy, crunchy, nutty and chocolatey, yup it is all here!! It is made in a 9×13? pan so this couldn't be easier. A child would so enjoy making this with his/hers mom or dad or older sibling. Come over to the original post for more information and the RECIPE!!
Print
Author:

Tara Noland

Category:

Dessert
Cake
2 cups

sugar

2 cups

flour

½ cup

butter

½ cup

canola oil

1 cup

water

¼ cup

cocoa powder

1 tsp

. baking soda

½ cup

2% milk

1 tsp

. lemon juice

2

eggs

1 tsp

. salt

1 tsp

. vanilla extract

½ cup

Reese's Peanut Butter Spread
Toppings
1 cup

Reese's Peanut Butter Spread plus more for drizzling

12 oz

. Cool Whip (thawed in the refrigerator)
Reese's minis (chopped)
Peanuts (chopped)
Instructions
Preheat oven to 375F. Grease and flour a 9×13″ pan, set aside.
Mix together the sugar and flour and set aside. In a small saucepan add the butter, oil, water and cocoa. Mix together and bring to a boil. Remove from heat and add it to the flour/sugar mixture. Dissolve the baking soda in the milk with the lemon in a small bowl. Add the eggs, salt and vanilla to the cocoa mixture along with the milk mixture and stir well. Add the ½ cup Reese's spread and stir well.
Pour the batter into the prepared pan. Bake for 30 min. or until cake tester comes out clean. Let cool for about 15 min. Microwave the 1 cup Reese's spread for about 30 seconds to 1 minute. Stir to evenly heat. With a fork poke the cake all over. Spread the hot Reese's spread on and cover the entire cake evenly. Let cake cool completely. You can cover it and refrigerate at this point.
When ready to serve, spread the cake with the whipped topping, sprinkle on the peanuts and Reese's minis. Cut into desired size pieces and drizzle on more heated Reese's spread.
Tara Noland
Cooking, baking and entertaining have been a lifelong passion for me. I started at a very young age to bake and cook for my family. Even attempting many of Julia Child's recipes as a young teenager and cooking meals for the family or for company. Now I love entertaining and celebrating the holidays. My husband Ken loves being in the kitchen creating right along with me. Our daughter has been doing cooking classes with me for a number of years and also enjoys everything that the kitchen has to offer.