A Peach and Blackberry Summer Panino is the perfect way to take advantage of fresh, summer fruits while they are still in season.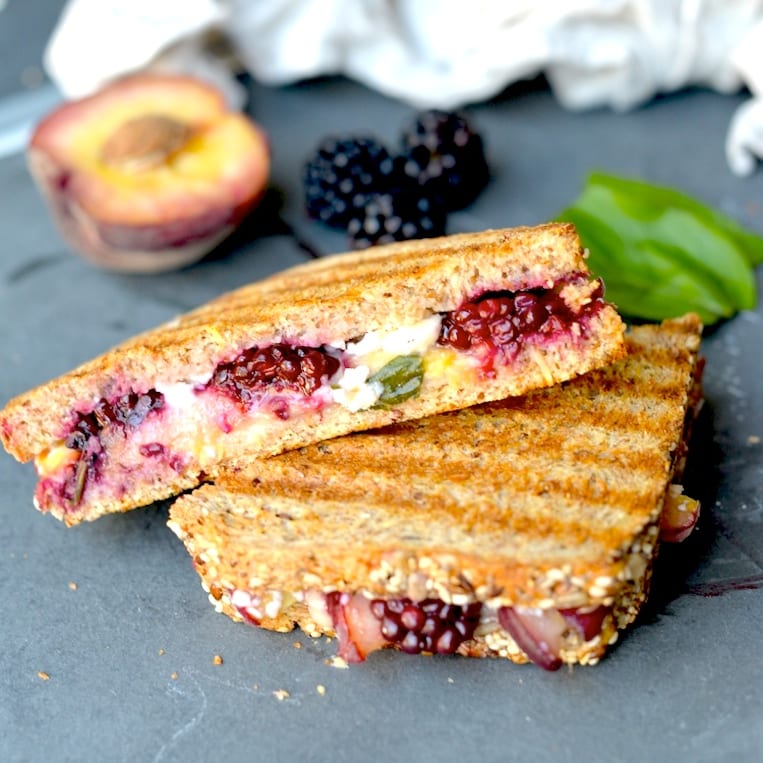 I cannot believe I have not shared a recipe with either blackberries or peaches yet! I am also behind on the tomato, cucumber, pepper, and eggplant front too. Oh, and corn. Oh me, oh my. These are just some of my favorite things about summer, and I have been a little selfish keeping these things to myself. You see, I always get a bit torn between eating the juicy, summer fruits like these tart blackberries and sweet peaches in their uncooked virgin state and then actually cooking with them. I sometimes feel like they should be appreciated as nature intended them to be- simply washed and maybe sliced, as in the case of the peaches.
But then I go and make something like this amazing sandwich, combining these fruits with an aged sharp cheddar and a tangy, salty goats' milk feta. Add a little basil for an unbelievable aroma and fresh taste, and a drizzle of honey to bring it all together. One bite, and I wonder why I have not been cooking with these little summer jewels all along.
This recipe is for one, but it is really just a template and the proportions I used. Feel free to make a whole bunch of them to share with your friends and family. If you are not a vegetarian, this would be delicious with a little ham- even better if you can find some from some friendly, local farmers. But it really is quite tasty as written.

Peach and Blackberry Summer Panino
A Peach and Blackberry Summer Panino is the perfect way to take advantage of fresh, summer fruits while they are still in season.
Ingredients
2 slices of your favorite bread (I used a seedy multi-grain)
½ small peach, thinly sliced
4-5 blackberries, sliced in half
⅓ cup grated aged sharp cheddar cheese (I used Cabot Extra Sharp)
¼ cup crumbled goats' milk or cow's milk feta
2-3 basil leaves, roughly torn
¾ teaspoon local honey
extra-virgin olive oil, for drizzling
Instructions
Preheat a panini press.
Assemble the sandwich. Drizzle one side of both pieces of bread with olive oil. Flip one slice over so that olive oil side is down.
Layer on the cheddar cheese, then peaches, halved blackberries, basil, and feta. Drizzle with the honey. Place the other slice of bread, olive oil side up on top.
Move the sandwich to the panini press, and carefully close the top down, being sure not to smush all of the ingredients out of the side.
Grilled for 4-5 minutes or until cheddar has melted and bread is golden brown. Enjoy!
Notes
If you do not have a panini press, heat a cast iron skillet over medium heat. When pan is hot and sandwich is ready, add sandwich to skillet and place a plate on top of the sandwich to weigh it down, grill for 3-4 minutes. Flip carefully, returning the plate to weigh sandwich down and cook until bread is toasted on both sides. Cook for 3-4 minutes.