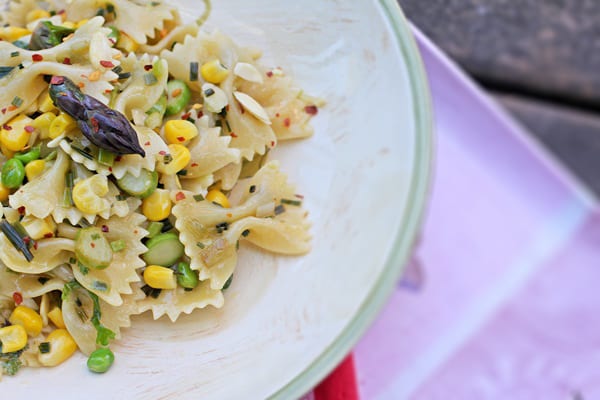 A simple pasta tossed with garlic and olive oil and a lot of yard to table vegetables.
By Rinku Bhattacharya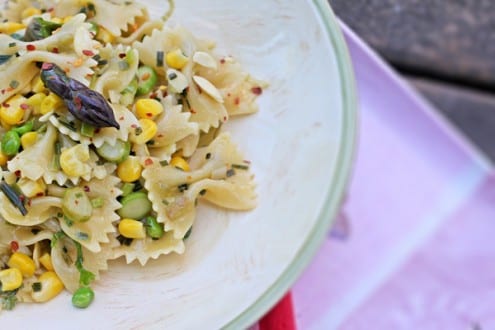 Pasta Primavera
A simple pasta tossed with garlic and olive oil and a lot of yard to table vegetables.
Author:
Rinku Bhattacharya
Ingredients
1 cup of dried pasta (any shape, I am partial to bow-ties)
Salt to taste
3 tablespoons oil
11/2 tablespoons butter
6 cloves garlic, minced
1 teaspoon red pepper flakes
½ cup chopped tender asparagus
½ cup fresh green peas
½ cup corn fresh or frozen
½ cup chopped chives or garlic chives
11/2 tablespoons minced thyme
1 lime or lemon
Instructions
Cook the pasta in plenty of water and salt for about 7 to 8 minutes or al dente per package instructions.
Heat the oil and the butter and add in the garlic and gently cook stirring frequently until the garlic is a pale toffee color and very fragrant.
Add in the red pepper flakes, stir in the asparagus, green peas, corn and cook for about 3 minutes.
Stir in the pasta, working quickly to let the pasta and the ingredients coat well. Add salt to taste.
Add in the chives, thyme and squeeze in the lime or lemon juice.
Rinku Bhattacharya
Rinku Bhattacharya, is a teacher of Indian Cooking and the author of the blog, Spice Chronicles. A busy working mother Rinku is committed to offering a practical approach of flavorful, everyday cooking often with an Indian Accent. An author of three cookbooks, Instant Indian, Classic Foods for Every Region of India made easy in the Instant Pot, Spices and Seasons, Simple, Sustainable. Indian Flavors and The Bengali Five Spice Chronicles.Rinku's passion for food starts with cooking and trying new recipes and extends to pairing and drinking wine with food and trying usual combinations by fusing various culinary influences.Rinku and her family are very committed to a sustainable lifestyle, and she uses mostly local produce for her recipes. She is joined in this effort by her husband who is an avid gardener and her children, Deepta and Aadi.