Pasta with a Light Tomato Cream Sauce is a simple yet classic combination of flavors that's light enough to stand on its own as a great dish.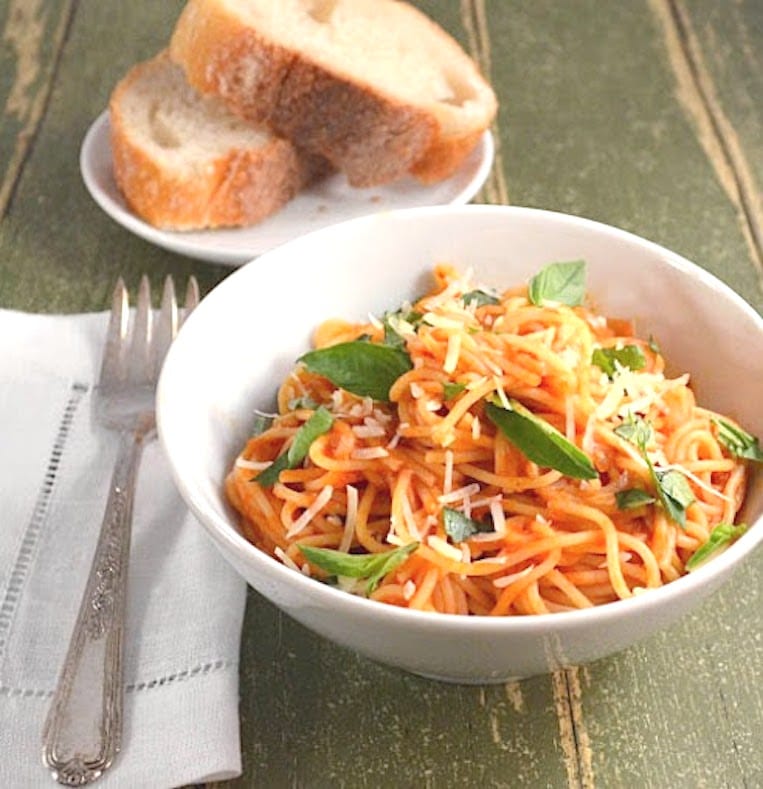 Delicate angel hair pasta tossed in a velvety-smooth tomato cream sauce with a flurry of grated Parmesan and basil is the kind of meal that makes you wonder how something so easy can taste so good. Just a half a cup of light cream is all that's needed for a luxurious texture. The brightness of the tomatoes shine through the mellow cream. There's a classic balance of flavors, each one holding its own special place in the dish. This recipe produces the best creamy tomato sauce I've made so far. I hope you try it. I'd love for you to experience the joy of this super simple Italian supper. If you want to, you can stir in some shrimp into the sauce or some canned/jarred artichoke hearts, at the end of cooking. Cook the shrimp through and serve.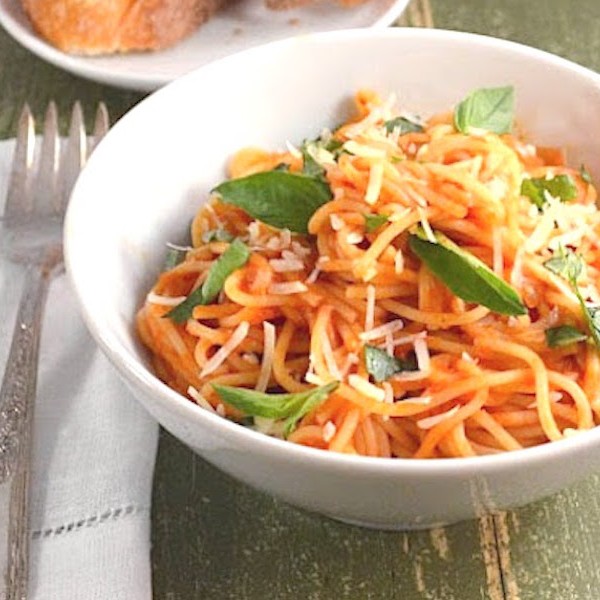 Jill Nammar
Ingredients
2

medium onions

diced

2 15-

ounce

cans of tomato sauce.

2

garlic cloves

minced.

A drizzle of honey or a couple of pinches of sugar to balance the acid in the tomatoes.

1/3

cup

of dry red wine.

Use a wine that you'd drink.

1/2

cup

of light cream

A generous handful of fresh basil

torn or chopped.

1

teaspoon

of dried oregano

basil or Italian seasoning.

2

dried bay leaves

optional. (Remember to remove them from the sauce before serving)

Olive oil for cooking

Sea salt and fresh cracked black pepper to taste

1

lb

box of angel hair pasta or thin spaghetti cooked al dente

Parmesan cheese and more basil for serving

optional
Instructions
Saute the onions in some olive oil, salt and pepper in a medium pot over medium heat until tender.

Once the onions are soft, add the oregano, wine, tomato sauce, garlic, bay leaves, more pepper and a pinch of salt and a drizzle of honey or a few pinches of sugar.

Bring to a boil, then lower the heat and gently simmer, covered, for about 30 minutes or until the flavors have softened and melded together.

Turn off the heat, remove the bay leaves and slowly stir in the light cream.

Sprinkle with lots of freshly chopped basil.

Toss the cooked pasta with some of the sauce.

Serve individual portions of the pasta with sauce topped with more fresh basil and Parmesan cheese.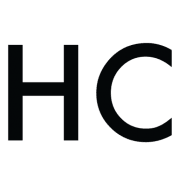 Jill Nammar
Jill has been cooking and serving meals for most of her life. As she was growing up, he parents owned a restaurant and an ice cream parlor where she became immersed in food. The kitchen is truly her comfort zone. Jill's recipes are influenced by France, the Mediterranean and Morocco, and often the bright flavors of Southeast Asian cuisine, too. She cooks to inspire others to whip up flavorful food in their own kitchens. Each recipe has a notes section with helpful tips, techniques and secret ingredients to follow. Taste and see how easy it is to create delicious meals.