We don't care if summer is almost over. We love rosé and we will continue drinking it well into the dark days of winter. Why? Because it's good, it's fun, and nowadays – there are so many well made rosés that pair so well with delicious food. There, enough reasons? Good, let's get to the good stuff. Here's a list (with notes about each wine from their respective winemaker) of the 20 favorite rosé wines of the editorial team – the ones you can safely buy to enjoy as summer comes to a close. And beyond!
Cass Oasis Rosé 2018 ($23)
Aromas of Ruby red grapefruit and candied watermelon rise from the glass. Notes of spiced peach, tart cherry and white rose petals intermingle amongst a bright acidity keeping the palate light and refreshing. Expressions of wild strawberry and cinnamon stick essence are abundant while a creamy orange sherbet lingers.
Iris Vineyards Pinot Noir 2018 ($20)
Pale Raspberry in color, this refreshing, light bodied Pinot Noir Rosé delivers a bright acidity with a clean, crisp finish. Soft, delicate fruit aromas are reminiscent of watermelon, raspberry, and strawberry. On the palate, it is fruity and crisp; evocative of crabapple and red fruit with a subtle minerality.
Seven of Hearts Pinot Noir 2018 ($27)
Picked separately, macerated for 36 hours at very cold temperatures (40 degrees F), pressed off gently and fermented in neutral French oak barrels, then aged for six months before bottling. This process produces a complex, vibrant Rose? with a balance of energetic tension coupled with a rich presence on the palate, flowering aromatics, and delicate red fruit.

Domaine de la Rivière Shoshana 2018 ($34)
The 2018 Shoshana Rosé exhibits youthful vibrancy. A perfect salmon color, the nose is fresh with hints of honeysuckle and other floral aromas. Light raspberry, strawberry, hints of melon, and sumo mandarin expand in the mouth with the underlying minerality from a natural grapefruit or lemon-like acidity.
L'Ecole No 41 Alder Ridge Vineyard Grenache Rosé 2016 ($20)
This fresh and crisp Grenache Rosé shows delicate floral aromatics of rose petal and orange blossom. Flavors of fresh tangerine, melon and fresh pomegranate enhance the lengthy, dryer style finish.
Terry Hoage Vineyards Bam Bam Estate Rosé 2018 ($32)
With a nose of plenty of spring strawberries and watermelon, this lovely wine also displays a touch of pink grapefruit and pink flowers, provencal herbs and the barest hint of wet slate. Terrific acidity this year and a weighty mouthfeel all compose this brilliant summertime pleaser.
Beckmen Purisima Mountain Vineyard Grenache 2018 ($25)
With a nice salmon, pink hue the wine is lighter in color than previous vintages but packed with the same flavor intensity. The wine expresses the red berry fruits and spice this rosé has become known for, with vibrant acidity and a long fruit filled finish.
Tongue Dancer Pinot Noir Rosé 2018 ($25)
The flavors echo the aromas along with tastes of blood orange, persimmon and herbs. At mid-palate, a splash of rosewater adds intrigue. Finally, the crisp finish gives way to a chewy afterflavor of cashews and yeasty bread. Made in a dry style, this blush is decidedly New World by birth, but carries herself with an Old World sensibility and sense of place. This calls out for a platter of cheeses and charcuterie, accompanied by crusty bread.
Broc Cellars Love Rosè 2018 ($20)
The fruit was destemmed, then pressed into stainless steel. All 3 varietals fermented together just over 30 days. The wine was bottled at the beginning of the year. High aromatics with juicy watermelon and grapefruit notes. Spice comes from the Zinfandel, acidity from the Valdiguié and texture from the Trousseau.
Sonoma-Cutrer Pinot Noir 2018 ($25)
The structure and style is loosely based off the roses of Provence. Classic, light, elegant and delicate. Made from 100% Russian River Valley appellation fruit and 100% Pinot Noir grapes.

Unparalleled Cuvée Rosé 2017 ($16)
Color: Pale pink. Bouquet: Floral, melon and tangerine. Taste: Fresh flavors of pomegranate and grapefruit.
Food Pairing Pairs well with a wide range of foods such as a spring salad, goat cheese tart or grilled chicken with fresh herbs.

Miraval Côtes de Provence Rosé 2017 ($24)
Pretty pale color, petal pink, elegant with shiny reflections. This 2017 presents a very beautiful and intense aromatic expression of fresh fruit and spring flowers. In the mouth, the acidity is refreshing; a great elegance and a nice balance dominate, with a saline finish.
Rodney Strong Rosé of Pinot Noir 2018 ($25)
The beautifully colored fresh and vibrant Rosé of Pinot Noir has aromas and flavors of strawberry, white peach and jasmine. Brilliant and bright with fresh acidity and a wonderful lasting juicy nish. Enjoy this Rosé of Pinot Noir with goat cheese, fresh seafood dishes and summer salads.
Inman Family Endless Crush Pratt Sexton Road Rosé of Pinot Noir 2018 ($38)
The nose on this wine is a heady blend of mace, nutmeg and berries. On the palate it reminds us of a bowl of fresh strawberries, raspberries and blackberries with an infusion of exotic spice. Intoxicating and with excellent acidity and a structure that we think will hold up to grilling and BBQ.
Château de Berne Inspiration Rosé 2018 ($20)
Classic Provence. Floral, clean, fresh berries first then followed by fresh herbs and flowers – like walking through a Provence lavender field on an early summer morning. Pair with classic roasted chicken with lemon and Herbs de Provence, grilled lobster.
Malene Rosé 2018 ($22)
Like a fine, dry white wine, Malene Rosé can be enjoyed with a wide variety of foods. Its layered versatility allows for easy entertaining in environments both casual and formal. Well-suited to picnics and barbecues, its impeccably balanced texture and crisp acidity make the wine an equally elegant match for refined dishes possessing complex flavors.
Adelsheim Rosé 2018 ($25)
Redolent of white peach and just cut yellow watermelon, this rose? screams "Oregon summer". It's such a beautiful pale salmon hue. There's a delicacy to the aromatics that suggests transparency but this wine surprises in the mouth by delivering layers of luscious, juicy fruit and lovely floral notes.
Les Maitres Vignerons de la Presqu'ile de Saint-Tropez Fleur de Mer Côtes de Provence Rosé 2018 ($16)
According to the wine maker "each sip of Fleur de Mer Rosé brings the allure of Provence to your table." – and we're inclined to agree. This is a fun, delicious summer wine that pairs very well with grilled foods.
Domaines Ott By.Ott Rosé 2018 ($20)
Pale and pretty in crystal-clear pink with orange undertones. The nose is delicate and fruity with notes of white peach and apricot mixed with passion fruit and mango. The taste is full, fresh and crisp with echoes of the fruity aroma amplified by citrus zest and sweet spices (cinnamon and cardamom).
Sojourn Rosé of Pinot Noir 2018 ($25)
The 2018 vintage was mild and dry, allowing the fruit on the vine to mature beautifully. There were no prolonged heat spells, allowing picking decisions to be made with ease. It was one of the latest harvests in recent memory, with moderate fruit yields providing an abundance of flavor. The resulting wines are noted for racy acidity and expressive fruit.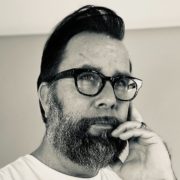 Kalle Bergman
Kalle Bergman is a food writer and media entrepreneur who is the founder of Honest Cooking and PAIR Magazine. As a food writer, his writing has been regularly featured in publications like Gourmet, Los Angeles Times, Huffington Post and Serious Eats. He is obsessed with simple food, more often than not from his native Scandinavia.