Mitch Weinstein takes a trip down culinary memory lane, and returns with a long lost recipe for pasta salad.
By Mitch Weinstein
I have a question: "Does anyone make pasta salad anymore?  Did they ever?  Isn't that so…1980s?" Well, yes, I do. I did.  And, no – I find it quite 2011s as a matter of fact.
Why, you ask? Well, because it's good and I like it and even more importantly, Significant Eater likes it – so there. Especially when it's made properly. After all, that old deli classic macaroni salad is basically pasta salad, isn't it? (Say yes, please.) Of course, the macaroni salad that we all remember having was that heinous deli stuff, drenched in enough mayo to make maybe 10 pounds worth of tuna sandwiches – but that's another story (tuna salad, that is). And so's this…pasta salad worth eating.
Like anything you're going to cook, start with good stuff and cook it right. No kidding around here. Good pasta, good ingredients, cooked properly, etc. etc. Last week, I noticed a box of orzo lying around doing nothing in my cupboard (even though I don't think it's a cupboard, I like to say the word cupboard), so I decided to make…you guessed it…pasta salad.
First, find yourself some vegetables. Some herbs, too. For me, it was shallots, garlic, red bell pepper, green bell pepper, celery, carrot, scallion. Here's a tip…you need to cut the vegetables into pieces about the size of the pasta – otherwise your salad will look dumb and taste even dumber…imagine giant bites of carrot and teeny bites of orzo. Can't have that. My technique also calls for sautéing all the vegetables – nothing raw in this pasta salad, as I find it brings a much greater depth of flavor by introducing the veggies to heat. So cut 'em up, and sauté them in a good couple of hits of olive oil, till they're just past crisp. Sure, you can just blanch them to cook, but that's boring, and adds nothing to the flavor. So, sauté please. And use salt and pepper. We're building layers of flavor here, folks.
Also, mince up a healthy bunch of herbs. Parsley is standard, thyme is nice, fresh marjoram and oregano are great, tarragon can work if used sparingly, chives, etc. etc. Stay away from rosemary, sage and anything dried. Also, basil might not be the greatest, since it tends to turn black once minced, and unless there are tomatoes in your pasta, I find it best left out.
Then, you gotta cook the pasta – cook it like you would cook any good pasta – in a decent amount of well-salted, boiling water, just to the point where you'd normally take it out of the pot to toss it with whatever sauce you were making if you were making pasta with sauce. Very al dente. Trust me on this – it's gonna absorb the dressing and will be perfect by the time it's ready to eat.
Next, drain and rinse the pasta to get the starch off, otherwise the pasta will be all stuck together which is no fun – and here's my trick…I actually rinse it with hot water, because I want the pasta to be hot when I dress it so it absorbs the dressing more readily. Genius, huh? Well, not really, but just find me one cookbook that tells you this, and if you can't, that's why I can call this recipe all my own,
On to the dressing. I like a nice 3 parts oil, 2 part vinegar vinaigrette for pasta salad. Red wine vinegar, sherry vinegar, white wine vinegar, whatever (not balsamic, please – if you have really great aged balsamic, why do you want to waste it on pasta salad? And if you don't, why bother?). Maybe a little mustard. Salt and pepper. Perhaps garlic or shallots. Whisk your dressing up (a good cup) beforehand, something that tastes good to you, and you'll be fine.
After the pasta is cooked and rinsed (with hot water, remember), it's time to dress it. Take about 1/3 of a cup of your re-whisked dressing, and pour it over the pasta – taste it for salt, is it vinegary enough, etc. Adjust to your liking.
Now, you've got your veggies and herbs ready so toss them all with the dressed pasta. Taste. Add more dressing. Add more salt. Add more pepper. It no doubt needs it. If you're happy with the way it tastes, set it aside…you probably don't need to refrigerate it if you're gonna serve it in the next hour or so, otherwise into the fridge it goes, and take it out an hour before you'll be serving it. And before serving, stir it up again and taste – it might surprise you that it wants more dressing, so go ahead. If you've used all the dressing up, pour on a bit of olive oil and fresh lemon juice – which really brightens up the flavor, by the way.
And then sit back and watch your family, friends, significant others and everyone else wonder why no one makes pasta salad anymore. Well, no one that is, but you and me.
FATHER'S DAY ORZO SALAD
1 lb. (.5 kg) orzo pasta
1 onion, minced
2-3 shallots
2-3 cloves garlic, minced
1 carrot, diced about the size of the orzo
1 celery, same
1 red pepper, same
1 green or yellow pepper, same
1 fennel, 1 zucchini, 1 whatever, all minced the same
15 T  (175 ml.) extra virgin olive oil, divided – use 3 T (45 ml.) oil to sauté veg
8 T  (125 ml.) vinegar – white wine, sherry, etc. Not balsamic.
1 tsp. (5 ml.) Dijon mustard
Herbs
Salt & Pepper, to taste
Follow directions in funny story above. End up with this.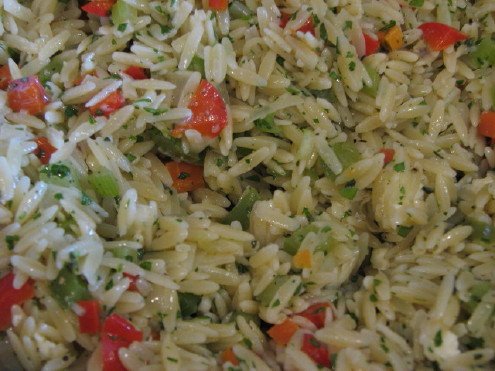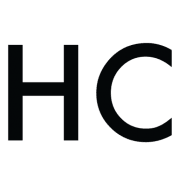 Mitch Weinstein
Mitch Weinstein is an avid seeker of good food, culinary school grad and writer of the blog Tasty Travails. When not cooking at home, he is on the hunt for that next delicious restaurant meal, great market or maybe even a cocktail. He regularly contributes to the food and drink forums on mouthfulsfood.com, eGullet.org, Chowhound.com and others.